Salon Bamboo Jamie Springer Atelier of Good Luck
Aug 30, 2006 09:28PM ● By Don Kindred
by Anne Batty
Jamie Springer owner of Salon Bamboo on Avenida Del Mar in San Clemente.In Chinese, the character for bamboo means good luck. It was just the name Salon Bamboo owner Jamie Springer was looking for when he finally fulfilled his dream of owning a hair salon of his very own.
As Springer tells it, he and David - his partner of 11 years - were having dinner in a restaurant on the Big Island of Hawaii, and it was there he discovered the Chinese meaning for the word "bamboo."
"I knew immediately that word should be a part of the name for my new salon," Jamie explained passionately. "It fit perfectly into my vision of establishing an upscale, earthy environment for the type of clientele I wanted to attract."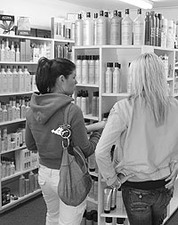 Springer's dream materialized when the site of the former Bella Tu salon became available on Avenida Del Mar in downtown San Clemente. Wasting no time he set about remodeling the building, transforming it into a restful and soothing environment where his customer's desires could be fulfilled in peaceful comfort. 
An array of street-side windows casts natural light on the establishment's newly painted earth-toned walls, spotlighting the exquisite murals created by Jamie's grandmother Joie Jacomb, an oil and acrylics artist. And a bubbling central fountain, rattan furniture, handmade, rustic beauty stations and soft interior lighting, complete the warm atmosphere Springer wanted for the salon.
By all appearances, homegrown local, Jamie Springer, was destined to base a business in San Clemente. He came to town from Huntington Beach with his mother, Joedda Bingham, and brother Cameron - a Newport Beach tattoo artist - when he was only four-years-old, and has lived here ever since. His great grandmother also resided here, and his grandmother and mother still do.
For as long as he can remember, Jamie has been interested in creating hairstyles for the family and friends in his life. "I guess my brother and I got our artistic bent from our grandmother," Springer explained, "but my business savvy definitely came from mom."
That inherited talent and business savvy has paid off. After only six months in business Salon Bamboo was named the best salon in San Clemente. Jamie accomplished this recognition by setting high standards for himself as well as his stylists. He has been a hairdresser since 1999, receiving his training from the Vidal Sassoon school and the London Academy for cut and color. Jamie's newest addition, Del Mar Beauty Supply.And in the beginning he practiced his skills on friends and family, eventually building a clientele from repeats and referrals.
Jamie requires all Salon Bamboo stylists to have extensive and accredited training in technique, cut and color. And to maintain the highest level of professionalism, the entire salon staff is continually taking experiential and product classes, keeping themselves abreast of the latest trends in styling and beauty. 
"The hairstyles created for our clients at Salon Bamboo are achieved through in-depth consultations to discover desires and lifestyles," Springer revealed. "Our goal is to give our customers haircuts suitable to their everyday life. Ones that are manageable after they leave the salon. A good haircut is the basis for easy management and that is always our focus."
A beauty establishment in every sense of the word, Salon Bamboo also offers facials, peels, microdermabrasion, and full body waxing, with future plans that include the addition of massage. And as an added service, Jamie has recently opened a beauty supply shop next door to the salon, providing customers with the convenience of purchasing products used by he and his staff. Only the purest items, containing natural plant, flower and mineral blends are sold there, especially the Aveda and Bumble and Bumble products most popular in the salon.
Most people are lucky to accomplish one dream in life; Jamie Springer has been fortunate enough to accomplish two. Second only to Jamie's dream of owning his own beauty salon, has been his desire to be a parent. He fulfilled that dream four-years-ago when he and his partner, David, were in the delivery room when their son Aiden was born.
"I took two years off from hair dressing when Aiden was born," Springer said. "I wanted to enjoy that time with him."
While Jamie continues to pursue his original dream, his mom, grandmother and David are there to help care for Aiden when Springer is at work. He is adamant, however, that when he leaves his shop, his life is all about his son.
It seems bamboo – good luck – has become more than just the name of a beauty salon for Salon Bamboo's owner, Jamie Springer. Accomplishing one dream is fortunate, but successfully achieving two … that's more than just lucky, that's a blessing. b