911 - Recovery of the Heart
May 05, 2005 02:35PM ● By Don Kindred
By Joe Moore
Of course we will never forget. How could we? It shocked and surprised us so completely, that we will never be caught that unprepared again. September 11, 2001 left us speechless and devastated, and it left some of us feeling we would never be safe again. But mostly it left a great many of us on the West Coast feeling like we were watching a horrible made-for-TV movie.
As of April 23rd we are able to view this incredible devastation close up. It was real, definitely and completely real, and. the Casa Romantica has bravely opened its doors to a new history for us. They have brought the World Trade Tower disaster to our own door, and this incredible display brings pieces and photographs of the recovery effort at Fresh Kills Landfill that became a crime scene investigation on September 12, 2001.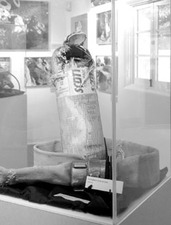 This display was previewed on April 15th to the media, then to a select group on the 16th. People walked with hushed tones through the exhibit with a few exclamations of surprise at some of the facts, and a few tears as well. After all, it could just as easily have been the Arco Twin Towers in downtown Los Angeles, or the Sears Tower in Chicago.
Regardless, American lives were lost by the simple circumstances Special Agent Richard Marx spoke of at the preview. "These people did that day what they always do, they went to work."
Marx is with the FBI and was the Recovery Team Leader. He, along with James "Jimmy" Luongo, Executive Officer, Detective Borough Manhattan and Mark Schaming, Director of Exhibitions with the New York State Museum were all on hand to answer questions about the Recovery Exhibit.
Shaming revealed that he had begun the project of collecting pieces that couldn't be used as evidence, photographing the recovery, conducting interviews and oral histories, and sifting through 30 tons of material in order to bring this exhibit to the American people. Partners in the project, Jimmy and Rich, met with as many as 60 victims' families each day for months, until every family was touched by their caring and consoling words, and any of their personal possessions were returned.
And the stories…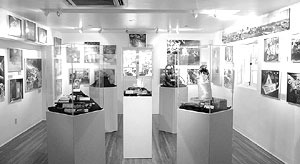 Like … the Jaguar that was pulled out of Ground Zero after a few months. The 'jaws-of-life' had sprung the trunk open and a carefully wrapped birthday present with a wilted rose was finally given to a victim's wife. He meant to give it to her on her birthday – September 11th.
Like … the only remaining artifact of the Marriott Hotel found sitting between the two towers… two key cards. Nothing else was ever recovered.
Like… the picture of two Dr. Seuss books sitting vividly in color against a surrounding gray background. Bringing home the reality of how families were torn asunder.
And the heroes…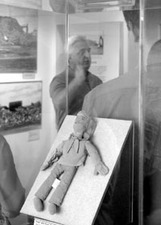 Everyday Americans, including our own Angie Kardashean, who sold her Italian Restaurant of 22 years in South Orange County, and flew to New York where she donated food and cooked meals for 103 fire companies and helped feed countless recovery workers.
Of recovery workers who worked tirelessly in an area with no fresh water, sanitation facilities or food for months on end.
Even our own San Clemente Fire Station, who went to assist the following spring, pulling remains from the rubble where the towers once stood. Captain Tom Horhay has many stories, to tell.
This exhibit is an opportunity for all to put closure on a tragedy of a scope and scale hard for any to fathom. It's an opportunity to salute personally the survivors and the souls that did so much following September 11th. It's a time to stand bravely with the Casa Romantica, to say goodbye to the horrific events of that day and to resound with other Americans that the victim's passing will not be forgotten. We will never forget, and this is our chance to remember.
The exhibit will be at the Casa Romantica through July 10, 2005, until it leaves for an international tour. b