A Tale of Three Tea Shoppes
May 05, 2004 06:10PM ● By Don Kindred
    Last week, afternoon tea at the Savoy in London… this week, the teashops of San Clemente. Prices overseas are not in America's favor, particularly as the currency exchange rate leaves the pitiful dollar dangling in a state of angst. Away from the ruinously expensive European salons, our own local shops encourage global traditions as the popularity of drinking tea swings across our nation. We don't have to look very far to find tea establishments right under our noses.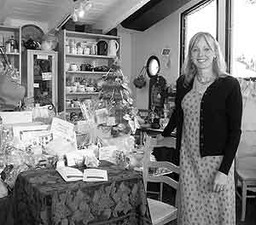 Desiree Nelson of the Lavender Lounge Tea Company. Lavender Lounge Tea Company
    Perched upstairs in the oldest building in town, the Lavender Lounge Tea Company occupies Ole Hanson's original office built in 1926. A new venture for owner Desiree Nelson, a San Clemente High School graduate, she became interested in teas several years ago and wants to share her passion, or, as she says, her obsession.
    "It's important to take a minute out for yourself," Nelson smiles, "my customers come in and order something different each time. Whether they are regulars or walk-bys they all enjoy relaxing and browsing through my mini-reading library of historical books. Military wives, couples and, yes, even teenagers come in for refreshment."
    Sporting heavy ceiling beams, the bright and airy room holds modern high tables and chairs adjoining the section where gifts galore stud the display area. Traditional English teapots are offset by the Asian influence of I-Ching teapots and cups. Shoppers can delight in choosing tea sachet gift bags to stock with different teas or sample boxes ($15.50) with 3 teas and straining socks.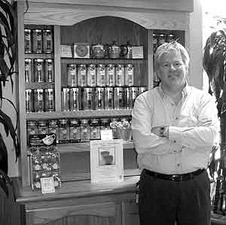 Apart from a themed tin of tea called "Wedding Bliss" (great for bridal showers) Desiree's greatest contribution to the City has been "SanClemenTea". Residents buy it to send to relatives while tourists snap up the attractive package as a good value souvenir or gift. The mellow peach and deep apricot flavor can be served hot or cold making it an all-weather beverage. 
    "Our goal is to take the intimidation out of loose-leaf tea, allow you to diversify your tea palate and encourage you to create your own tea traditions," Desiree says, "We want you to sit and enjoy the moment – we can help." 
    In that vein, she has created tea tastings that last about an hour for private group bookings of two or more people. As many people areWes Loeber of the Coffee Bean & Tea Leaf. tackling Lo-Carb diets nowadays or battling Acid Reflux disease, the switch to tea is helpful. During the sampling, guests are free to ask lots of questions while enjoying their beverage or delicious Green Tea Ice Cream.
The Coffee Bean & Tea Leaf
    For those of us enamored with the antioxidant properties of Green Tea we can pop into The Coffee Bean & TeaLeaf for a cup of Heavenly Gunpowder or Moroccan Mint. Their best selling Chai tea blends in cinnamon, clove, cardamom and other spices that tickle the nose and warm the soul. Perusing their tea menu is almost like reading a wine list, with absorbing descriptions like fruity, full body, heavy perfume, malty and, of course, fragrant. Fruit Melange and Herbal Infusions balance the Rare and Classic Teas with names such as Oolong, Genmaicha Green, Tropical Passion and Caramel Rooitea.
    General Manager, Wes Loeber, is a community minded individual. He commented, "Although we are a large corporation they let me run this as if it is my store. That way I can be more involved with my customers. Several organizations hold their meetings here; PTAs for example. We have a nice atmosphere and areas for privacy. This is also a place to bring your laptop computer and produce your most creative work or meet up with a pal and sit outside under an umbrella to watch the world go by."
The Posh Peasant is perfect for dress-up tea parties with the girls.Posh Peasant Tea Room
    A little more on the traditional side of taking tea is found in Mary Margaret Anderson's Posh Peasant TeaRoom. Also serving substantial lunches and grilled Panini sandwiches, her delightful eclectic premises reflects velvet-covered chairs, antique chandeliers, bric-a-brac and lots of flowers. Rich gold and burgundy saris elegantly drape the furniture.
    Greeted by a quote painted on the wall, "To those whose hearts hear the music – the tickets are free for the dance," customers can choose their moss-covered or photograph-spattered table. Part of the mystique in this teashop is peeking into the various rooms. The Garden Room has a fountain, the Sitting Room is as intimate as can be, the tea-pot strewn cozy kitchen has a stove, and the ambiance of the fireplace in the Living Room makes it hard to decide where to sip your tea.
    Hard-working Mary Margaret, a San Clemente resident for over 30 years, makes her delicious scones every night. Even if you can't sit down for a relaxing break, drop in and order them "to go". She says, "I offer over 30 different teas to choose from and brew each pot in English Bone China. Dressy hats are available to turn adults into children and children into adults. People love to dress up for an occasion and we often have Bridal and Baby Showers here as well as meetings of the Red Hat Society".
    Regulars for lunch have noticed the selection of sparkly jewelry for sale but upon closer inspection the delicate hand-made porcelain brooches are a steal. For $20 these pins, perhaps shaped like a shelf with tiny teapots and cups sitting on a minute lace cloth, make adorable gifts. Individually named, Miss Pearl's Tea or TeaCup Teas for example, you can solve a gift dilemma in a nanosecond.
    Encouraging children to experience a very grown-up tea, the Posh Peasant offers a Toddler's Tea for children ten and under. Parents can bring their children to instruct them in social graces and teach appropriate manners in public. On second thoughts, wouldn't that be something that grandparents could do? They don't have to eat the Peanut Butter and Jelly sandwiches, they'd be happier with the Sampler Tea with assorted sandwiches, scones with crème fraiche and lemon curd tarts.
    In each one of us there lies a seeker and explorer of new experiences. How easy it is to try a simple thing like tea. Test syour tastes at these wonderful tearooms and remember that Henry James once said, "There are few hours in life more agreeable than the hour dedicated to the ceremony known as afternoon tea". How was he to know that in 2004 we can have a variety of teas that he'd never heard of, available at anytime we want? b