What's up with this YOGA thing?
May 01, 2001 05:31PM ● By Don Kindred
by Rosemary Sieve
Madonna does it. Richard Gere does it. Six million people in the U.S.A. do it. So, what is 'it'? It, is yoga!
How would you like to perform a series of postures that could increase the efficiency of your heart, lower your blood pressure, aid digestion, improve flexibility and strength, promote relaxation and even reduce stress? If it sounds like a miracle exercise, it may well be.
The devotees of this mind-body practice claim it could be used as a
supplement therapy for conditions as diverse as cancer and arthritis and, perhaps, even to help combat addictions. Although not yet a proven cure for any medical ailment, it has been discovered that this practice does, in fact, have many health benefits.
MIND, BODY, SPIRIT
Yoga has its roots in the Hindu religion whose principles have been around for at least 5000 years and is derived from the Sanskrit word for Ounion'. Today, yoga as the west knows it, is practiced mainly for health, but in actuality infers far more than just exercise, as it was designed ultimately to bring its practitioners closer to God. There are several forms of yoga disciplines. Among these is Dynana yoga; this principle seeks union through meditation. Another is Karma yoga and
this one calls for selfless service to God and mankind. However, the
discipline that westerners usually call yoga is actually Hatha yoga, and,
according to the International Association of Yoga Therapists, is intended to prepare the body for the pursuit of union with the Divine, helping one achieve a state of balance and harmony between body and mind.
OFF TO SEE THE WIZARDS

Wanting to find a magic pill to release all the stresses of today's living,
I decided to visit two yoga facilities to see what they could do for me. The first one I called on was The Yoga Spot. Waiting to greet me was the owner, Ann Oleson, who radiates peace and tranquillity. There is no doubt that I want what she has. Oleson explains to me that yoga is 5% physical and 95% spiritual. "Anyone can practice yoga,"she tells me.
"In fact I have a male student who is 75 years old and the only equipment he needs is a blanket."At The Yoga Spot, Oleson teaches Svaroopa, a style of Hatha, developed by Rama Berch who directs the Master Yoga Academy in La Jolla. (Berch also created a yoga program for the world famous Dr. Deepak Chopra's center for well being.) Svaroopa is a Sanskrit word meaning Othe bliss of your own inner self.' Oleson is an experienced practitioner having completed over 500 hours as a student and then a further 500 hours in advanced learning. She continues as a student at the Master Yoga Academy to promote her expertise in her chosen field. "The experience of bliss creates profound healing and
transformation,"she quietly reveals. Oleson's soft words stay with me as I drive on to my next interview.
At The Enchanted Garden, a holistic healing center and spa, all my senses are pummeled as I pass through the wrought iron gateway. The relaxing aromas of the natural products used at this facility for their treatments greet me, together with the soothing music being
played in the background. Kelly Wolfe, her healthy skin glowing, is the holistic
health practitioner at this center. "Everything I do is done holistically to assist the body naturally ­ and that is to heal itself."She continues. "People can come to our spa to address all their health needs ­ spiritual, emotional and physical."It is obvious that the spa is trying to meet their client's every need. There are three yoga instructors on staff, massages are available and also acupuncture. A reference library is offered for any research needed to be an informed consumer and consultations are available. And ­ should you need to know what could possibly happen to you after making use of this fine facility, you can have an astrological reading.
THE NEXT STEP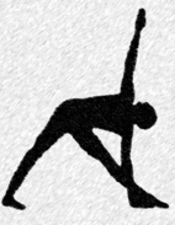 If interested in pursuing yoga, experts recommend that you look for an instructor who remains an active student and who practices yoga daily, and to choose a therapist with whom you are comfortable. Remember to wear loose and comfortable clothing to a class and avoid eating for at least an hour before participating. A typical session usually includes breathing exercises, body postures and meditation. No equipment is needed although advanced students sometimes use a strap to assist in leg stretches. The exercises are performed in bare feet. Ask to observe a
class before you sign up and select a program that will leave you feeling rested and relaxed. Many people find yoga beneficial and continue to practice it for a lifetime, however, always check with your doctor before starting any exercise program and, of course, avoid yoga completely if you've had a recent back injury or surgery.