Grad Nite '007 'Spies Like Us' Theme for Party of the Year
Apr 29, 2007 09:58PM ● By Don Kindred
by CeCe Darakjain
Don't be surprised if over the next few months you notice your friends and neighbors humming the theme song to "The Spy Who Loved Me" or spouting phrases like "yeah baby, yeah" in their best Austin Powers accent. In honor of the graduating class of 2007, San Clemente High School is preparing to host a "Spies Like Us" graduation party and it seems like half the city is turning out to help ensure that it's the party of the year! 
From artists to blackjack dealers, from electricians to hypnotists, it takes a small army to plan, prepare and put on a soiree of this magnitude and San Clemente seems to be just the place to find that army. This year, as they have for the past 17 years, volunteers will flock to the high school campus to transform a non-descript high school gymnasium into a party palace complete with Las Vegas style gaming areas, temporary tattoo parlors, video gaming rooms, discotheques and all the food and drink you could possibly consume in nine hours. And come the next morning, those volunteers will return to take it all back down again.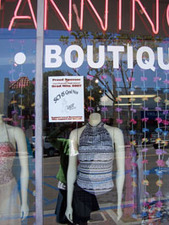 San Clement High School Assistant Principal Janet Sobel explained that Grad Nite provides a safe place for students to celebrate their graduation. It was created during the 1980s as a way to keep graduating seniors safe and off the streets. What was once a dangerous night of partying for teens celebrating their last day of high school has become an occasion that the entire city can support through both volunteer hours and donations. According to Volunteer Coordinator Kim Thress, it takes more than 400 volunteers to construct, design and staff the party in the manner in which the graduating class eagerly looks forward to. And those volunteers work year round to make sure that each party is as spectacular as the last. Basically as soon as one celebration ends, volunteers are already at work preparing for the next one. 
"I start in August, coordinating with design and construction teams and by early spring I'm in full swing" said Kim. 
After becoming involved with Grad Nite during her oldest son's years at SCHS, Kim has now spent the last seven years serving in some capacity and the last five heading up the volunteer committee. She spends literally hundreds of hours talking on the phone, hosting committee meetings and firing off e-mails to ensure that there will be enough volunteers to pull off the party of the year.
One of those volunteers is a newcomer to town who has really jumped in with both feet. Maylette Brown is a mother of three, full-time nurse, sometime foster parent and part-time Tupperware Salesperson, whose husband just happens to be deployed in Iraq right now. Yet somehow Maylette has found the time and energy to coordinate the fund-raising effort for this year's event. Her enthusiasm for the party is palpable as she explains her ideas to reach out and spread the word and she is determined to do more than just send out a few form letters to local businesses. She has big plans in the works for sponsorship banners and T-shirts and has even contacted some of the popular radio stations in the area hoping to get them on board. But her piece de resistance would have to be her letter to Oprah. After speaking with Maylette I wouldn't be a bit surprised to turn on my TV one day to see her sitting on that couch next to Oprah bragging about our Grad Nite celebration and maybe even hitting her up for a small donation. Watch out Oprah. You've met your match in Maylette!
Every army needs a general and the Grad Nite volunteer army is lucky to have one as capable as Carol Tuch. Carol began her service years before she even had students in high school. 
"I was drawn to participate as an artist", Carol explained. "I would go down and help draw and paint the giant murals that are used to decorate the rooms, I just thought it was fun". 
But when a coworker shared with Carol the sobering statistics about teen deaths due to drinking and drugs on graduation night, Carol decided to donate more than just her artistic talents. Since then she has donated hundreds of hours and her organizational expertise to help produce what one student told her was "the most unbelievable night of his life." 
" The transformation is so amazing, its almost disorienting," Carol remarked. "We build walls, we lay carpet. We build casinos, a diner, a game room, a disco, a room to relax in, you name it we've got it." 
And it's all geared towards the kid's interests. The design team is always looking to introduce new activities, new foods, new crafts, new raffle items, anything to ensure that the kids really have the best night of their lives. Cost, of course, is always a consideration, and Carol and the crew work hard to keep costs low enough for every student to be able to attend. For those unable to afford it, scholarships are available and Carol would like to see those scholarships reach even more students. She's currently working on a plan to find sponsorships for children of military families and would love to hear from anyone willing to help out with that. She estimates that currently about 80% of all graduating seniors attend the party, but she'd like to see that increase to 90% or more. 
"That's what really makes all the work worthwhile, if we save one kids life with our efforts, then it's all been totally worth it," Carol exclaimed.
If you would like more information about San Clemente High School Grad Nite, please visit the San Clemente Triton web site at
www.sctritons.com
and click on the Grad Nite link. b