Cyber Learning for Seniors
Feb 02, 2007 10:29PM ● By Don Kindred
by Bill Thomas
SrNet Cyber Cafe is housed at the Beaches, Parks & Recreation Foundation offices on Calle Negocio, in San Clemente. San Clemente's SrNet Cyber Café, temporarily housed in a former fire station, offers a range of computer classes for seniors. Five, six-week terms per year include courses ranging from a very basic introductory course to a sophisticated class in digital photography. Other six-week, two-hour courses include the Internet, word processing, email and "Introduction to XP." Additionally, workshops are offered, free of charge to students on such topics as "Buying and Selling on EBay," "Planning Vacations Via the Internet," "Computer Protection," among others.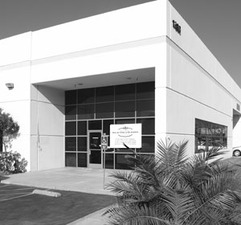 Besides the computer education program for seniors, the Cyber Café houses the Fire Station Art Gallery, a thirty-painting exhibit featuring many of San Clemente's most talented artists, and a book-lending activity has also just begun. 
"I picked up three books that were unavailable at the local library," reported Sally Frier, Cyber Café student. "I'm just thrilled with this new service."
Under the umbrella of the San Clemente Beaches, Parks, and Recreation Foundation, the SrNet Cyber Café was founded in June of 2000 "… to provide computer education to senior citizens." The parent organization, Senior Net, headquartered in Santa Clara, California, established this program twenty-five-years-ago to bring technology to the country's older population. There are 220 Senior Net-affiliated computer-learning centers throughout the country, with several in foreign countries. The organization has a multitasked website with computer tips, hardware and software discounts, online reading and movie groups and innovative learning opportunities. The learning centers are provided with the parent organization's consulting services and classroom workbooks in all computer subjects.
San Clemente's program began with a grant from the National Association of Parks and Recreation providing ten computers. Senior Net provided consultants to help set up the computer classroom, hook up the Internet, and train the first team of local volunteers as classroom computer educators. Over 1,000 San Clemente senior residents have completed Cyber Café courses since its doors opened. Each class has up to nine students, taught by an instructor usually assisted by a coach who provides individualized assistance. There is a workbook for each course, and homework is required. Once one class is completed, students are encouraged to sign up for more advanced courses and workshops. Students also actively use the Internet and email for various assignments. 
Instructor Dan Feinberg instructs seniors at a learning workshop.Why do volunteers teach and who are they?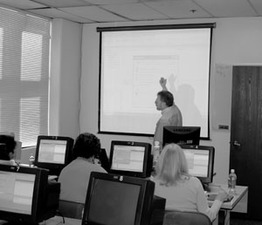 Twenty volunteers, mostly highly successful current and former members of the aerospace and computer technology worlds, staff the Cyber Café, serving as instructors and coaches of classes and technical and support staff. 
Hank Lopez, who started in cyberspace in 1983, feels contributing his time to charities and helping/teaching people about computers is "payback." A former senior vice-president of engineering for Allied Signal, he designed and developed hypersonic propulsion systems for NASA and the air force. 
Dan Feinberg, whose resume reads like a "Who's Who?" of international engineering, sales, marketing and management, is still professionally active as President/CEO of Fein-Line Associates, an electronic interconnect firm. Why a volunteer? "I do it because I like to help people understand and harness the power they have in their hands when they know how to use a computer. The person-to-person contact makes for an instant reward."
Retiree Warren Alford, still a Commander in the US Navy Reserve, spent 30 years as a developer and manager in the computer industry. As the Cyber Café's technical director, Alford stated, "I provide services at the Café to keep active and up-to-date." 
Dick Calta, a former Air Force logistics and aircraft maintenance officer who served worldwide, still works with C-17 aircraft for the Boeing Company. He has volunteered to continue his community service activity, which includes helping to obtain Boeing monies for the Cyber Café, Courtney's Sandcastle, and the Marine Monument fund drive. 
Over 55-ers keeping up with the technological age.Joe Gloudeman, one of several instructors who teach digital photography, started with computers in 1957 as part of his early career in aerospace. He has a doctoral degree in engineering from the University of Stuttgart in Germany. Among his many technological accomplishments, he worked on NASA's Apollo lunar landing, also serving in the space shuttle program. Later, as president and CEO of the highly successful software firm, he traveled the globe to sell its wares. "I'm delighted to help out at the Cyber Café as a means of giving back for all the good things I've gotten from a lifetime in computing," he reported. 
Jill Kohlhase, a nurse at Mission Hospital, was once a "terrified beginner." "My thought is that if I had had a 'mentor' or coach beside me, I would have learned the ins and outs faster and with more confidence." 
After spending 26 years as an Air Force officer, including teaching at the Air Force Academy, Bob Lopina spent an additional ten years as an executive in aerospace companies. He is also a professional photographer continuously capturing images of his artist wife Louise's award winning paintings. Lopina has instructed in digital photography and "Word," and enjoys teaching students "…how to use their cameras and computers to 'better enjoy life.'"
Why do students enroll in classes? Their reasons vary.
Jack Domito started with "Computers for Scaredycats" and has worked his way up the course ladder to more advanced experiences. "It's a wonderful program," he states, "even though my schedule doesn't always coincide with the class offerings. I've learned a lot."
"It's great," comments Joy Boyes. "It's so personal especially when you have only three or four in a class. All your questions are readily answered." 
"I'm not very computer-literate," admitted Norm Sherman. "I had a great teacher who took the time to teach me a great deal, even to emailing me answers to questions I continuously send."
Don Kerns considers Dan Feinberg a "master teacher." "He gave me as good an education as I could ever get." 
To Arlene Button, the digital photography class "…opened up a new world for me. I really enjoyed it. It provided brand new knowledge."
All good reasons for you over-55ers to "hop to it." Don't let technology pass you by. Stay on the leading edge with the SrNet Cyber Café. b
SeniorNet Cyber Café Schedule. click here