Erba Spins off Erba Home Two Partners Expand Their Offerings
Feb 02, 2007 10:23PM ● By Don Kindred
by Bill Koelzer
Chris Garcia owner of Mission Plumbing & Heating followed his father's footsteps. The beautiful new (since July) Erba Home store on Avenida Del Mar, Main Street, San Clemente is a customer-demanded spin off of the fragrant Erba store also on Del Mar.  And they share many similarities.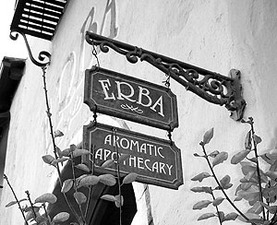 Owners, Lisa Rodarti and Marina Goffredo are women of Italian descent who chose the Italian word for "herbs" to incorporate into the name of the first store, Erba, when they opened it four years ago.  Now, the new store, Erba Home, located in the former "Cheers" store location on Avenida Del Mar, carries the same first name as well.
Co-owner Lisa, a fashionable, young single mother with three children says, "Our first store Erba, carried many products relating to aromatherapy, which holds a very small niche in retailing. Many people care deeply about body care in relation to aromatherapy, and so Erba's success led to expansion into a second store, Erba Home, offering many of the home decor items that we could not fit into our small quaint space."
Because such products are important to Erba's customers, taking good care of customers is essential. "You might say that we are a customer service store first and after that we sell products," Rodarti said.  "We advise and council and make it easy for customers to find exactly which product they are looking for at our Erba stores. And they respond—-customers are always telling us how much our stores are such happy, positive, friendly, knowledgeable places to visit."
Marina Goffredo.Being unique is also important to the partners. Lisa remarks, "Other stores might have products similar to what we offer, but you'll find that our offerings are unique and not found elsewhere in this area. In fact, no one has the array of home spa treatments, aromatic candles, European soaps, body lotions, hand care items and innovative paper products that Erba carries, or the fabulous home interior products that we offer. You won't find better quality products, and yet we keep prices down.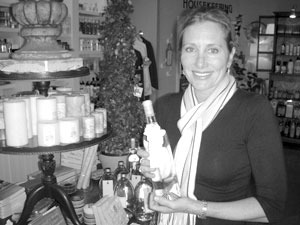 "If a product is unique and offers excellent quality, fits our motif and it's gorgeous, we order it. But we do that only if we think that our customers who work hard for their money will find it in the realm of reasonably priced. In other words, our products are not only beautiful but they are economical and are produced to last.
"It was the customers of Erba who encouraged us to open Erba Home, the second store, this last July. They loved our selections in the first store, but wanted us to offer more choices in home decor, including covers, quilts, comforters, colorful pillowcases, and furniture and home accessories for all the rooms of a house. We couldn't add many new items because our space was too small at Erba. So, we opened another store. Beautiful, unique and fun products are what you will find at Erba Home."
It pays to be different. "We make our own pillowcases, bed skirts and covers," Rodarti explains. "For unique bedding at Erba Home, we also offer the rich Pom Pom Maison line of 100 percent linens and cottons." 
Here's a tip…visit Erba, and ask to see the newly created browsing room that is solely devoted to cards and paper goods of all kinds—-invitations, imprintable note paper, journals, brag books, stamps, letter press note papers, cards, wax stamps, embossers and much more. Or, see different collections at Erba Home.
Lisa Rodarti.Lisa comments, "At Erba, our body lotions, baths, scrubs and more, are nicely aromatic and herbal…you won't find the smell of cotton candy in our products—only the scents of nature. Our perfumes are all European because of the higher quality."
Quality is a pervasive theme in the Erba stores. Rodarti reveals, "The European soaps that we offer are triple milled and go through a pressing process three times, quite unlike domestic soaps. While that makes the soap denser, and thus last longer, what is more important is that our soap uses essential oils instead of merely fragrances and natural products."
The two partners, Lisa and Marina, are well suited to running a business. Lisa has a master's degree in management and even owned a swimwear shop while still in college.  Marina's degree from New York University is in finance. Together, they have the two most important aspects of a retail business well covered, as you'll find out when you visit Erba and Erba Home. b