Kitty Schmitt - Illinois Transplant Fulfills Her Passion for Community
Aug 30, 2006 09:37PM ● By Don Kindred
by CeCe Darakjian
Creating community is Kitty's Schmitt's goal. In 1983, Kitty Schmitt and her husband Mark were looking for a place to call home. Recent transplants from Illinois, they had settled in the San Fernando Valley, but found it too crowded and way too hot. Kitty, tired of the "California lifestyle" after just two years, and wanted to return to Illinois, but Mark was determined to give it one more try. He asked her what he could do to change her mind and she gave him one option. Move her to the beach. 
After checking out a couple of locations including Huntington and Newport Beach, the Schmitts decided to give San Clemente a try. They liked the small town feel, the beautiful beaches and the friendly people, but truth be told, they were most attracted to the easy freeway access. It would be that fateful decision to move to the beach, over 25-years-ago, that would transport Kitty into a full-time passion. A passion to contribute to a community that she has come to love.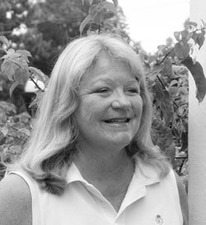 The dictionary defines community as a group of people sharing in participation and fellowship. That has been the goal underlying all of Schmitt's endeavors since she came to town. Whether working in the schools, the neighborhood or the community, she has excelled at bringing people together to work for a common cause. When Kitty calls to ask you to take on a job, her friendly unassuming style assures you that you can handle the job and that you'll enjoy it. No pressure salesmanship, no guilt trips, just an assurance that what you will be doing will be needed and appreciated This is probably why each project she has taken on has blossomed and become even more successful under her touch. She makes people want to help to make their community a better place. 
While Kitty Schmitt has used this approach in many different settings, from her neighborhood block party to the community at large, it is the school community that she is most passionate about. Her foray into the school system first began back in Illinois. She was an elementary school teacher there. and assumed that was exactly what she would do in California. 
Of course, things frequently don't go exactly as planned and Kitty's children Caitlyn and Matt soon became her main occupation. Not entirely ready to leave the classroom behind, however, she took a job as a substitute teacher at Concordia Elementary School. While working as a substitute, she enrolled her kids in the preschool program at Our Savior's Lutheran School in south San Clemente. Her involvement in the preschool eventually led to a six-year stint as Principal of the entire school. During that tenure, Our Savior's saw their enrollment jump from less than one hundred students to over three hundred. And the school added three grade levels and increased standards for their teachers. 
But Schmitt's most important contribution at Our Savior's was the increase in family involvement. She instituted mandatory family participation for running the school, but also offered increased activities in which the entire family could come together and have fun. As she watched the school grow into a community of caring parents working together for the welfare of their children she was hooked. 
At Our Savior's, Kitty got a taste of what a group of people working for a common goal could accomplish and after six years she was ready to try something new. She decided to give the Parks and Recreation Foundation a try. Although she loved the work she did with that group, it soon became evident to her that her passion was in education and she decided to concentrate her efforts on providing children with the best education they could receive.
Schmitt's next move was to Shorecliff's Middle School. With her children attending school there, she started once again working as a substitute teacher. At Shorecliffs she met a group of women who would have a profound affect on her. They were a dedicated group consisting of Kim Sabins, Carole Barge, Trudy Prodabas and Jan Galati. They were the leaders of the school's PTA, and slowly, but surely, they began drawing Kitty into their PTA world. It didn't take long for Kitty to recognize the power and importance of a school's Parent Teacher Association. She realized that the values espoused by the PTA were the exact same values she was interested in promoting. Those values included, adults having the responsibility to ensure that all children develop to their full potential. Also, that parents are children's first teachers, and that parent involvement is essential throughout a child's educational experience. And lastly, that it is important to advocate for the safety and well being of all children as well as providing a quality public education. 
Kitty, Matt and Mark Schmitt celebrating a milestone.Kitty's introduction at Shorecliffs was just the beginning and she soon went on to serve as PTA Vice-president at San Clemente High School and then as President for the past two years. During her tenure, SCHS PTA has received many awards, both statewide and national. This last year they were recognized for their innovative TAP program. After recognizing a need in the classroom Schmitt worked hand in hand with principal Chuck Hinman in developing the Teacher Assistance Program, allowing parents to help in over-crowded classrooms to provide needed teacher and student support. They also received recognition for publishing a school-wide directory. 
Most high schools don't take on this project anymore because the numbers are just too large, but Kitty felt it was an important step in her community building. While the directory was a fun way for kids to be able connect with their friends, Schmitt saw it as an avenue for parents to be able to connect also. Parents who wanted to check up on suspicious stories or who wanted to pass on positive information about each other's kids could use the directory to ease that process. Just another example of Kitty's dedication to building communities, helping people to come together.
Being involved in PTA involves never-ending fund raising, but the results are always worth it. This past year the PTA was able to spend over $40,0000 on teacher's wish lists to purchase things like TV's, LCD projectors, printers and overhead projectors. SCHS Principal Hinman doesn't hesitate to share credit for the school's success with Schmitt. 
"For a high school to be successful you have to have community involvement and Kitty epitomizes that idea. She has made my job a dream job the past couple of years. I couldn't imagine doing this without her," Hinman stated. 
Just as Schmitt had followed her kids to Shorecliffs she also followed them into their community activities. As Caitlyn became interested in sports, Kitty found herself serving as treasurer for the San Clemente Girl's Softball team while Mark coached the team. As Matt began participating with the Boys and Girls Club, Mark took a seat on the club's managing board and Kitty began participating in the annual auctions and golf tournaments. Her morning walks on the beach soon led her to volunteering at the Ocean Festival. But no matter what else she dipped her finger into, it was always education that called her back. 
Once Kitty was settled into SCHS she became aware of the San Clemente Education Foundation and it was there that her skills as a community builder really took flight. The goal of the non-profit group is to raise funds for academic use at the high school. Currently the foundation funds the freshmen mentoring program, the free Wednesday night tutorials, a part-time academic advisor and other academic programs (like the academic decathlon team). Fund-raising activities include a family swim meet, the Ralphs Community partner's program, whereby Ralphs donates a percentage of sales back to the school and an annual Luau at a bluff- top home above T-Street. This year the event was attended by more than 125 people and netted over $50,000. All that money went straight back into the high school. Kitty feels that the work the foundation does is an important part in making San Clemente High School the success that it is. 
Through Schmitt's own children, she has witnessed first-hand the excellent education that SCHS affords. Her daughter Caitlyn currently attends Cal State Long Beach on a Presidential Scholarship for Academic Excellence. With the advanced classes she was able to take in high school she entered college with enough units to qualify as a sophomore. Caitlyn recognizes daily that the education she received prepared her totally and completely to compete at the college level. Son Matt is heading into his senior year of high school and facing the decision making process that goes along with college selection. While his main criteria is currently finding a school with ridable surf, he is happy to know that SCHS has prepared him to have the option to chose where he wants to go.
Don't think that Kitty is so busy raising money and improving our schools that she doesn't take the time out to delight in her surroundings. She still enjoys San Clemente for the exact same reasons she and Mark chose it in the first place. She loves the small town feel, the friendly people and the community events that bring the town together to celebrate living in such a beautiful place. She relishes the joy of living in a community where people stop and say hi and ask about your kids or your dog. 
And then there's the beach. That's where you will find Kitty walking mornings from her T-Street home down to the shore, remembering why she chose San Clemente as the place to raise her family and spend her life … easy freeway access, and of course, the beach. b