PUBLIC, PRIVATE or HOME SCHOOLING ... Deciding What's Best for a Child.
May 05, 2005 03:46PM ● By Don Kindred
by Helen Chade Mahshi
    The vast majority of us grew up going to public school. Nowadays, a greater percentage of children will be home-schooled or will receive private schooling. What's behind these choices? And how does a parent decide which is best for his particular child? With a daughter soon-to-be in kindergarten, I was curious about the many options out there, and chose to investigate them all.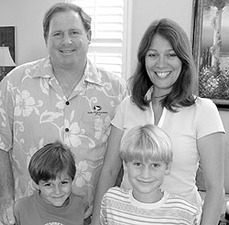 "As a parishioner of St. Edwards Catholic Church (in Dana Point)," said Jan Stalmer, " I looked forward to putting my children through their school system. However, my oldest son, Blake, now going into the 2nd grade, was diagnosed with Apraxia, or speech delay at the age of two." Her youngest son, Ryan, had enunciation difficulties as well. "I was surprised that St. Edwards didn't have any special-ed classes. Also the class sizes were quite large." 
     Stalmer found that private schools in general don't have the funding to offer programs for special needs children, but the public school system has much to offer. "The Capistrano Unified School District is fabulous," shared Jan. 
Jerry and Rosie Klein, with McKenna and Michael.     At the pre-school level, Stalmer's children were assessed and provided with speech therapy. As a resident of San Clemente, she did not have to pay for the therapy her children received. The pre-school intervention provided brought them up-to-speed in time for them to attend regular, mainstream classes at Clarence Lobo Elementary School.
     Cathy Gonzales, San Clemente resident and credentialed teacher, echoed a similar sentiment. Her European-born mother put her in private school from 1st-4th grade. However, her mother became increasingly frustrated with the private school system because they could not handle her younger sister who had cerebral palsy. 
    "My mother found an excellent public school for us. My sister's needs were met and my needs were met in a mentally gifted program," shared Cathy.
     However, for some parents, private, Christian school is the best environment they trust their child to be in. Christy Calvert, San Clementean, and president of the Parent Teacher Fellowship at Our Saviors Luthern School said, "In my opinion, private school is the only way to go." She expressed the sentiment that although some kids will do very well academically in either private or public school, she wanted her only son to be in a Christian environment. "I want my child to be in an environment where the Bible will be taught, where he will be around people of high integrity and excellent morals and values. Also, if he misbehaves, I want to know he will be called on it." 
     Our Saviors is also well-known in the area for its small class size and excellent academic program. For many parents, a private, Christian education is an extension of what the child is being taught at home. This brings peace of mind to those who fear putting a child in a public school environment where prayer is no longer allowed. 
    "When you have just one child, you're able to do so much," shared Christy. She's willing to have fewer vacations in order for her son to attend private school. At Our Saviors, her son, Thomas, is active in piano lessons, sports activities and through other venues.
    Teresa Walbrink, mother of three sons, expressed a complementary point-of-view to Christy's. All of her children are in the Saddleback Valley Christian School District. Their curriculum also includes advanced placement classes. Her priority is for her children "to be in a Christ-centered environment and to be around people of integrity. I like that my kids start their day with prayer," said Teresa. 
     Private school seems to attract a more homogenous environment or children of similar academic and social abilities. Public school attracts all skill and social levels and is generally able to meet the needs of most levels.
     Home Schooling, which has become more popular in recent years, is an option most often initiated by the parent, but in some families, it's the child who asks to be home schooled. This was the case for Jerry and Rosie Klein of Dana Point. Their daughter McKenna, asked to be home schooled as she entered middle school. To that end, Rosie uses the Seton home school program ordered online. 
    "They make it very easy for the parent," shares Rosie. "They lay out the lesson plans, and correct the quarterly tests for you." 
     As McKenna gets older and into a high school curriculum, the Kleins will put her in a math and sciences program at a local, umbrella school that teaches these subjects to home-schooled students. This sort of hybrid program fascinated me. 
Roger & Jan Stalmer, with sons Blake and Ryan.     "For children who want to have more of a hand in their children's day-to-day activities and studies, home-schooling really works," shared Rosie. "Education is a journey, not a race. I wanted to find an education that would suit who the children are." 
     The Klein's extroverted son, Michael, is in a Journey School—a charter school within Capo Unified School District. Many of their studies are taught through music and drama. It is a program that attracts children interested in the fine arts. 
     For Allison Orgill, a Marblehead resident, and mother of four, home schooling has been an excellent experience. "My #1 priority is that I wanted my children to have a Christian education," she explained. 
     Allison adheres to the classical model of education, which is rich in literature and the arts. "Home schooling is especially good for active boys," shared Allison. "You can work in stages throughout the day with plenty of time for them to play." 
     Parents who home schooled expressed that the advantages were many: more freedom for travel at anytime during the year, flexibility throughout the day and an ability to impart their values to their children and have more opportunities to spend time together.
     For the Kleins, who own their own home-based business, home schooling provides the opportunity to allow the children to join them on their twice-yearly business trips. They bring the children's lesson plans with them and usually add a couple of extra days to their trips to sight see and travel. Rosie's observations of home-schooled children is that they are "more entrepreneurial than other kids are, and more service-oriented and socially conscious." 
     Our school choices are rich and varied. We are fortunate to live in an area that offers so many opportunities to educate our young and to be within a public school district that has such outstanding programs and so much parental involvement. Cathy Gonzales echoes our Founding Fathers in her comment: "only a highly educated citizenship can have a democracy. Without the public schools, you do not have a strong democracy." Regardless of the individual choices each of us make, it is important to continue to fight on for a strong public school system which gives every one of us the right to an education. b