BALI STYLE - Unique Tropical Decor
May 05, 2005 03:41PM ● By Don Kindred
by Maggie Zeibak
Specialty pieces enhance the Bali style.    Conjure up images of a breeze-ruffled island where the gentle inhabitants keep their simple way of life, as they have done for many years. Imagine their serene composure as they live a flower-adorned lifestyle, meditating or sipping tea in the family "Bale", or pavilion. The opportunity to enjoy this same experience and own a Balinese platform of dreams, as well as other original exotic pieces of furniture, is now available in San Clemente.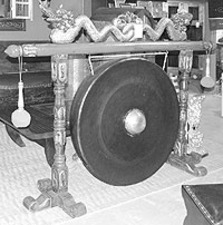 It always starts with surfing, doesn't it? Once the draw of the waves found Andrew Stoneman, Cayo Junco and his daughter, Juliana, in Bali, the lifestyle and culture seduced them. They found their passion and decided to share their love of Balinese art and craftsmanship initially as a web-based business. As their personal treasures were admired, others with an appreciation of unique pieces soon emerged, and their frequent trips resulted in bulging suitcases, bringing back samples of artistic expression and leaving orders with select artisans to create custom pieces.
    "What is Bali Style?"
    "The 'Bali Style' movement pertains to a '30s era myth created by European artisan pioneers that glorified the "Boho", or bohemian bourgeois living in rustic splendor. It is defined by a contemporary blend of modern furnishings and accents combined with traditional materials, styles and the artistic abilities of the Balinese people. The results provide something for everyone from the super Zen conscious to the California traditionalist."
    "Specifically, what does Bali Style import?"
    "Our primary inventory consists of hand made, personally selected, finished furniture of all kinds. We customize our flagship item, the Bale', to accommodate our clients' anticipated use. They are structural rooms, similar to a gazebo, but far more inviting as a private retreat or an area for entertaining guests that most ideally suits the Southern California lifestyle."
Bali style furniture is personally selected.    "So, 'Unique Tropical Décor' really does say it all?"
    "Not exactly. You see, we do a lot more than just provide furnishings for our clients. The total solution is our ultimate service goal. We found that most customers who have a requirement for specialty pieces also tend to create entire environments around themselves, both at home and work. The purchase and installation of one of our classic statues, for instance, may beckon for tropical foliage reminiscent of the island, or perhaps a water feature would enhance a traditional Bale'. As a result, we began to offer turnkey solutions in landscaping and hardscaping design, lighting and complete interior makeovers with a contemporary Balinese flavor. Having spent time abroad to immerse ourselves in the "Real McCoy" we felt we were best qualified to assist those wanting to create a true Balinese home or garden with its spiritual and cultural embellishments."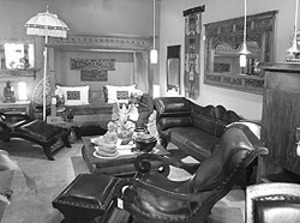 "How often do you travel to Indonesia?"
    "We plan a couple of trips a year that we anticipate, but that is often subject to change as custom orders require us to supplement our travel itinerary. Not long ago Cayo had to fly to Bali to oversee the loading of a significant number of pieces that we felt required personal attention and supervision. These trips are not about sipping coconut cocktails, they require long days in arduous conditions dealing with third world obstacles that can make doing business tricky at times."
    "What kind of obstacles?"
    "Aside from the long flights, intense heat and humidity, questionable sanitary conditions, and a business culture that starts and stops around daily religious ceremonies, we deal in an extremely competitive marketplace. Indonesian furniture and accessories are thriving in Western Europe and it makes it tough to find that "one of a kind" treasure that we pride ourselves on. We are careful about getting something truly original and authentic. Fortunately, our long-standing relationships with quality vendors and local artisans keep us ahead of the pack."
    "Will Bali Style influence the consumer market in San Clemente?"
    "We like to think our presence will accommodate the continued residential and commercial growth the area is experiencing. Southern Californians have always had a good eye for unique and authentic décor and the trend toward original living environs is showcased here in Orange County. More and more, you're seeing outdoor lounges, entertaining arenas that blur the image of what we previously thought as traditional spaces. The Balinese philosophy of continuity from interior to exterior living space emphasizes the need for our total solution approach."
Cayo Junco, daughter Julianna and Andrew Stoneman of Bali Style.    "Is there a spiritual aspect to what you do?"
     "We like to think so. Anyone who has traveled to Bali will tell you about the significance of the religious beliefs in everyday existence. You can't help but be taken with the absolute differences that exist there in respect to our Western practices. The sense of "self-realization" that exists amongst the people creates a comfort level not commonly encountered here. It's a big positive when it comes to developing relationships with Balinese vendors. Genuine, long-lasting relationships are paramount to the success of our business."
     In the Bali Style gallery there are inviting couches strewn with pillows, lava stone statues, handmade leather handbags ($35-$75), a set of 4 placemats ($18) reasonably priced batik sarongs and unusual jewelry. More artwork is arriving, offering another opportunity for customers to acquire and enjoy one-of-a-kind collections to enhance their home, office, patio, or pool area.
     To learn more about this new school of design, wander into the gallery, sip some tea and let the trio educate you in the intricacies of woodcarvings, radiused legs, opium couches and ikat fabrics. They are more than happy to be your personal shopper on future trips and offer on-site consultations and project management. Your next decorating project can change your lifestyle if you leave it to the originality, authenticity and service of the Bali Style people.