The Mary Erikson Foundation - Building Homes, Building Lives
May 01, 2011 10:02AM ● By Brian O
by Katherine Sweet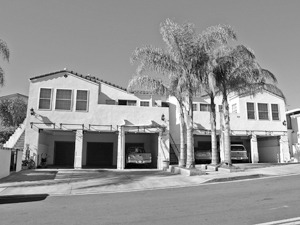 The four squeezed into just one bedroom. Unable to find full-time employment, she asked constantly to pick up extra shifts at the grocery store where she worked part-time. Now she can make her rent, pay her medical bills and serve something for dinner besides rice and hot dogs. Thanks to Mary Erickson Community Housing, a San Clemente nonprofit dedicated to providing affordable housing, her life has completely changed.
Today, Nicole lives in a two-bedroom place and pays half of her rent. The kids are happy and Nicole is thrilled. "It's not easy," Nicole said, "but it's not hard like it was. I can provide for my family now." The nonprofit got its name from Mary Erickson, a local teacher who was a staunch advocate for helping low-income families. Today, with only a small staff, the organization works toward its mission to promote the well-being of working families by providing and increasing the supply of affordable housing.
The way it works is MECH pays half of the rent, allowing the family to put aside savings and hopefully someday move into permanent housing. Their homes right now provide shelter to 83 San Clemente residents, many of whom are kids, with a total of 353 people receiving assistance through their offices. "I used to not sleep, wondering how I would pay for this or that," said Enrique, who came to Mary Erickson's while supporting his four kids. "I felt a serious weight had lifted off my shoulders."
The organization fields hundreds of calls from prospective clients every year, often from people stuffed into one-bedroom dwellings. The families are living in conditions executive director Susan McDevitt terms "filthy" and "damaged," with broken windows, stoves that don't work, water leaks and paint peeling off the walls. Crowding, such as eight people in a two-bedroom apartment, is possible. With MECH, families receive hope. "We offer opportunities for respite and an affordable place to live where they can raise their family," McDevitt said.
Families are referred from the county, transitional shelters, churches and word of mouth. Screening is rigorous, and for those lucky enough to pass, a waitlist – an extensive one – is kept constantly, with families often forced to wait for years.
Every day, frustrated families knock on MEHC's door for help. Cynthia was looking for an apartment. She was paying $1,700 rent and was the sole support of a 7-year-old son, a 60-year-old mother and a 90-year-old grandma. When her mother got laid off, she could no longer pay rent. With help from Mary Erickson's, her family moved into a place for only $1,000 per month. She cried when she got her apartment. Through their work, this sad overcrowding is eliminated. You do the math: The average family size of those seeking help is four to five people, and most Mary Erickson apartments are two or three bedroom.
The staff is proud of its success in moving families into home ownership. "Having seen the horrific living conditions in which families live," McDevitt said, "I want to get them out of that environment." The program does not accept just anyone. The hoops to jump through include a min/max income criteria and a background check (of credit history, criminal record, employment), plus one member of the family must be currently employed. For example, a household of three has max earnings of $41,840, with the average Mary Erickson family pulling in about $28,500.
This organization sees themselves as a stepping stone. "We try to help people to make their lives easier so they can be successful in their communities," Jill Martin, director of programs, said. This assistance can mean finding employment, clearing up their credit, and, in general, cleaning their lives up. Mary Erickson's reaches out to families in need beyond just housing. The organization teaches six life skills classes per year, designed to improve lives and strengthen families. Through classes on personal finances or communicating with your children, residents learn how to be independent and achieve their goals, whereas the Teens Forward program targets twenty 13- to 18-year-old youth through presentations on gang prevention or career development.
"We want them to see that there are so many new and exciting things in life," Martin said. "That there are opportunities that they never imagined." McDevitt recalls in particular a single mom with three kids dealing with a domestic violence situation and much debt. After being placed in an apartment, she "really got her act together" and her determination – along with some credit counseling – led her to a stable job and suitable housing. It is these stories, says McDevitt that make it all worthwhile.
The times, of course, keep them busy. The situation of affordable housing in Orange County is, as many know, particularly dire. Many families are coming out of foreclosure and experiencing job loss, leading to skyrocketing demand for affordable living options. Martin reports they get so many calls and have only so many apartments. "There is a great need for affordable housing," McDevitt said. "I don't think people realize how hard it is to be minimum wage workers and to make ends meet."
The positive side, however, is that as prices for homes and needed qualifications lower, more and more are able to achieve home ownership – and Mary Erickson's has attracted new funders as conditions worsen. "I'm a single mom myself," Martin declared. "I know how hard it is to put food on the table and take care of the kids. People just need a helping hand. That's why I'm here."
Mary Erickson's continues to grow, increasing not only their housing services but also their partnership with the St. Regis Hotel, launching a new office in Corona, 187 rental units in the pipeline and new opportunities in foreclosure work. All this adds up to a conservative estimate of 508 individuals being served in the future.b Community members can get involved by helping with life skills classes, serving on the board of directors, providing funding and more. For more information, visit www.maryerickson.org or call (949) 369-5419.