A European Dining Experience
Feb 01, 2011 10:04PM ● By Brian O
story & photos by Jamie Brinkman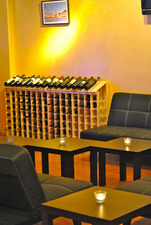 OltreMare brings a whole new dining experience to Southern California. The dynamic business partners, Sergio Melissano and Kim Page spent many an hour talking overseas (he in Italy and she on the east coast), working together to create something new - Italian food fused with European and Mediterranean influences. Located right across from the San Clemente Pier, the literal translation of OltreMare - overseas - has not gone to waste. In Europe, especially Italy, dinners on average last three hours, where everyone takes time to appreciate each dish and marinate on the individual flavors and textures. Kim Page, an electrical engineer from the east coast, had to explain to Sergio, that here in America, people usually want to get in, eat, and get out. So, together they have created a restaurant where if you have the time, you can have the gourmet three hour dining experience that would hold up to any fine dining restaurant, or you can come in your flip flops after a day at the beach, with the kids in tow for a quick early dinner. That's the great thing about OltreMare - you don't have to have three hours to tantalize your taste buds with the many flavors of Italy.
OltreMare has indoor and outdoor seating so if you want to have a romantic date, and allow the sea salted wind to whip through your hair you can. In fact, patrons are encouraged to linger as long as possible and some do. Or, you can have a table for four next to the giant fish tank that is located in the upper level dining room. That's right … in this restaurant; every table has a spectacular view because the back portion of the dining room has an elevated floor. Another reason to sit in the back is that you will have a closer seat to Potato, the robust yellow puffer fish. Now this fish ain't for eatin' folks, this puffer fish is the house pet. Page swears that he has human like qualities and an intense curiosity for children. He would probably entertain my three-year-old for days. OltreMare features Northern Italian cuisine, blending European and Mediterranean influences. Melissano, a handsome rugged young Italian, hails from Torino (the Piemonte Region) of Italy and like most Italians, learned to cook with his family in his own kitchen. When the restaurant opened in December of 2009, the chefs had been flown in from Italy, where they had learned from Italian Culinary schools and gathered experience while cooking all over Europe. Melissano wanted to bring a lighter, healthier, and more modern style of dining to Southern California, without all the heavy sauces and dressing.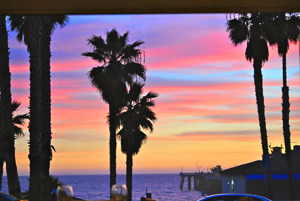 After being seated at the best table (because every table in this restaurant feels like the best one), you'll probably begin to feel like you're getting special treatment. Hate to break it to you - everyone that walks through the door gets special treatment. Freshly baked rustic Italian bread, house made every day with whatever the chef feels like throwing in, is brought to the table. The night that I visited, the bread was a deliciously soft and fresh tasting rosemary and pine nut blend. As soon as I went to steal my second piece of that bread, heaven on a plate was brought to the table - a quick fried polenta dish, with a marinara and cheese sauce, and a balsamic reduction drizzled on the edges. This is complimentary and a perfect way to start your dining experience. Every single plate brought out is exquisitely presented and creative in its own way. Melissano, the "foody" of the duo, handpicked and crafted the menu and wine list himself. The traditional Italian Caprese is presented in a layered horizontal stack of tomato and mozzarella, and then lightly sprinkled with basil and oregano. Each appetizer served continued to impress me, but my favorite was the Flan di Verdure. Don't let the word flan take your brain to the Mexican version, because this one is far from it. It has more the consistency of a quiche and features fresh vegetables, parmigiano, and is delicately topped with fontina cheese and truffle oil. Delectable. And this is all served before I even order my entree.
The entrees are exceptionally fresh. The penne is cooked al dente with a lighter version of a vodka sauce with grilled shrimp and is only considered a first dish (traditionally meats, are second courses I learned). The courses are proportioned for a marathon of eating rather than a sprint and so as I waited for my entree, I was feeling rather good. That is, until I saw Sergio rolling out my Branzino al Cartoccio or baked sea bass, and realized it was an entire fish. In tradition with the European style of serving, Sergio flayed and deboned the fish right in front of me. As he was doing so he explained that he had learned this from his aunt, and also that this particular fish had come from the Mediterranean only 12 hours earlier. Now that is what I call fresh. As he was preparing my entree, we had a great chat about learning to surf. Sergio had just taken up this California past time and was
beginning to really embrace our culture as I myself was thoroughly appreciating his. "This is the best part of my job, "Sergio says, "I get to chat with so many different people and interact with everyone that comes into our restaurant." The desserts, like everything else, are house made daily. Chocolate cake, Crème Brule, and ahhh - the tiramisu. I could have done without four desserts, but so be it - I ate them all. Though there was not room in my stomach, they also serve coffee and espresso. I did happen to sample other beverage though which included the fabulous house cabernet sauvignon and a couple of the Italian wines. All were superb and exceptionally smooth. And if you're in the mood for a martini - which are only $5 during happy hour - I did manage to sip on a teeny sample of an espresso martini, which was the creamiest and smoothest I have ever tasted. After all was said and eaten, I thought about sitting (who am I kidding, or laying) on the luxe lounge seats in the bar for a minute before I left, but I didn't think I would be able to get up so we left full and happy.
On weekends, OltreMare is also open starting at 8am for a superbly priced brunch. You can get everything from frittatas, stuffed toast with mascarpone cheese, to crab Benedict, where the cakes are truly stuffed with real crab. Oh, and they have $3 dollar Mimosas, Bellinis, and Bloody Marys until 2pm. Sold. You'll see me on their porch on Sunday. Come by and say hello. Whether you want to fully indulge as I did, or grab a quick dinner, all diners regardless of your requirements are welcome at OltreMare, and believe me, try it once, and this restaurant's amazing dishes will lure you in time and time again. b