San Clemente High School Dance Team: From Then to Now
Feb 01, 2011 09:59PM ● By Mike Conlon
story by Mike Conlon, photos by Paul Waskowski
On Saturday, March 26, the San Clemente High School dance team did what many people expected it to do, win the 2011 USA (United Spirit Association) Hip Hop National Championship at the Anaheim Arena, taking home a Grand Champion runner-up trophy to boot. After all, this team had won the Grand Championship the year before, and three Hip Hop trophies in the last four years. Yet, few know how tears of sadness turned to tears of joy within a 24 hour period, mostly due to the tradition and training of the team and the support of their coaches and director. "It didn't all used to be this way," stated Jeane McPhee, long time director of the dance program, referring to the expectations and pressure put upon this team.
McPhee, an old-school competitive New Yorker, remembers taking over a team that was "respectable," dancing at on and off campus events, yet practicing in the Triton Center each day after lunch, "dodging French fries, catsup, and spilled soda." Unlike the current four nights of packed dance concerts, back then the house was routinely a quarter to half filled. But even back then, hip hop was the first love of the girls, so with her oldest daughter, Coral, on the team, and younger sister Kaely soon to follow, Jeane located a solid hip hop coach, Risa Anderson, at a summer dance camp, who worked on choreography and moves, and brought the team to its first USA National competition in Anaheim. Rather than the current procedure, where the girls enjoy a two-night stay at a hotel, back in 2004, the dancers arrived on a Saturday carrying their costume on a hanger in a hefty trash bag, warmed up, performed their dance, then waited on the dance floor for the results. McPhee couldn't recall what surprised her more, the announcement that they had won the large hip hop division, or that they were now going to perform in the "night show."
"I had no idea what they were talking about until we moved next door later that night to the Anaheim Arena to perform under the lights with other champions in front of all of these spectators. It was amazing!" And this was the cause of all the tears at the 2011 competition that Friday afternoon. Over the years, with eight previous championship trophies, the team now expected to be performing two and hopefully three dances in the night show. Once again, the team sat on the floor listening to the results, first for Large Lyrical Dance, for which only the top two teams would compete in the night show. Places were read down -"eighth, seventh…" until finally, "and in 3rd Place, San Clemente." The girls graciously accepted their trophy, feeling that one had gotten away, particularly for their choreographer and SCHS alumna, Hartley Adams.
"When Hartley joined the team in 2004, we started heading to a different level," suggested McPhee. Adams, currently a senior dance major at Long Beach State, was a standout in lyrical dance and soloist from the start, and still holds the distinction of highest finish by an SCHS soloist at Nationals, 2nd in 2006. By then, the team had transitioned from practice in the cafeteria to a room in the Industrial Arts edge of campus, formerly used for woodshop. "After former principal Chuck Hinman saw our Summer Showcase one year, he took me over to the large dingy room with power drills, band saws, dust and wood chips, and I said 'We'll take it!'" stated McPhee. Within six months, with fundraising and community donations, the equipment was gone, replaced by a wood floor, wall to wall mirrors, and ballet bars."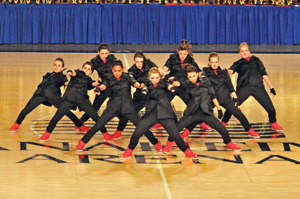 It was then that Kelly Reed (Devine) arrived, graduate of Chapman's dance school and Hartley Adams solo coach and choreographer. She soon became the artistic director of the program, with her flare for jazz and lyrical numbers, as well as her demanding and competitive style. With Kelly Devine next to McPhee, this year's team continued to sit on the floor, awaiting the next and more certain announcement for Small Dance. Five teams would be in the night show finals in this category, and Devine's dance had placed first in every Regional and State competition except one, where it took second. It was a lock, and had a great chance to win a championship trophy, at least until the announcer called out, "…and the sixth place trophy winner, San Clemente," then announcing the five finalists, all of whom the Triton dance team had previously beaten.
With everyone in tears, McPhee quickly huddled with the dancers in an isolated practice area away from all the celebrating teams, and spoke of how well they performed and how the scoring of dances can be a highly subjective enterprise. But it was clear that a lot of confidence gained over the previous months had been severely shaken. This team had practiced after school for six months, performing four days of concerts in January, while competing in Regionals across Southern California nearly every weekend beginning in early February. But now their main dance was done, and their confidence was shaken. Saturday morning posed the biggest challenge: an early 9 am scheduled time for the team's usual breadwinner, the hip hop routine, originally choreographed by Tim Stevenson. Kelly Devine had brought Tim in soon after she arrived, and with all his L.A. credentials, he soon transformed SCHS into a hip-hop epicenter, winning five trophies in the next four years. However, this current routine, although improved, had not dominated the field in Regionals, winning only by a close margin. The dance demanded a tremendous amount of energy and attitude from some very determined, yet shaken girls. They gave it their all once again in a jam-packed three minute routine, and then prepared for their next dance, hoping for the best.
At 11am, they performed another qualifying dance in the Intermediate category, choreographed by Kaely McPhee, Jeane's younger daughter, another graduate from the Chapman dance program and current lead coach of the team. Kaely was a senior on the 2005 team which Jeane described as "full of future coaches and leaders," including Kaely and Hartley, because of their enthusiasm for dance and for each other. This year's team went out and performed Kaely's number, a dance dedicated to our armed services, with great emotion, then marched off stage to await the afternoon announcements for the night show. A few nervous hours later, the girls sat in a circle, holding hands, the announcements came swiftly, "...and appearing tonight in the championship round of Intermediate Dance, we have….San Clemente…" The names of the other teams dissolved amidst the cheers of dancers, coaches, and parents alike. Then soon after, "…and in Small Hip Hop, the two finalists are Cerritos…and…San Clemente." Order had been restored.
That night, the team danced Intermediate with great calm and feeling, earning a 3rd Place Trophy. And Hip Hop, even though facing an all-boys team from Cerritos in the finals, wowed the crowd, breaking, krumping, and hopping to the 9th National Championship trophy in eight years. From French fries, ketchup and spilled soda, to championship trophies, it's been a hard-working but rewarding journey.b