Get Your Body Movin'
Feb 01, 2011 09:57PM ● By Brian O
story & photos by Jamie Brinkman
With over 20 years of practicing, teaching, and hosting workshops in yoga, Melanie Larinde always knew she wanted to open her own studio one day. Flipping through a yoga magazine, Melanie came across an article with a photo of a woman practicing yoga in a room filled with shades of calming sea green and warm sun yellow. Looking at the photo, Melanie says," I knew, this is exactly what I wanted my studio to look like."
For years, she held onto the photo for inspiration. When an attempt to open a studio while her kids were still young did not work out, she tucked this photo away into a binder with everything she had collected and knew that one day this binder, would turn into her dream. With years in the making, that dream materialized for Melanie in December of 2010 when she opened her yoga, dance, and wellness studio, called Body Movin', in the Talega shopping center. Upon arriving at Body Movin', Melanie leads me from the entrance foyer, into the yoga practicing part of her studio. She kindly asks me to remove my flip flops, and I can see she already has mats laid out on the sprung bamboo finished wood floors for us to sit on. I instantly regret wearing a short dress to this interview. The calming music serenaded us in the background and the scent of aromatic candles lingered throughout the space. Somehow, I felt calm and energized all at the same time. As I start to ask Melanie how she manifested her 20-year dream, she pulls out the magazine photo of the woman in a yoga pose in the sea green room that she kept throughout the years to inspire her.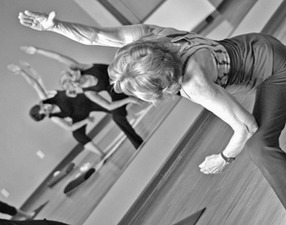 "I wanted to create a sort of sanctuary where anyone, even those who have never done yoga, can come, exercise and mediate," she explained. Melanie combined her post graduate courses at UCLA in behavioral and neuroscience and psychology, extensive training at the Los Angeles Healing Arts Center, and an MBA from Pepperdine University with her own personal experiences with child birth and rearing to help cultivate her studio. She wants everyone that walks through her doors to be filled with warmth, comfort, and non-judgment - providing a place where one can go to focus solely on themselves for whatever portion of their day they spend there and leave feeling renewed.
In addition to yoga, Melanie has incorporated dance into her studio. San Clemente High School graduate Alexa Montoya, has been brought on board to teach all levels of dance from middle school through senior citizens, drawing on her background in classical ballet, contemporary dance, and hip hop. All other instructors are professionally trained and certified to teach a combination of yoga classes including Core Power Yoga, Pilates, Ashtanga, Vinyasa Flow, Hatha, and even belly dancing. She also offers health and wellness workshops in a variety of topics. In addition to her talents as a teacher, Melanie also considers herself a seamstress at heart. As if she doesn't already have enough on her plate, Melanie decided that she would design her own line of vintage inspired yoga clothes that can be worn from the studio to the street.
"I wanted clothing that women could feel and look good in. I wanted the clothes to be flattering." And that they are. In fact, I told Melanie I wanted to buy one of her shirts to wear out that night - it was that cute. What a genius idea. For all those women out there like me, who practically live in their yoga clothes whether they're going to yoga or not, Melanie's line will change the way you think and feel about yoga wear. Right now she sells right out of her studio, but very soon she will be adding a shopping page to her website www.bodymovin.com. You can also check the website for special offers and package deals. Melanie feels that it takes a combination of elements to keep you whole and peaceful. With her studio she has tried to recreate a central place in the community for people to work on themselves in an atmosphere where they won't feel judged. Her goal is for people to feel good when they leave – that's it.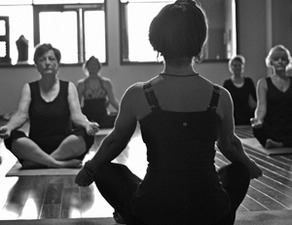 "When you feel good, you look good, you are happier, and it thus affects everyone around you in a more positive manner." Amen sister. Now take off your shoes and go take a class at Body Movin', because I guarantee you'll feel better walking out than when you walked in. b Visit Body Movin' in the Talega Shopping Center on Vista Hermosa/Via Suerte. (949)683-1630