Ocean Image Photography Local Artist for Hire
Feb 01, 2011 09:51PM ● By Brian O
story by Bobbi Jo Frank
photos by Kevin Panizza
While attending the 15th anniversary celebration for the San Clemente Journal, my husband and I were fortunate enough to bump into Kevin Panizza, owner of Ocean Image Photography. Standing in line for the wonderful food buffet provided by some of San Clemente's best restaurants, we struck up an interesting conversation.

Much to my delight, Kevin was quite the colorful character and was only too happy to share some of the many adventures he has experienced during his years as a photographer.
He told us about a recent trip to Kona where he had been on assignment to photograph the underwater lave tubes. He fascinated us with his account of the dangers associated with underwater photography, and how he (in his words) at his maturing age prefers shooting families, portraits and models as he doesn't have to watch out for quite as many sharks in the water.

Kevin said "I have been into photography since I was in high school. I even learned to develop my own film and make my own prints, but having my own darkroom was pretty much out of the question when you consider the associated costs and dangers of the chemicals required. Blowing up the house can ruin your whole day!
"I was stoked when most of the drug stores started offering one hour photo developing because I could pretty much get instant results for any shoots I did. I was okay with this situation until one day while shooting at the Underwater Dive Park on Catalina Island I lost my camera. I was about to replace it with another film camera when a friend took me aside and introduced me to digital photography. The rest is, as they say, history.

"I started shooting everywhere and everything because there were essentially no major costs associated with shooting digital. I never left home without my camera. Eventually people started noticing my images and asking if I would take pictures for them. It started with portraits and a few folks asking for images for their ads. It just progressed from there."
Now, several years later, Kevin is more involved with his photography than ever. He is represented by all of the major stock photo companies that sell his images for major ad agencies globally, and his model photography is used all over the world for various products and web sites. He is also working with California Diver Magazine writing articles, taking images and selling ads.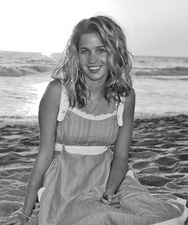 Kevin has also had several covers and images in the San Clemente Journal, the San Clemente Coffee Table Book, and many of the banners along El Camino Real here in town. He's been featured on the front page of the Orange County Register's Sun Post News and in magazines like the American Quarter Horse Journal and California Diver Magazine.

Kevin added, "Our website boasts beautiful fine art prints for purchase that make great artwork for your home or office, and Ocean Image also offers photography services for almost any type of needs. I'll shoot anything from underwater images, real estate HDR images, product, sports, events, models, to family portraits. I do it all."

Kevin really loves to shoot at the beach (local beaches are his favorite, of course), and a great bonus is that the families have lots of fun too. He shoots for their holiday cards, graduations, and other announcements, to name a few.
"If you want something more personal, I have a lighting system that I can take anywhere for portraits. It's also ideal for those special boudoir photos, and provides a great way to capture people where they are most comfortable, in their own homes!"

"Don't forget that portraits make great gifts for any occasion including birthdays, holidays, and Mother's and Father's day!"

If you're looking to capture a special event, Kevin can customize a package to fit any budget and will work closely with you to make your event as memorable as possible.

After spending some fun time with Kevin and checking out his work online, I have to say you won't be disappointed. b

You can reach Kevin at 949-533-5421 or www.ocean-image.net.