What do we want to be when we grow up? City Completes Vision Study Prior to General Plan Upda
Jan 01, 2011 11:05PM ● By Brian O
by Bill Thomas
What do San Clemente's citizens foresee as the future for their beloved City? Do they have in mind such tourist attractions as a mini Eiffel Tower, a Chunnel to Catalina, Irvine skyscrapers, Los Angeles multi-stacked freeway ramps, a bridge to Dana Point? Or, are they more prone to desire amenities to please the population: low profile structures, Spanish Colonial type buildings; continuance of the "village concept," inclusive shopping opportunities, more local jobs, better public transportation, and protection of our natural resources, such as the ocean shore and open space. To answer such questions, in March 2009, San Clemente's City Council awarded MIG the contract to prepare a strategic plan defining the community's vision and core values to serve as a foundation for the City's General Plan update beginning in fall 2009. The City's existing General Plan was crafted in 1993. MIG (initials of the principals) was founded in 1981 and, since that time, has gained impressive consulting credentials. Among the diverse cities the organization has assisted in their strategic planning processes are Los Angeles, Denver, Anchorage, Spokane, Boston, Sacramento, Calgary, and Las Vegas. With eight locations throughout the U.S., headquartered in Berkeley, MIG has completed scores of studies resulting in municipalities and commercial organizations developing obtainable goals and objectives for future growth. The company's focus has been "...planning, designing, and sustaining environments that support human development." MIG's successful approach "…brings diverse groups together in collaborative work efforts, balancing critical thinking and analytical technology with an inclusive participatory process."
Certainly, this has been the case in San Clemente. MIG's activity began in March with a workshop involving City Council and key City staff members. Those gathered reviewed the major elements of the City's mission statement, which, in part reads, "The City of San Clemente, in partnership with the community we serve, will foster a tradition dedicated to…maintaining a safe, healthy atmosphere in which to live, work and play." There was not quite unanimity on the additional statement, "…guiding development to ensure responsible growth while preserving and enhancing our village character, unique environment and natural amenities." Also, part of the mission statement was, "providing for the City's long term stability though promotion of economic vitality and diversity…" Retaining the "unique feel" of San Clemente was a major consideration. The idea that "village character" should be retained, including walkability, historic districts, sustainability, human scale, distinct districts, sense of place, parks, artistic influence, culture, beach, surfing, and gathering places were all cited as significant. Additionally, the loss of 40% to 50% of leakage in retail sales was considered. Other concerns were public safety, preservation of natural amenities, and better visual interaction with the I-5, reflecting core values, and emerging technology.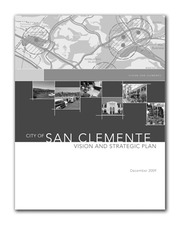 MIG pursued several different methods of data collection. MIG consultant Mclarney was to work with Assistant City Manager Pall Gudgeirsson and Principal Planner Brenda Wisneski in drafting a comprehensive survey questionnaire. These instruments were distributed to and completed by 1,200 attendees of the April Carnival Colossal, May's Cinco de Mayo, Memorial Day, Downtown Arts Fair, and the initial Summer Concert at the Pier Bowl. A strategic planning City website link was developed and updated regularly. A 25-question telephone survey of 400 residents regarding their personal preferences and priorities for the City was conducted. A special newsletter noting results from the data collection was distributed throughout the City. Two workshops, featuring focus groups were conducted. Early, on July 9, members of City committees and commissions gathered together for strategic planning discussion, and, in the evening, 60 residents, business and property owners spent one and one half hours of energetic discussion. On July 29, another workshop, 90 attending, concentrated on the topic of "village character." Rather than dealing with "fog in a glass," general idealism that all things needed would easily come about, community participants provided specific input on what should be preserved and what might be upgraded in specific geographical areas. Preserving single-family neighborhoods "as is" was appropriate in some regions; further planning and investment in others was explored. The focus areas included Camino de los Mares, North Beach, Los Molinos, North El Camino Real, Del Mar/T-Zone, Rancho San Clemente Business Park, and South El Camino Real both East and West of the I-5.
The next step is the formation of the General Plan Advisory Committee (GPAC), which is to consist of a maximum of 21 members, no more than 12 members-at-large who will be selected by the City Council through an application process. Nine are members of various City commissions and committees. Additional members will represent various demographic groups, occupations, and geographical locations, insuring diversity and inclusivity. Commencing in February, the GPAC will meet on approximately nine occasions over a two-year period. They will also attend other public meetings as arranged. How does key San Clemente City staff feel about the vision process? Assistant City Manager and Treasurer, Pall Gudgeirsson, who spearheaded the study, said, "An important aspect of making San Clemente's General Plan update is critical as it represents a common and collective past that consequently contributes to the formation of our residents' future needs and desires for change. The visioning process served as the first phase in updating the General Plan with respect to land use, transportation, community character and design, sustainability, and economic health. I'm grateful to the residents who took the time to share their valuable input with us." Brenda Wisneski, Principal Planner, who guided the study through each of its information-collecting elements, reported, "I enjoyed being part of the Vision San Clemente Process, working with residents to develop a City-wide vision of where we go next as our community evolves. I'm excited to play a role in preserving San Clemente's history as we focus on ensuring the Spanish Colonial Revival architectural design style – reminiscent of San Clemente's past – makes its way into future planning and development. We have such unique and treasured historical landmarks which elements should be preserved through replication."
City Manager George Scarborough stated, "San Clemente is a special place, one which is proud of its past and excited about its future. As we enter a new decade, we have the opportunity to ensure we continue to advance the quality of life of our wonderful community while establishing a sustainable future. The development of our new General Plan over the next few years and the community visioning associated with it will provide us all with the opportunity to set the course to protect and enhance our community as an outstanding place to live, work and play in a highly treasured environment." For San Clementeans, this has been a profitable journey towards a rewarding objective. The vision has been projected through many eyes, sifted through many brains, and will now be the responsibility of a collective group of caring people representing a larger constituency of future recipients of their eventual recommendations to the City's decision makers. b
The final document, San Clemente's Vision and Strategic Plan, can be downloaded from the City's website, www.sanclemente.com.