Shoot 2 Score Hockey Opens its Doors a Little Wider - An Ice Rink in San Clemente?
Aug 01, 2010 09:30PM ● By Brian O
by Jamie Brinkman
Tucked away in the suburbs, in the Amanecer Industrial Complex, is a warehouse that looks completely normal, even boring from the outside. The last of three tall doors on the backside of the building, has a small call button and a modest sign that reads "Shoot 2 Score Hockey." When I first arrive to check the place out, I was overwhelmed by a chilling breeze and the large expanse of real ice sprawled out in front of me. What has for the last two years been a private ice hockey training center run by Canadian hockey player, Craig Lyons, is now opening to more than just hockey players. San Clemente has its first access to a real ice rink for everything from learning how to ice skate, play broom ball or hockey, or workout in the off-ice gym with a personal trainer. With a simple phone call to book a time, anyone at any age can enjoy the thrill of the ice. But put your jackets on San Clemente, because in this place, it's always below 70 degrees.
Craig Lyons and Kelly Askew are from Calgary, and in Canada ice hockey is something comparable to surfing here, just substitute the flip flops for skates and surf boards for sticks. Lyons was a kid that learned to skate before he could run, which is probably what helped launch him to the professional level in this sport. He played Professional Hockey for 11 years with stops in the AHL, IHL, ECHL, WCHL, Team Canada, and in Europe. Not to mention he was a player assistant coach, an MVP, All Star, and leading scorer.
For the past six years, Lyon's focus has been privately training up and coming hockey players with his hockey expertise. His childhood friend from Canada, Kelly Askew, joined forces with him to create an unbeatable private coaching and training alliance. Askew played in the professional leagues for eight years, as well as playing for Team Canada. He played Junior A, NCAA Division 1, BISL, DEL, WCHL, ECHL, has European and North American Experience, ECAC Champion, BISL Champion and was a WCHL All-Star. Between the two of them they bring almost 20 years of professional ice hockey experience to their players. Lyons focuses on the technical aspects of the game, mainly teaching the players how to improve their shots. Askew trains players in improving their speed and agility while skating. About a year and a half ago, this coaching power duo raised training to the next level by opening a private ice hockey training facility right here in San Clemente, dedicated to developing all aspects of a player's game, at any level.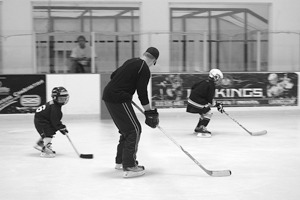 Half of the facility is dedicated to an ice rink that is half the size of the NHL ice rink and the other half holds an off ice shooting practice area, an on ice shooting practice area, an off ice conditioning and strengthening weight area, and a skating treadmill. The revolutionary skating treadmill looks like it could eat a regular running treadmill - it's massive and requires being harnessed in to use. Askew trains all ages and skill levels on this contraption, which is designed to teach people how to skate and strengthen the muscles needed to skate. Askew uses it to teach proper form while skating because it "allows you to find the most powerful and most efficient stride angle to skate the fastest you can down the ice." Askew says.
"It really helps create good habits and focus on the fundamentals, especially for the younger kids without ever having to lay foot on real ice."
Lyons focuses on improving his player's games with one on one shooting instruction. He helps players break down their strengths and weaknesses to improve their power, quick releases, and accuracy while shooting. He utilizes his 45 x 100 feet real ice rink to create three vs. three hockey games, which is a faster paced way to play the game, allowing players who might not normally be goal scorers to get the puck more often, encouraging more creativity in game situations. The half-size rink helps young players get more time interacting with each other and the puck, which also strengthens their game.
Shoot2 Score Hockey's facility is kept in immaculate condition from the ice to the bathrooms. The Zamboni operator has had over 15 years of experience resurfacing the ice, which means top notch ice quality. Professional players travel from miles around to train and play on it. Players from the Toronto Maple Leafs and the Anaheim Ducks were in this summer renting the facility out to practice, and even Scott Niedermayer, a friend and ex-teammate of Lyons, brings his three sons in to train with the all star coaching staff.
Embarrassingly enough, I had to ask Lyons who Niedermayer was. He laughed and said, "In Canada, if I had Niedermayer over for dinner, I'd probably have all my neighbors knocking down my door for autographs. He's one of the biggest names in hockey."
Niedermayer played 18 seasons with the NHL for the New Jersey Devils and the Anaheim Mighty Ducks winning everything there is to win in professional ice hockey.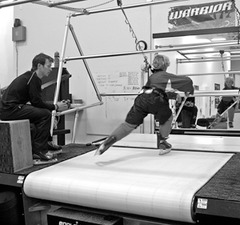 Now I know. So after working on shots with Craig and skating with Kelly, it's on to conditioning with Rich Warrington. Warrington uses a combination of circuit training to condition athletes for the kind of rigorous workout that is required of hockey players. Having 17 years experience as a trainer and experience training professional athletes, Warrington knows what kind of exercises increase agility and speed, two important aspects in a hockey player. He uses slide boards to mimic the motion of skating and works the core. He also swears by kettle bells because these types of weights incorporate hand/eye coordination, core strength, and explosive speed. As a personal trainer, he actually uses almost the same workout, varying in reps or weight, for anyone from a professional athlete to just a mom trying to get in shape, such as myself.
The facility has everything a player needs to grow stronger as a hockey player and now, Lyons would like to welcome everyone else into this state of the art facility for skating lessons, private parties, and personal/group training sessions. An ice skating party or broom ball game make great birthday parties for the kids, a boy/girl scout field trip, or mom group outing (skates are available).
Shoot2Score Hockey even holds two rooms that can be decorated and used to serve refreshments. Another reason this facility is so great is because it is so clean. I visited myself, and it definitely got my mom stamp of approval. Unlike public ice skating rinks, where I am afraid to use the bathroom, every part of this facility is immaculately kept. Since the rink is by appointment only, the staff has time for the upkeep that it takes to keep it sparkling.
There is also an off- ice strength training area there. The strength and conditioning coach, Rich Warrington will be offering private and group training sessions. I personally know some Talega moms that would give this guy a run for his money, or maybe it would be the other way around. The best part is that this particular area is in the same room as the ice rink and is kept at 55 degrees at all times; how refreshing. Non-hockey players will even be able to utilize the skating treadmill to increase cardiovascular strength and endurance or to just learn how to skate. To get in touch with the ice rink, you simply call Gayle Griswold, the charismatic hockey mom turned scheduling coordinator for the rink, and she will be happy to help you arrange your first visit. Who would've thought that two friends from Calgary, Canada would be teaching ice hockey and opening an ice rink right here in our little surfing town? They sure didn't, but both Lyons and Askew say they couldn't be happier passing on their skills to all of us. So the next time you're looking to throw a party, want to get a quality workout, or learn how to ice skate, you don't have to go to Canada – just head down Avenida Pico. b