Luxury Living for Over-65 Seniors - SC Villas
May 01, 2010 09:57PM ● By Don Kindred
story and photos by Bill Koelzer
San Clemente Villas by the Sea, (Villas) the deluxe senior assisted living community in South Orange County, looks, inside and out, more like a luxury hotel at full capacity, than it does a home for scores of over-65 seniors.
Intelligently located immediately adjacent to our Saddleback Memorial Medical Center hospital and directly across the street from buildings housing 200 doctors, the gleaming white three story complex offers its residents expansive city and ocean views as well as amenities rivaling those of a luxury private club.
Along with its comfort and grandeur, residents also enjoy a level of care seldom seen in Senior domiciles. For example, Villas tailors a care plan to meet each resident's individual and unique needs involving 24-hour personalized care and the finest comprehensive activity program for residents with special needs and memory care.
The care manager and a licensed nurse are involved in all aspects of team management, resident care & management, quality assurance and family participation. The Orange County Alzheimer Association assists in Villas staff training as well as a "memories in the making" art class for residents in the Villas community.
Designed specifically to provide a healthy, comfortable environment for senior residents who may have difficulty performing the activities of daily living, Villas offers residents a beautiful environment that includes access to nutritious gourmet dining, activities center, theater, computer room and library, pool & spa, as well as, comfortable outdoor patio areas for important social interaction.
The services and care programs of Villas facilitate as much independence as possible, while providing assistance for older adults who need help with dressing, bathing, taking medications, healthy nutrition, exercise and other daily chores.
When you arrive at San Clemente Villas by the Sea, you walk into an open, living room-like "grand hall" with soaring ceilings and plush furniture. A room filled with smiling, over-65 seniors chatting amongst themselves, with visiting relatives, or with staff, while lounging on easy chairs and couches.
Across from the activities desk, there's usually something fun taking place ... maybe it's a card game, a tea, or an offering of finger sandwiches, soft drinks, or soft serve ice cream. In the center of the grand room there's often a singer or musician, frequently a talented resident, performing for scores of seniors who sit swaying, singing along, or even waltzing to the beat. And through a window you see a mid-day BBQ firing up outside. It's always something.
In the dining room, Villas' gourmet chef prepares feasts for the residents every day. The meals are nutritious and Aileen Brazeau, co-owner, says, "Our residents look forward to every one. Both formal and casual 'cafe-style' dining is available. Residents here can even reserve a private dining room for their family visits."
Aileen and her husband/co-owner, Paul, completed construction of the Villas in October 2002 and it immediately became the number one regional choice for seniors who desire luxury assisted living.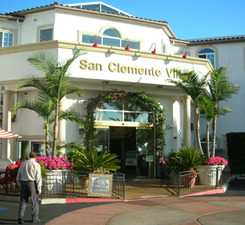 San Clemente Villas Senior Housing Includes: • Spacious senior apartment homes with a variety of floor plans • Senior fitness activities and programs • Programming/ activities based on cultural and recreational interests • Gourmet-style restaurant dining with several menu options daily • Private dining accommodations if necessary • Superb housekeeping, linen and transportation services • Tastefully designed courtyards and common rooms • Fully landscaped gardens • Emergency programs and alarms • Professional staff available 24 hours a day • A 24-hour medical alert system and on-site security • Daily status checks • Salon and beauty shop on premises • Fitness center • Community library and computer room
Seniors get scheduled transportation Monday through Saturday from 8 am to 4 pm with church transportation services on Sundays from 8:30 am to noon. Residents have the option of choosing a spacious studio, a one or two-bedroom apartment, or a two-bedroom, two-bathroom apartment designed for a senior and a roommate.
Monthly independent living rates range from $2,625 for a petite studio to $5,025 for a 2 bedroom, 2 bath unit, with ocean view and balcony. Paul Brazeau, a Navy Veteran, and an experienced 40-year builder of shopping centers, has focused on constructing senior facilities for the past twenty years. Before that, he built and owned Delta Electric, a Los Angeles-Orange County electrical contracting firm with more than 100 employees.
Paul and Aileen manage the 90-person staff and directly participate in Villas social activities, also conducting numerous special, "whole-community-invited" events during the year, usually to benefit a non-profit organization or their next door neighbor, the hospital.
Co-owner Aileen, who seems to be at nearly every San Clemente community event, and who is a human dynamo of community service, as well as the marketing and PR director of the Villas, says, "We love San Clemente and its senior residents who live here. The first thing that Paul, I and our staff focused upon when we opened our doors was that each senior has a unique story to tell and each one has individual needs. If we are as successful as people say we are in providing luxury senior care and lodging, it is for that reason ... we keep listening very closely to what our residents tell us." b

Contact San Clemente Villas by the Sea at (949) 489-3400 or www.sanclementevillas.com See a video tour of the Villas at www.sanclementevillas.com.