Life in San Clemente - Local Authors Chronicle
May 01, 2010 09:49PM ● By Don Kindred
by Anne Batty
Authors abound in San Clemente. Having mastered the art of pen to page, they have set down stories in books that speak of the history, heart, life and people that make up the town.
Several of these essayists gathered recently at the Casa Romantica for a "Meet the Authors" book signing event. Displaying historical picture books and commentaries, children's tales and short story collections they gathered there to share, distribute and talk about their creations.
One of those present, Annie Kilroy, with the assistance and encouragement of several other San Clementeans, has created a book entitled "Testify", a collection of stories about real people in real life situations. One that she says is meant to bring hope to those who might feel hopeless, depressed or desperate in these difficult times.
"This book is a collection of 22 stories by 29 authors (most of them residents of San Clemente) whose lives were completely changed by an encounter with God," Kilroy explained. "The idea came to me in a vision. I saw the book in its entirety … a coffee table book covered elegantly in black, with the title inscribed in white, and filled with Reader's Digest type stories."
A person acquainted with struggles, perseverance and changes herself; Annie Kilroy became a Christian in 1977 via the continual encouragement of a very close friend. Presently a member of Heritage Christian Fellowship, Annie's vision occurred during a time when the church was encouraging members to share stories and testimonies of how God had worked or was working in their lives.
"Hearing those very real stories from the hearts of people who had faced trouble and persevered, moved me to preserve them for others to read and be encouraged by," Kilroy revealed. "I'm a people person, and I loved the interview process, hearing these wonderful stories first-hand, and having opportunity to share them with others. My co-author Kalina Justice and I worked hard to capture the personality and integrity of the people telling us their stories ... to keep it real."
Although she has always been a creative person of sorts, this was to be her first attempt at writing, self publishing and distributing a publication. Having little experience with a project of this type Annie was advised by Heritage Christian Fellowship's Pastor, Roger Gales, to engage the help of others. Those assisting her included: Jeff Girard - who "held her hand" through the process - co-author Kalina, photographer Jeff Worthy, graphics artist Scott Bailey and another local author, Gia Lucy, who helped with the publication details.
Annie Kilroy's hope is that this Holy Spirit inspired book will touch the lives of all who read it. b
For more information visit testifythebook.com, or contact Annie @ [email protected]. For copies of Testify call or visit Outdoor Fitness, El Camino Real 366-1010, Joy's Christian Bookstore, Camino de Estella 661-1911, or amazon.com.

An excerpt from "Testify" A Woman With a Secret - Minka (Perseverance)
My name is Minka. I want to tell you about a secret that I have held in my heart for 78 years. I pray it will encourage you to never lose hope. God works in mysterious ways, His wonders to perform. Who can fathom the depth of His wisdom or His love as He works all things out according to His purpose and our good?
I was given the opportunity to review my life of ninety-seven years because of something that happened a long time ago. Can we know the destiny of lives, families, cities and nations? The Bible states that the prayers of a righteous man avail much. It also says "seek ye first the kingdom of God and His righteousness and all other things shall be added unto you": I pondered those words and kept them in my heart. My life took a dramatic turn in July 2006.
I was born of pure Dutch ancestors. My father immigrated to America, followed by my mother, pregnant with me, and an older brother. My father worked on a dairy farm. When I was 1 ½- years-old, my sister was born. She was nine days old when my father drowned in a lake. With three babies, my mother, who had not yet mastered English, went to work for an elderly German farmer. Though she did not speak English, she spoke German as well as her native Dutch.
As children, we knew what it was to work – before and after school, from sun up to sun down. We hauled water, wood, and coal because those were the days of no running water, electricity, or gas in the homes. We picked potatoes, shucked wheat, corn and whatever else was planted that year.
When I was fourteen, the man my mother worked for retired and she married another Dutchman. Together they started a dairy farm. Not only did he gain a wife, but three well-trained farmhands as well, who were good at milking cows.
When we graduated from eighth grade at our country schoolhouse we were told that high school was for city kids who had nothing else to do. Attending high school was out of the question for us: we had too much work to do.
At16-years-old, my mother sent me to a sewing class. I do not recollect the reason, but one day the sewing class hosted a picnic by the lake. While there another girl and I went for a walk to the skating rink. Later, heading back to the group, walking amongst the trees we were raped by two men. We had never seen them before, didn't know them nor ever saw them again.
I was traumatized, bewildered and scared. I could never mention this to my mother because we never talked about such things. I had never even seen a pregnant woman. Long dresses and aprons covered pregnancy. Women continued to work hard in those days without any of our modern "push-button" appliances.
I do not remember all the details surrounding my pregnancy. My mother went to our German Lutheran pastor and together they determined the course I was to take. I was checked into a Lutheran Home and an Adoptive Agency for girls. I had never been away from home or my mother, but I was at the mercy of their decision.
I grew up overnight. Where was I going? What did life hold for me? Fortunately, the Lutheran Home was filled with love, prayers and kindness – the kind of love you could see, feel and touch. The lady in charge talked with me explained certain things, and reasoned with me. She lovingly explained the advantages of giving my child up for adoption. I made a very painful decision. When my baby daughter was one month old I gave her a name. She then was given to a Norwegian Lutheran pastor and his wife for adoption.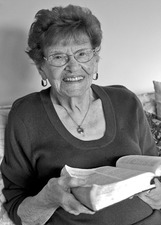 I went on with my life, keeping in touch with the agency to track my daughter's growth and welfare. They acknowledged every letter – some with news and some without. My daughter never left my heart or life. Every year on her birthday I wondered where and how she was.
On May 22, 2006, I woke up and asked the Lord if He would let me see her. If he allowed me to see her, I made a solemn promise I would never bother her or her family. Then I dismissed the thought and went about the affairs of the day. Then on July 2nd, my phone rang and a message was left on my recorder. It was a woman saying she was trying to locate me. A while later the phone rang again. The man on the line asked, "Are you Minka?' I said, "Speaking."
It was my daughter's son. He had spent six months trying to get records released through the courts in order to find me. After a few questions on both sides, he put his mother on the phone. This was my very own daughter. It was a nostalgic moment to hear her voice, even though she was a grown 77-year-old woman. Her adoptive parents had given her a new name. I learned that they were a couple who had two sons and desperately wanted a little girl. Her father was a godly, prayerful man known as Peter, "the Rock." He was a man of prayer, a pastor and an evangelist. My daughter told me she had six children, all successful, highly educated and married with children. I was proud to learn that some of my grandchildren have achieved successes in education, one a coach, one a teacher and some professors. All these were accomplishments for which I was not afforded the opportunity.
Three of my grandsons made careers in the military. One a Colonel, a graduate from West Point. Another works for Boeing and NASA, in charge of building the International Space Station and one of the pieces of hardware that was installed on the station in 2007. The hardware provided structure for the station as well as generated power to keep the astronauts alive. And as only God would have it one of my grandsons is an astronaut. He manned four flights into space, with a total of 13 mission miles going around the world 517 times.
When I got older and left the farm, I married and had two more children. I have a son and a daughter who also married and blessed me with grandchildren. My husband was a fighter pilot in WWII and a drafting engineer. After a long battle with illness my husband finally succumbed to cancer. My wonderful son passed away in 2000. Through all of this I found comfort in the Lord. My life was a challenge hampered by lack of education. In spite of this, I was placed in various managerial positions. I worked for over 18 years in a school district and retired at the age of 66.
Years later I found myself with a little granddaughter to raise and educate. So I returned to work at a local Kmart. I worked as a cashier for another 13 years and retired again at 87.
As I look back I see God's guidance and direction leading me to a higher spiritual realm, a higher spiritual maturity, for such a time as this. This was the moment my entire family would be reunited.
After tracking me down, my precious grandson, the Colonel, and his family brought my beautiful daughter to see me. What a precious time we had. I felt she had just come home for a visit because she had never really left my heart. Here was the moment when my two daughters would meet.
Does the Lord watch over us? Does the Lord answer prayer? Indeed He does. I have been blessed by a wonderful family, friends and in life. I have a feeling there are more chapters to be added to this story. May God richly bless everyone who is without hope. God always makes away when you think there isn't one. Imagine what would have happened if this rape had occurred to me today. I probably would have been advised to have an abortion. My daughter would not have been born and the world would not have known the wonderful and productive family that resulted from her birth, a family the world can be proud of. I became the proud grandmother of 18 great grandchildren and 12 grandchildren. I am blessed beyond measure. To God be the glory.
After my daughter and all the others left, I was alone when the Lord said to me. "Now you can forgive him." And I did. I hoped he too had found the Lord and was serving Him. I wondered since then, had he watched the space shuttle go up with the astronauts not knowing that one of them was his grandson? b This story in its entirety can be found in "Testify "beginning on page 35.