Working for the Fun of It - Donald Glasgow
May 01, 2010 09:46PM ● By Don Kindred
by Katherine Sweet
To say that Donald Glasgow likes to keep busy is an understatement. Glasgow is such a dedicated, hard worker that his friends identify him as a "workaholic," a term he doesn't care for. Yet looking over his life, one clear theme emerges: Glasgow works hard at everything he does.
Born in Crystal City, Miss., near St. Louis, a plate glass factory-based town of 4,500 people, Glasgow is small-town born and bred – and proud of it. "I didn't know while I was growing up how good it was," Glasgow said. "I wouldn't trade anything for where I was raised or with whom I was raised."
Glasgow reports he enjoyed working even as a child, and held a range of jobs throughout his youth: grocery store box boy, flower shop deliverer, flower fieldworker and more – and by and large liked them all.
Starting at the tender age of 8, he worked for free for a neighboring potato farmer. "I was there all the time," Glasgow remarked. "My parents began to wonder if I was even around anymore."
Becoming highly involved in track, basketball and football in high school, Glasgow was to discover through sports the persistence that would characterize him. "I really stuck to things and saw them through," Glasgow said.
At age 20, he was drafted into the U.S. Army, which was, he explained, "expected." "It was part of the system to end up in the service," Glasgow said. So he headed off to Fort Leonard Wood, MS, to "do what he had to do."
"At the time I was having a lot of fun," Glasgow recalled. "I never did illegal or bad things, but I really enjoyed life." The military experience, however, made him grow up fast. "I was a good soldier," Glasgow said. "If asked to do it, I did."
Two years of Infantry training and no deployment action later, he was honorably discharged from the US Army to attend college: first Lincoln Junior College in Illinois, then Bowling Green State University in Ohio. There he studied business and marketing, earning a bachelor's of science degree in 1960.
He went on to pursue a retail department store career. "I always enjoyed storekeeping," Glasgow declared. "I liked collecting, organizing and selling things." He claims it wasn't work. "To me, I looked at it as fun, and I even got paid for it."
In a rush to get college over with fast, he worked full time and attended school full time – including summer school. Despite all his commitments, he received good grades, but wanted to get on with "real adult life." He was to get that wish. During his senior year, he became involved with a girl. After dating her sporadically, one thing led to another, and the two fell in love and got married – a marriage that was to last for 17 years and bear three children: Kimberly, Susan and Scott.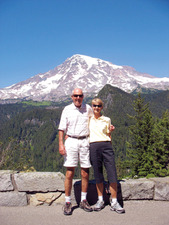 During college recruiting days, he signed up with The May Company Department Store in Cleveland, Ohio. "It was a good place to obtain my basic training in retailing," he explained. And so it was. His first assignment was baptism by fire: the toy department during Christmas. Glasgow went on to have a series of jobs, moving from one to another every two years. He had graduated during the 1960s – the era of suburban store expansion and migration from the city to the suburbs – and business was booming. Soon he was an assistant branch store manager and working six to seven days a week. He put in more then 60 hours per week – by choice.
"I had responsibilities for employees and business development and wanted to do a good job," Glasgow said. "I tend to be a guy in charge. I'm not sure why, but it never scared me."
Having a pregnant wife, he decided to "get serious" about making money. Wanting to stay with department stores, he moved on to become an assistant furniture buyer and manager of a design studio for Sibley's in Rochester, N.Y., an experience which made his hair turn gray from dealing with creative interior decorators. After his success in that position, as well as his next position as china and glassware buyer, he was asked to serve on the corporation's china and glassware import committee, which required regular trips to Asia and Europe. He was not even 30-years-old. "They were amazing days for me," Glasgow remembered. "I did it and I did it well."
Through his travels, he gained incredible respect for other cultures and "became a better person."
His next career move was to take over 40 percent of the home furnishing division, becoming responsible for 25 buyers, which catapulted him to a position as vice-president and general merchandise manager of all home furnishings. Although this meant becoming responsible for 60 percent of the company's business, he said yes without fear.
"I was not scared," Glasgow said. "I said I would do it." And so he did for the next eight years.
After spending several years weathering the harsh Rochester winters, he decided to move on to sunnier climates, obtaining a job in Los Angeles after 17 years with Sibley's. So in 1980 he went to work for Barker Bros. Furniture as vice-president of merchandising and marketing, moving up the ladder rung by rung until he became president. He opened up quite a few stores in SoCal, selling high-end, quality furniture, and travelled extensively. He reported he was having more fun than ever.
After ten years of his service to Barker Bros., the company was sold and he left. He decided to purchase his own business to do something "easier." This decision led him to buy a Minuteman Press printing and copy franchise in Corona del Mar.
"I thought it would keep me out of trouble and in 10 years I will have turned it into something special," Glasgow stated. "And that's exactly what happened."
Needing something to keep him busier, he joined the Corona del Mar Chamber of Commerce. "Every time they needed a volunteer, I raised my hand," Glasgow said. Next thing he knew, he was invited to join the chamber board of directors, and that led to his becoming president. Due to politics, he left the chamber and moved on to serve on the Newport Beach Economic Development Committee, just as the early 1990s recession was hitting. The city was looking for ways to attract and keep businesses, and he co-founded the Corona del Mar Business Improvement District, a tax assessment district used to make business district improvements (with the approval of local businesses), serving as its chairman for eight years.
Glasgow's next project was to take back Coast Highway – then owned by Caltrans — through Corona del Mar. Two years of wrangling later, he helped pass a California State Assembly bill for the highway to become a city-owned street. That led to the Corona del Mar "Vision Plan" to revitalize the entire business district.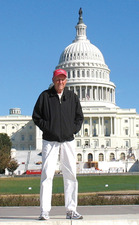 While operating his business, he also became involved in Leadership Tomorrow, a nonprofit organization that teaches people how to get involved in their communities, serving on its Board of Directors for two years.
He also decided to take a crack at learning to play golf – something that had always been on his "To Do" list since a child. He was 66. He soon found that he "liked golf but did not love it, and needed more to do." So he initiated a meeting with the Talega Golf Club general manager, going to work for him in the golf shop overseeing many personnel.
While working for the golf club, he decided to collect golf gear for Marines at Camp Pendleton who were returning from overseas deployment. In a few weeks, he rounded up nearly 65 complete golf sets, 6,000 golf balls, hundreds of golf clubs and more – all valued at ~$25,000. After four years, he wearied of the position, and again felt he needed to be busier. Following a San Clemente City leadership class, he was asked to serve on some boards – but he had little interest.
"I just wanted to be a worker," Glasgow explained. "I didn't want responsibility. I had it my whole life." Instead he applied to volunteer with the city, saying "just tell me what to do." This led to his involvement as a volunteer with the San Clemente Beaches, Parks and Recreation Foundation working with Bill Thomas. His first assignment was the San Clemente Carnival Colossal and Expo, designed to raise money for a community sports park. And he delivered: He recruited 50 Expo booth exhibitors and raised $8,000. He was shocked to learn that he had been awarded one of the City Council "Volunteer of the Year" commendations – an award he would later be honored with a second time.
Next he headed off to Mexico on home-building projects and "fell in love" with the needy people in Mexico. He began "Hearts Helping Hearts" to collect medical equipment, clothing, shoes, toys, hygiene supplies, and anything else to make life better for the poor in Mexico.
Gathering items for Mexico is "nearly out of control," Glasgow said. "I take phone calls almost daily from people wanting to give." He has collected truckloads of supplies – toys, clothes, more than 3,000 pairs of shoes and more.
He also made time to become chairman of fundraising for the Courtney's Sandcastle universal playground, being built in San Clemente, generating donations for Phase II of construction through the sale of handpainted, personalized glazed tiles.
"I don't know what the word 'retire' means," Glasgow imparted. He manages to fit in playing golf regularly, running nearly daily, swimming laps occasionally, gardening and travelling some with his "soul mate" and current wife Beverly – a relationship that is 27 years-old and counting. "There are a lot of people everywhere doing great things for those in need," Glasgow said. "I am just one of many." He claims that he would change nothing about his life. He doesn't have time for regrets. "If I had to do it over," Glasgow said, "I would want the same road map the whole way.
Glasgow has spent his life trying to helping those in need. "I like doing things for others, particularly the little guy in need," Glasgow said. "I can see the difference I make."
Looking back, he believes his spiritual faith played a huge role in his life. "All things happen to me for a reason," Glasgow said. "God treats me incredibly well."
His hope for the future is that everything continues to blossom as it has thus far and that he continues to do all he can for those in need of more.
"For many reasons, I don't feel old," Glasgow said. "I don't know what it is like to feel my present age of 74. Maybe someday I will." b