New York Pizza and Italian Cuisine at its Finest - Buono Pizzas & Pastas
May 01, 2010 09:44PM ● By Don Kindred
by Bill Koelzer
"Besides our terrific pizza, we have a huge menu filled with genuine gourmet Italian food, just like you'd find in Italy," says Buono Pizzas and Pastas owner Gerardo Barrera, "and not just Italian-American food like you sometimes find, either."
Gerardo is constantly pointing out to new customers that along with its "astonishingly good" New York Pizza, Buono offers Italian cuisine that people rave about.
But it's not easy touting the Italian food side of your menu when you have already become somewhat legendary as area pizza maker Ever order pizza from the snack bar at a San Clemente High School football game? It was from Buono. "We often supply up to 60 pizzas per game," says Anna Monzon, Gerardo's fiancée and his restaurant management partner at Buono. "And we cater pizza, spaghetti, lasagna, and other Italian dishes to large groups at corporation sites, weddings, anniversaries, sweet 16s, private home parties and more. In May, we provided pasta, lasagna, brochette appetizers and desserts of tiramisu and chocolate cake at the San Clemente High School Triton Center during the Vocal Awards event in May."
Little League and club teams often visit Buono en masse, which seats 50 people in its 1,400 square feet, features three big screen TVs, games for kids, outdoor seating, ample parking, and serves both beer and wine. Besides pizza and traditional Italian dishes, it also serves sandwiches, fries, salads, kid's meals, chicken wings, soups and varied desserts. Anna helped her mom in the family kitchen since she was 12, always tweaking new menu items, and Gerardo comes from a family of chefs who have more than 25 years experience apiece in the restaurant business. Three of the brothers are area chefs - one at California Pizza Kitchen in Newport Beach, one at Finbars in Costa Mesa, and the other was formerly a chef at Pepino's in San Clemente. The brothers tutored Gerardo on menus and serving the public from childhood, and they worked with Anna, Gerardo and the Buono chefs before Buono opened on Sept. 21, 2004.
Gerardo calls Anna, whom he met most fittingly in a restaurant four years ago, "A natural chef."
Gerardo was vacationing in Hawaii six-years-ago when brother Alex called excitedly and told of a perfect restaurant location across from the high school in San Clemente. However, to secure it, Gerardo needed to wire a $10,000 deposit immediately. "I trusted Alex, so I sent the money and now I'm so glad that I did. This is a perfect location - on Pico, which is a major street, and next door to the busy Golden Spoon frozen yogurt, directly across from the high school and in the shopping center of Albertson's Grocery. Even the pedestrian traffic here is high."
In June, Buono joined the San Clemente Chamber of Commerce and signed up for the 2010 Chowder Cook-Off Competition held Sunday, October 10, on the San Clemente Pier during the city's annual Seafest. Area citizens, restaurants, and businesses compete for the best tasting chowder this side of New England. Visitors arrive from all over the county to sample the many unique variations. "Our clientele has always raved about our clam chowder." smiles Anna, "So I pray we do well even though this is our first year."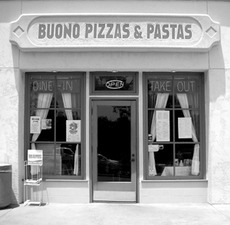 Traditional Italian dishes at Buono include: Pescatore: Fresh clams, mussels, halibut, jumbo shrimp, calamari, and crab, sautéed in delicious fresh garlic and red or white wine sauce, spiced to perfection and served over linguini. Cioppino: Fresh clams, scallops, mussels, halibut, jumbo shrimp and crab, sautéed in a white or red wine sauce in a bowl of rich seafood stew. Chicken Sorrentino: Breast of chicken sautéed with mushrooms, onion, bacon and black olives in a marsala wine sauce, then baked with mozzarella cheese and served with pasta and meat sauce.
Casserole dishes include traditional Italian recipe lasagna, manicotti, cannelloni, eggplant parmigiana, baked sausage and peppers, baked ziti or rigatoni, baked cheese tortellini and baked cheese or meat ravioli. The 14 sandwich choices range from Genoa salami and provolone to ham and cheese or meatball. Soups and salads include minestrone, clam chowder, pasta fasul, plus salads of BBQ chicken, Caesar shrimp and 11 other varieties.
A firm believer in healthy fare, Anna advises, "Be sure to try my newly-created Anna's Special which features many yummy vegetables. It's grilled chicken over sautéed squash, mushrooms, spinach, mixed peppers, tomatoes, onions, cilantro, asparagus, herbs, with olive oil and Romano and mozzarella cheese over pasta, on request, for just $14.95." Anna's special menu touches are found in many more of Buono's dressings, shrimp and meatball recipes. There are also 14 appetizers available. "Specials" are offered for both lunch and dinner, and there is a catering menu that fills an entire page.
New York Pizzas (and thick-crust pizza available on request) range from the mini 10-inch from $6.48 to the 18-inch whopper from $14.95, and you can choose from 21 optional toppings. The kids' menu features smaller portions with prices starting at $4.95. Desserts feature tiramisu, cannoli, spumoni, chocolate cake and flan.
The new "Edible Image Pizza" bears a cartoon or holiday icon (Father's, Mother's Day, Anniversary, etc.), or a sports-oriented image, that Buono affixes atop a pizza, much in the way you see cakes with a special message on the top.
Money saving coupons abound on Buono's web site at www.buonopizzandpastas.com. Kids 10 and under eat free on Monday and Tuesday with an adult meal purchase, and seniors get 15% off on Thursdays from 4-9 pm. Gift certificates are available.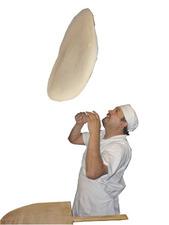 Buono makes delivery orders to San Clemente, Talega, the north side of Camp Pendleton, Capo Beach, and caters locally and in surrounding cities. Gerardo discusses his restaurant with obvious love: "We begin mornings by patiently baking our fresh bread, preparing our fresh pizza dough, dressings, sauces, and soups, and taking enough time to blend our unique spices to ultimate perfection.
"The seafood is fresh daily, our recipes were crafted with years of experience and tradition, and each meal is hand-crafted and prepared as you order it. We don't believe in pre-proportioning our servings as some restaurants do. We always deliver portions that give our customer full satisfaction.
"Our meats are 'butcher cut' and lean, and our pizzas are topped with 100% Mozzarella cheese and fresh vegetables. Every chef follows our strict specifications providing the finest quality Italian food available. Italian nationals say they feel like they are enjoying a delicious meal back home. But then, or course, we feel that our gourmet dishes are as close to Italy as you can get!"b
Buono Pizza and Pastas is open daily, 11 am to 10 pm at 800 Avenida Pico, Suite T, San Clemente, CA 92672, at the confluence of Calle Frontera and Presidio. Phone: 949-366-3606 | Fax: 949.369.1567 www.buonopizzandpastas.com.
(Note: The Chamber of Commerce is holding a ribbon cutting ceremony at Buono's on Friday, September 24, at 11:30am with lunch discounts for all attendees on its 6th Anniversary.)