53 Years in A Family Business South Coast Furniture
Feb 01, 2010 10:15PM ● By Don Kindred
story & photos by Bill Koelzer
Richard Ross, founded today's San Clemente "South Coast Furniture & Mattress and Secondhand Store" (Yes, that's the legal name), in 1957 and it's been going strong ever since. Although Richard passed away at age 93 on January 16, 2010, his family carries on.
What does South Coast Furniture do?
Well - that's hard to describe in a word - but Richard's son, Dale, who took over the business in 2001, explains, "We sell a wide variety of brand new home and office furniture, mattress sets, custom upholstery, lamps and other accessories ... all at discounted prices.
"But there's more ... we also buy, trade, salvage, recycle and sell an eclectic mix of gently used home, office and patio furniture, antiques, appliances, collectibles and curiosities."
Dale recounts that customers often say, "I wish I had known about you sooner! You need to get the word out." Usually these people drove to LA and bought something in a big store there when they could have gotten almost the same thing better and cheaper at South Coast Furniture.
But the Ross family has never been much for tooting its own horn. Dale explains, "We have always focused on earning customer trust and relying heavily on goodwill and referrals as the cornerstone of our promotion."
South Coast Furniture offers same-day delivery and set-up of all in-stock items and there are literally thousands of items to choose from. It might take an entire week to walk through the cavernous and spacious store and even LOOK at each item stocked there. Dale and his family have easy lay-away plans, take special orders, and focus on customer needs.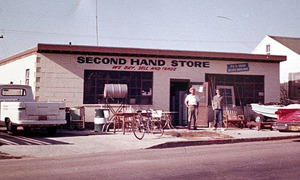 Featuring 12,000 square feet of retail display backed by a 4,000 square foot warehouse makes South Coast Furniture one of the largest retail firms in San Clemente, manned by three full and three part-time employees. It's an eye-candy adventure to just take a morning or afternoon off and wander at leisure through the place.
"We often get called upon to go out and actually furnish a home," says Dale. "A lot of professional real estate 'stagers' and realtors come here for furniture to put in an unoccupied home to make it look more desirable to home buyers.
"Also, we have customers who do short term and summer rentals -- we get a lot of that. Several large apartment buildings in town use us so they can rent furnished apartments. They buy the furnishings outright, and then we often buy it back from them at salvage value. Many professional decorators come here because we have so many one-of-a-kind pieces that they can use.
"Charity is an active part of our business, too. We often donate items to Camp Pendleton - sometimes individual Marines have big families and they cannot afford new washers and dryers so we may donate items to them, or we sell them appliances at a very low price. We donate furniture to some of the rehabilitation facilities and to the high school as props to use in their school plays. We deliver it, return it, and they give us an ad in their playbill. We do the same for Cabrillo Playhouse."
Still much a family business, Dale counts the members on his fingers, "My wife, Mary, does the books and back office work; nephew, Eric, works four days a week; sister-in-law, Helen, works three days a week; and brother, Richard, son of our father, Richard, and his wife, Nancy, who both owned the store for years, are in and out. They fill in when we go on vacation. We also have part-time employees, Will and Tyler."
Dale is proud that the business "... serves another function because we recycle a lot of goods, especially furniture and art objects, instead of them getting thrown into the landfills. That was the original philosophy of my dad. It was his dream to have a secondhand store because he saw so many items that people didn't know what to do with. And so that's why he opened the store ... he'd not only turn stuff around for sale, he'd also repair it and make it better ... often making something out of nothing ... that was kind of his mantra. And we've been following it for 52 years."b
South Coast Furniture & Mattress buys and sells most anything. Contact them at| www.SouthCoastFurniture.com | 949-492-5589, or drop by the shop on Calle de Los Molinos.