San Clemente Sports Park - The Dream Becomes Reality
Feb 01, 2010 10:07PM ● By Don Kindred
by Bill Thomas
Did you know that San Clemente has 20 neighborhood and community parks, three amphitheatre-plazas, nine baseball complexes and seven basketball courts, one skateboard park, one community pool, one municipal golf course, seven tennis court sites and five multipurpose fields? Are these sufficient for the thousands of children and adults who are members of sports teams or individually enjoy "taking a turn at the plate," "making a few hoops," "tossing a Frisbee," or "lap swimming?"
The answer is a "big, fat NO-O-O!" With the population continuing to escalate, the absence of lighting in most of our parks, and sports team numbers bursting at their seams, how can we satisfy the demand for sufficient recreational facilities for our recreationally-inclined citizenry? Opportunity knocks in the form of reality.
In early May, San Clemente's City Council members will decide on which building contractors will develop the athletic fields and aquatic center for the new recreation complex at the street intersection the name of the community park location currently holds – La Pata/Vista Hermosa. Construction time is estimated between 18 months and two years. The eventual park name may be that of an individual or organization claiming naming rights with a one million two hundred and fifty thousand dollar investment.
Perhaps the WalMart or Costco shopping chains would be interested in having a recreational facility named after their corporate entities right across the street from a new Target store. On the other hand, if that doesn't happen, or another donor doesn't appear, the park's title will most likely be selected through the City's political process, which also ends with the City Council. It could be named for streets, people, organizations, or popular slogans like "Buena Parko," or "Visitita Oceana." It might even be named, "San Clemente Sports Park." Do you have a suggestion?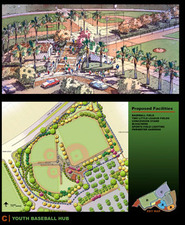 According to Tim Shaw, the City's landscape architect who has masterminded this project, the components of the new park will include youth baseball, soccer, and football hubs, an aquatics complex, a 36-hole miniature golf course; and Courtney's Sandcastle, a universal playground for both able and disabled children.
The baseball hub will provide three youth baseball fields, one professional-sized and two little league fields. The fields will be fully lighted year-round to maximize play during the fall and early spring sports season. Shaded viewing from the sidelines and bleachers can accommodate up to 100 spectators behind each of the baseball diamond backstops.
The soccer hub includes two full-size soccer fields, possibly with synthetic turf, and a multi-purpose natural turf field providing space for soccer, baseball, lacrosse or football practices and other activities. All fields will be lighted to accommodate increased usage throughout the year. The multipurpose field is suitable for family picnics and for various types of games such as lacrosse, Frisbee, tag, stick ball, dodge ball, among others.
The football hub will be available both for local sports group competition and San Clemente High School's football practices. This synthetic field will also be used for competition with teams from other cities throughout Orange County.
The new aquatics complex consists of a 50 meter by 25 yard competition swimming pool and a 25-yard recreation pool with zero-depth entry and a water play feature. The complex will accommodate swimming classes, lap and recreational swimming, water polo and swimming competition.
Courtney's Sandcastle will encompass approximately two-thirds of an acre and include such play elements as two large accessible play structures – a castle and a pirate ship, swings with both strap seats and ADA seats, a large climbing boulder, a sand play area with an accessible sand and water table, covered picnic area, and lots of room to run and play. Paradise Miniature Golf, privately funded, is planned as a tropical themed, thirty-six hole, miniature course. Local businessman, Scott Melcher, a life-long resident, has contracted with the City to build the mini-course. He commented, "More than likely, we'll be under construction about this time next year. We have 1.29 acres to work with, so we're planning to build two beautifully landscaped 18-hole courses with waterfalls and spray fountains, along with a clubhouse and covered patio area. In addition to restrooms and retail space, the clubhouse will feature a learning center for kids. This area will have internet and Wi-Fi access, allowing kids the opportunity to catch-up on their homework and school projects in between sporting events and practices. The clubhouse will also have full kitchen facilities as we plan to offer an extensive food and beverage menu. The patio area will overlook the courses and the aquatics complex. It will be a great place to grab a bite to eat and relax after a round of golf or sporting event."
Funding for the new park primarily comes from two sources, the City of San Clemente treasury and the sale of land across the street to Target Corporation. For the past five years in anticipation of the building of the park, City officials have used monies from real estate sales and other internal transfers to build a park reserve of $19 million dollars. The other source will come from the anticipated sale of land across from the park to Target Corporation, which should realize 13 million dollars, thus, a total of 32 million dollars. During those same years, due to lowered national and local economy circumstances, the cost of building the parks components has lessened. The current collective bids of two development companies: one for the fields, the other for the aquatic center, has come in at seventeen million, five hundred dollars. The difference between the available funds and the bid will allow available monies to be used to service and maintain the complex, perhaps adding additional recreational elements.
Three years ago, a small park funding committee was formed to coordinate donations and designate naming right fees. Members consist of representatives of the Beaches, Parks & Recreation Commission, the Beaches, Parks & Recreation Foundation, the City Council, and the City staff. Current members include Bob Baker (City Council), Dr. Tom Wicks, MD (Commission), Mary Anna Anderson (Foundation), Bill Thomas (Commission & Foundation), Laura Ferguson (City), and Tim Shaw (City).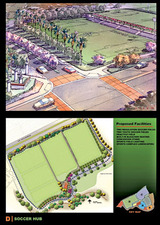 This committee identified various park components, placing values on them for both naming rights and plaque recognition. Examples include naming rights for the main swimming pool -$500,000, soccer fields - $500,000 each one of the two little league baseball fields - $100,000, benches - $5,000 each, drinking fountains - $1,000 each, walkway pavers -$150 each, and tiles for Courtney's wall - $100 each.
The Parks Foundation was selected by the City Council to coordinate and collect the donations and naming right requests. As a non-profit 501 3 (c) corporation, the Foundation can acknowledge such contributions as tax deductible to the donors. To date, such contributions total $103,444.25. They include donations for 27 walkway pavers, ten tiles for Courtney's Sandcastle's decorative wall, four benches, five drinking fountains, and $10,000 from the Breakaway USA Surfing Contest for the pool.
Pacific Coast National Bank had contracted for naming rights for one of the little league fields and had contributed $5,000 before declaring bankruptcy. The Foundation has collected an additional $34,000 through various fundraising events, including two Carnival Colossals & Expos. Most recently, the noontime Rotary Club contributed $27,000. The San Clemente Aquatic Team (SCAT) has placed $30,000 in reserve for the swimming complex. The Parks Foundation welcomes potential donors interested in having fields named after organizations, selves, or families or park amenities that will bear plaques crediting their contributions. Check the website sanclementeparksfoundation.org for further information.
Many members of the San Clemente City staff and our community are excited about the new Park's emergence. Former Director of the Beaches, Parks, and Recreation Department, Bruce Wegner, first raised the idea of a park in this location in 2000. Bruce recently reported, "It's wonderful to see a dream and vision from many years ago become reality. As a city, we have long recognized that a large community level park was needed to serve residents as the City continued to grow and mature. The La Pata/Vista Hermosa Park site offered a central location and the space to accommodate the necessary amenities. The vision has endured many challenges and yet has been protected by the community, Council, Commissions and staff. I am thrilled to see it move forward. Well done!"
City Treasurer, Pall Gudgeirsson, also an accomplished distance runner, remarked, "From a fiscal standpoint, I very much look forward to closing the sale of the nine acres parcel the City is selling to Target to help close the funding gap of building this magnificent facility. Along with revenue generated from the park and aquatic facility, the ongoing sales tax revenue created from Target will help the City's General Fund absorb the maintenance and operating costs of the new park."
George Scarborough, who has been committed to this project since his arrival as City Manager, said, "The La Pata / Vista Hermosa Community Park will address the pressing need for expanded soccer, baseball, football and aquatic facilities. When completed, combined with the other new and recently rehabilitated athletic fields, San Clemente will have among the best youth and adult athletic facilities in South County. We have made great strides in the last decade. Completion of the Park will also bring to reality the long held dream of Courtney's Sand Castle. It will be the premier universal access park in South County. The Park will create an important gathering spot for our whole community. It is located near the middle of our community and will create a great opportunity to bring together folks from all our diverse neighborhoods." Leaders of all the local sports teams, American Youth Soccer, Little League Baseball, and Pop Warner Football, among others, can't wait for the new fields to be built. They have promised to participate in fund-raising activities and continuous field maintenance.
Norb Garrett, owner of the San Clemente Times newspaper and website, and the person most responsible for lacrosse starting at San Clemente High School, spoke for his youth sports leader colleagues, all volunteers, "The City has been great helping us shoehorn our practice times into the few available fields. But the City remains woefully short of adequate fields for lacrosse and other sports, so we look eagerly towards the opening of the La Pata/Vista Hermosa facility, not only for practice fields but also as a terrific location to host events here in San Clemente."
For years, our water-oriented City has had only one public swimming pool, the Ole Hanson Beach Club, completed in 1928. Sandi Kos, San Clemente's first female lifeguard and an active member of San Clemente's Aquatic Club (SCAT) offered her input. "Swimming is not just a competitive sport. This new park is huge for the entire aquatics community from teaching children water safety and respect, to providing exercise access to seniors and the physically challenged. For the past 2 years we (SCAT) faced a 1 1/2 year waiting list. We will work hand-in-hand with the city staff to offer quality competitive aquatic instruction."
Kos also advocates the development of various ability groups, from basic swim lessons, to certified swimming competition, to a Master's swim program providing opportunities on the national level, much like San Clemente's competitive surfing success.
Marty Walsh, who oversees the Hanson pool, said, "Our beloved pool currently offers a wide array of aquatic activities, including public lap and open swim, water exercise, swim lessons, masters swim as well as competitive teams, usually taking place one activity at a time. In contrast, the new facility will not only expand current program offerings, but, more importantly, provide needed space to accommodate multiple aquatic activities simultaneously. We're hoping to add programs like water polo, synchronized swimming, and, of course, host local and regional meets in competitive swimming and water sports."
Tom Wicks, MD, Chairman of the City's Beaches, Parks, and Recreation Commission believes, "The Park will provide a spectacular venue for a variety of sports activities, recreation and play for people of all ages and physical abilities. As the end-product of years of needs-assessment, planning, sacrifices and organized efforts, it is a project of which the entire community can be extremely proud."
Parks Foundation President Mary Anna Anderson, long-time resident, reported enthusiastically, "Our new park will bring our community together as 'one community' for all families. The park will have amenities to fulfill everyone's dreams. I've been honored to work with residents who have given so much of their time and love for San Clemente in making it a reality."b