Business News - San Clemente Wine Company The Place for Fine Wines at Great Prices
Nov 01, 2009 10:51PM ● By Don Kindred
by Bill Koelzer
When you create your own community wine store from scratch right on the busy downtown street of any small American town, you better know what you're doing.

Fortunately for San Clemente's wine drinkers, the husband and wife team of Barney Doyle and Rachael Rapier do know their wines, and when you drop by their store on Avenida Del Mar, they'll teach you lots about some of the 300 wine varietals (types of grapes) among the 4,000 choices that they carry.

Barney says, "People can get intimidated at some wine stores. That's not us. To me, it just comes down to: Do you like it or not? It has no bearing on wine critics, or anything else."

Barney began drinking wine in California, as they do in Europe, at an early age. "My mother was an amateur cook...one of the first women in Palo Alto to have Julia Child's cookbook. And she was making all those French recipes. Therefore, when I was eight or ten years old, I was already drinking hardy Burgundies, Pinot Noirs and Bordeaux.

"When she went into Italian cooking, I was trying Chiantis, Barolos and more. Of course, it was a cultural sort of thing; not the way some people think of drinking."

Another passion back then for Barney was music. A guitarist for 45 years now, he eventually toured with Mickey Hart - a 1970s era Grateful Dead drummer --from 1999 through 2003. He was actually on tour when he met Rachael; they've been married four years.
Barney says, "I always supported my musical endeavors by being an accountant, and my first business experience was working at Sierra Designs retail store during college. So, in starting this business here, I knew retail and had a good idea of what to expect. When I met Rachael, we were both in corporate jobs. I was a corporate controller and she was in advertising and marketing in San Francisco."

Fate brought the two together. Barney reminisces, "Rachael, no fan of the Grateful Dead, might not have attended that concert where she met me, except that a girlfriend asked Rachael to go with her and use the suddenly-available ticket when her boyfriend got sick just before the concert."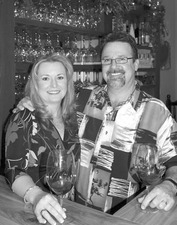 At San Clemente Wine Company, Rachael's always handled all the marketing and advertising aspects because that's her forte. She says, "My degree is in marketing (LSU) and I worked on a TV show called Good Morning Texas, in Dallas, Texas. Then I came to California and started selling TV spots with Comcast Cable in Orange County and ended up at KPIX (CBS) in San Francisco. I met Barney, while visiting a girlfriend in Orange County, while he was playing at the Sun Theater (now The Grove) and the first words out of my mouth to him was I am not a groupie! And so the romance began!"

The seminal experience that convinced them to start the wine store came when they both vacationed in Italy in autumn, 2004. Barney says, "It just changed our lives to learn how people there think of wines and to see the low prices that cellars charge."

Barney explains, "The European viewpoint is that you have three things in life: friends, food and wine. If you have wine, you look for friends and food. It's a trio and it's interlocked. Best of all, European wine prices are amazingly low. You can drink wines there all day, very cheaply, especially when you buy the very good house wines."

Barney took the pricing hint from Europe: "We have about 50 bottles that are under $10.99, and most of the others are under $20. The $100 bottles may go out one a week or so, but you don't have to spend a lot to get a good wine. Of course, we can special order any expensive gift wine, anytime, for anyone who desires it. We make it a point to not carry the wines found in Ralph's, Albertson's and the like, since we favor the smaller production, or boutique, wines.

Rachael, the marketing part of the team, believes in teaching people. "We try to educate our clientele that if they can't find a certain wine anymore, there's usually one very similar or even better, that they are welcome to try. We have a wine tasting menu that has over twenty wines that we rotate every couple weeks and you can taste four wines for ten dollars."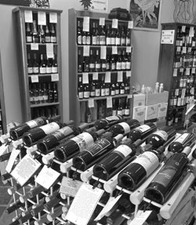 Rachael affirms that, "We taste everything ourselves that comes into the store. If we don't like it, we don't bring it in. We're really passionate about our business being an extension of ourselves and we love our customers. So, we are not going to pour something for them that we don't like. That's not to say that we are always right, but Barney's got a pretty good palate."

Barney and Rachael, who take Mondays and Tuesdays off, are assisted by wine-savvy employees Jim Annan, Natalie Schreiner and Molly Ware."

"On Friday nights, the store has a winery come in and pour their wines," Rachael proudly says, "We usually have their owner or their winemaker on hand, too. They usually pour about seven of their wines for $15. They talk to our patrons about how they got into the industry, what it's like being a vintner, and everyone finds it incredibly interesting. We, in effect, become a satellite for the winery's own tasting room. We've had as many as 130 tastings in a single night. It's not just coming in to have a glass of wine...it's about the camaraderie, the learning, the tasting of different wines."

Rachael points out that they have a new website at scwinecompany.com that has basically the same inventory as inside the store, plus a few extras."

In answer to the question, "What makes you different than other stores? Barney says, "Well, the customer is always King, but we also try to bring the wine country to San Clemente - Napa, Sonoma, Paso Robles, Italy, the rest of Europe...in a nicely intimate, friendly environment."

Barney admits, "We never wanted anything massive, just something warm, that would embrace you when you walked in."

Rachael adds, "Our little long and narrow, 1,100 square foot store even looks like a wine store you would find in Europe. Many people from abroad come in here and say, 'Hey, this place is just like a family-run wine store in Tuscany,' and that's exactly want we want people to say - ever since we saw those itty bitty wine stores in Italy." b
Contact the San Clemente Wine Company at 429-7067 or visit their website: www.scwinecompany.com.