Business News - Oliver's Words Simply EVOOlutionary
Nov 01, 2009 10:42PM ● By Don Kindred
by Cheryl Shih Stone
Pretty soon, EVOO (Extra Virgin Olive Oil) won't just be a Rachel Ray acronym anymore. With the opening of Oliver's on Del Mar, EVOO will soon be on everyone's lips. 

This unique Olive Oil and Balsamic Tasting Gallery offers an amazing selection of oils and vinegars from all over the world. From Spain to Tunisia, you'll find yourself tasting oils like you would a fine wine.

Owners Bob and Julie Brawner have succeeded in recreating the rustic feel of European shopping in the beach town of San Clemente. Bob Brawner, whose background is in import and wine distribution, borrowed the idea while traveling in Europe. He observed locals shopping with their own containers and filling up on wine, oils, and vinegars. 

One of the differences in bringing the concept to the States is the bottling process. Bob jokes that the custom of shoppers bringing their own containers probably wouldn't fly with health inspection codes here. Instead, Oliver's offers a bottle-to-order system. You can literally choose your own 375 ml empty bottle and have it filled and sealed with your very own selection right at the store!

Another thing that Bob wanted to preserve about his European experience was the high customer relations in retail stores. In fact, that was the very reason the Brawners chose San Clemente in their move from Laguna Beach. Since the official opening on August 1st, 2008, Bob is already excited about the repeat clients and strong customer base. The unique characteristics of San Clemente, being family-oriented and not so "touristy", will be a great aid to their hands-on business style.

Entering the store, you are greeted with a warm welcome and then offered to sample one of the many oil and vinegar variations. I was offered a taste of an 18-year-old Traditional Balsamic vinegar from Italy, and to my surprise, it was sweet and light. Why would vinegar of all things, be sweet, I asked? 

Come to find out, balsamic is made from pure and unfermented grape juice, which is also called grape must. The sugars of the 'must' become caramelized, giving it its dark coloring and sweet taste. This is one of the many things you'll learn from the tasting gallery. It is Bob's hope to offer a "fun, interactive and educational" shopping experience. 

Olive oil is a choice product because of the plethora of health benefits and great taste. The great taste of a fine, fresh olive oil blows any name brand, store-bought oils out of the water. The flavor of Olive Oil will begin to fade in 11-12 months. When purchasing an olive oil at the grocery store it is uncertain as to how long that product has been on the shelf which may result in a bland or flavorless olive oil.
At Oliver's, the motto is  "the fresher, the better."
The thirteen different olive oils and eleven balsamics are freshly replenished each year and are stored in fifteen liter 'fustis," which are stainless steel vats that maintain the freshness of the oils. Seasonal oils are also offered throughout the year. This holiday, look for the Red Apple or Black Currant Balsamic.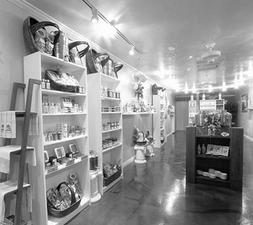 Specialty pastas from Italy and an assortment of spices and seasonings.
In addition to the interactive shopping experience, there are also many ways to personalize your gifts this year. Contribute to all the holiday feasting by pairing a Basil EVOO with a Oregano Balsamic and see grandma's eyes light up as she tastes the match you made. Impress your friends by bringing over a bottle of a Persian Lime EVOO or for the mushroom lovers, the Porcini EVOO. Or, create your own gift basket loaded with pastas, seasonings, and spices.
What's in Santa's pants? 
Stores any two bottles of your choice.
Not to worry if you're new to all of this. EVOO's can be used as a simple dressing over crudités or just for dipping. Oliver's provides easy to follow brochures that describe origins of the oils and vinegars as well as recipes and good pairings. Not only that, Bob and Julie are enthused to answer any questions you have right at the store. Find quality products with a "Mom and Pop" feel and be prepared to be transported to a different country in each of the flavorful olive oils. b 
Visit Oliver's at 211 Ave. Del Mar, SC: 497-6917.