Jeff the Silent Chef - Gourmet Cuisine for that Special Occasion
Feb 01, 2009 04:20PM ● By Don Kindred
by Helen Chade Mahshi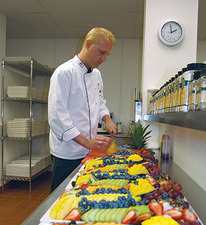 Great cuisine is like really great art, or exotic music. It transports you. It delights. It satisfies. Jeff the Silent Chef delivers that kind of fabulous dining experience. Not only is the food divine, it's displayed with a flair for art and presentation. One might think this sort of dining must cost a fortune, but it doesn't. While Jeff has catered to the stars in Beverly Hills and has worked as a chef for the Ritz Carlton Resort, he is a regular guy who caters to regular people. There's no "attitude". 

About a year ago, the Silent Chef started his own services in San Clemente. His niche is smaller parties and his services include: private chef services for two-100 guests, private cooking parties and oven to table dinners and healthy choice lunch inn buffets.. 

Jeff's favorite service is the "oven to table dinner", where he can "please everyone". This concept took him about a year of preparation. He learned by observing his close family members. They told him which issues tripped them up when planning for a special event: Timing all the courses to be ready at the same time, and finding the right serving platters was often frustrating. Jeff designed a solution to make the experience fool-proof. For example, in his "oven to table dinners" the Silent Chef provides his patrons with elegant stoneware, custom-made for these events. He planned the menu combinations so the host can put a multiple-course dinner in and out of the oven at the same time. His dinners are so easy, the only task left to the host or hostess is to set the table. Dinner is then served on the attractive stoneware that Jeff brings. It's easy because one doesn't have to worry about changing dishes, or be concerned about timing the dishes so they all come out at the same time.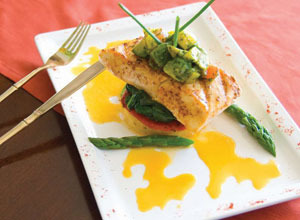 During our interview, Jeff served appetizers and desserts he had prepared for a party that evening. The appetizers, grilled shrimp with mango and papaya chutney on a sourdough crouton, skewers of baby mozzarella, sun dried tomato and olive marinated in basil oil and drizzled with a balsamic reduction, were delicious. The New York cheesecake with fresh raspberries and raspberry sauce left me wanting more, and the chocolate anglaise with white chocolate truffle was light and airy. 

The Silent Chef prefers to prepare the cuisine for parties of 100 or less. "As parties get larger," the "quality of the food goes down," he observed. 

Another area Jeff specializes in is his private cooking parties held in people's homes. These are offered as either "demonstration" classes, or for the more adventurous, "participation" classes. Guests can choose to chime in or just watch the mixing, measuring, slicing and dicing. They have the opportunity to learn how to prepare a gourmet, three-course meal during this interactive party, where Chef Jeff brings the cutting boards and utensils, and guests are surprised with some give-aways.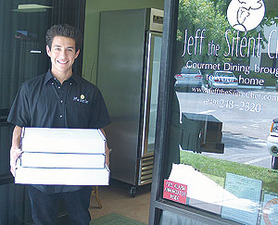 One of the reasons this chef enjoys cooking so much is because he grew up around it, spending lots of time on San Clemente's local beaches with family members who were great cooks. His grandfather was a master pastry chef and baker, and Jeff followed his passion and graduated from the prestigious California Culinary Academy in San Francisco.

While touring the Silent Chef's office and kitchen, he announced that he's about to become an uncle for the first time. He showed me the room where he's going to put a crib in anticipation of the nephew or niece who will visit him on occasion. There's no doubt in my mind that the legacy of great Chefs will transfer to the next generation! 

Jeff's style is practical and helpful. He will work around the event the host has envisioned and assist in planning a menu that is delicious, attractive and practical.

More details about Chef Jeff can be found on www.JefftheSilentChef.com or visit his showroom at 1020 Calle Cordillera, suite 101. Call 218-2320 for an appointment.