New Baseball Equipment Store – Houses City's Only Batting Cages
Feb 01, 2009 03:15PM ● By Don Kindred
by Bill Koelzer
There's a YouTube video at http://tinyurl.com/85v7uv that shows Dominic, the 15-month-old son of David French, owner of San Clemente Sports, the new baseball equipment store, repeatedly hitting a baseball off a T-ball stand. Even at his tender age, the tiny youth is astonishingly successful in hitting with a bat almost twice his height, and his dad is immensely encouraging to him after each swing.

But then that's what San Clemente Sports is all about - helping kids to be better players, even the homegrown ones, and stocking a wide, quality choice of baseball equipment for players of all ages, from Little Leaguers through club teams and high school.
French, 45, who opened the store in January 2008, is a retired fireman who served 10 years with the City of LA, and three with LA County. For the last 10 years he also owned a general contracting firm which he recently sold. The 5,700 square foot lot at 105 Calle de Los Molinos, now hosting two batting cages and a store with 800 square feet handsomely filled with baseball merchandise, used to be his contracting yard.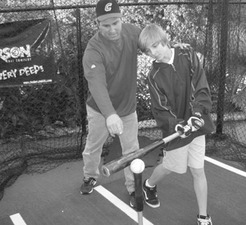 French says, "Inland cities that lack San Clemente's terrific water sports and fun in the sun activities typically have more emphasis on baseball. Temecula has three batting facilities with 15 batting cages in each one. On opening day, people bring their BBQs to the cages - they're fanatical about baseball and the whole community gets involved. Here, you have people who are dedicated to baseball, but it's a smaller minority. Therefore, I think our size store is perfectly adequate, especially since we compactly carry well over a thousand pieces of gear."

Looking fit and husky, French says, "I coached for about 10 years, everything from T-ball to pre-high school, working with Little League, and with Travel Ball teams. With those, you pick your own players and you play other travel teams and enter tournaments, often at places like Steed Park in San Clemente, that AAU Baseball hosts or in big league replica parks like the Big League Dreams park out in Riverside. (See video at: http://www.bigleaguedreams.com) It's a more serious, competitive approach to the game, and many kids play in both Little League and club, playing club ball in the off season, becoming year-round players."

French's store stocks hundreds of tidily-displayed bats and gloves, ranging in price from $20 to $400, including a $400 Rawlings Italian leather glove that fits your hand like ... well, like you always thought a baseball glove should fit. Bat choices include metal alloy, composites, wood, pro-quality wood bats, and more, some also costing $400.

However, according to French, an average product sale ranges from between $20 and $100, and he encourages parents to use only gear that benefits the skill level of their player. Products include cleats, pants, caps, batting jackets, uniforms, jerseys, balls, whiffle balls, training balls and more, and even official major league balls which, oddly, cost only $20.
French points out that the average customer is the parent of a Little League player. In San Clemente, he says that there are about 1,000 kids in little League, and with about 12 kids to a team, adds up to about a hundred teams. "In the younger divisions, T-ball and Rookie, there are about 500 kids, and some come to the store from other cities once they know we are here."

The fewest players come from high school. "We work with the high school coaches, but there are not that many kids that play on high school baseball teams. On all three teams at San Clemente high school—-Varsity, Sophomore, and JV—-you generally have less than a hundred kids playing."

San Clemente Sports offers the only batting cages in town, "We host our instructional Batting Club for local kids every Tuesday and Thursday after school," French proudly states. "In addition to the Club, Teams or individual kids can come in and rent time on the machines, or pay a bit more and get instructional private batting practice, taught by Dave Hanson, me, and by Sazi Guthrie, who pitched in the Padres Minor Leagues."

In his long Major League career, Dave Hansen was an infielder for the LA Dodgers, Padres, Mariners, a Japanese team, and the Cubs. As of 2006, Hansen ranks sixth all-time in Major League Baseball career pinch hits with 138.

Justin Bishop, a UCLA graduate, also assists French in the store.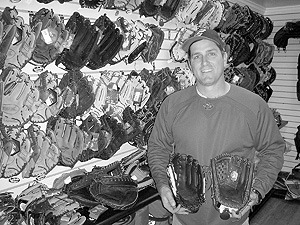 The batting cages are very popular, says French. "On non-Batting Club days, kids can call in and reserve a spot or just show up. We also sometimes offer special team rates, for example, $40 an hour or $25 a half hour to rent one cage for one kid or for ten kids. We'll sometimes rent both cages simultaneously to a local team for $50 an hour. Out of town teams might pay more. Moreover, if someone buys a bat here, or wants to test one out, we often let them go use a batting cage for free for a while. I enjoy seeing the bonding that goes on when parents watch their kids bat, and when they help them pick out their baseball gear."

Staying "hip" with clothing is a chore, says French, rolling his eyes. "The hardest thing is apparel since fashion changes all the time and trends come and go so fast nowadays."
San Clemente Sports makes donations of product for raffles and fund raisers to various Little Leagues, to high school teams, and to Saddleback College. French adds, "The store is also becoming a rest stop for unwanted used baseball equipment that kids have outgrown or no longer want. The equipment is given to local people who cannot afford new gear and plans are to ship some of the stuff as far away as the Dominican Republic and Cuba."

The store advertises in the yellow pages, the local Little League newsletter, and its new web site is at www.sanclementesports.com.

French, who with wife, Carla, has sons ages 1, 13 and 17, says that he loves helping parents pick out their kids' gear and seeing youngsters develop into skilled players. "Often parents just don't know what equipment their kids need, and I, having coached kids from really young ones to high schoolers, can advise them on what works best for a given budget and for what the kids can best physically handle at their particular age. Baseball is called the National Pastime and I continue to be thrilled by being involved in it, however slightly."b
To contact San Clemente Sports call (949)366-1520
Online References:
Read all about baseball at http://en.wikipedia.org/wiki/Baseball and Little League Baseball at http://en.wikipedia.org/wiki/Little_league.