Soccer, Lacrosse and Rugby Gear – Find a Home in San Clemente
Feb 01, 2009 03:12PM ● By Don Kindred
by Bill Koelzer
Rich Smith, a 21 year San Clemente resident, had played soccer and bought soccer equipment most of his life. He was 17 years into his career with Oakley Sunglasses, when he decided to open his own sporting equipment store. He did, on September 7th, 2007 on N. El Camino Real: Soccer, Lacrosse and More (SLM).

Smith says, "Coming from a customer service-based company like Oakley, I realized that a lot of equipment business was going to big-box retailers that couldn't offer the kind of in-depth expertise or service that players require. So I just thought it was a good opportunity to open up a shop here in town and try my luck at it. It's been a big learning curve, but overall it's been great. Even though you think you know a lot, there's always a lot more to learn."

Smith was a regional sales manager his first 8 years with Oakley and dealt with many small specialty stores. For the last nine years, he was National Accounts manager dealing with larger chain store operations like Chick's Sporting Goods and Dick's Sporting Goods, plus the national big box stores. Thus, he could easily compare the failings of big box stores with the success of smaller, focused-sport ones.

"In the back of my mind I knew that this area was growing tremendously in soccer, Smith states, "with lots more families moving in. And it was already a well-founded soccer community - I just thought I could serve them well, being personally authentic to the sport, playing it, and being able to give information on what products fit each individual's needs."

Smith wanted to do, "not only the soccer side, but lacrosse, too. It was a chance to provide a real service to the community since the nearest lacrosse store was some distance away. At a specialty store like this, you will find a knowledgeable sales person who's going to put the customer into the right product. Here, we have the beginning, intermediate or advanced players covered across the board. A big box may have 50 different sports to cover so each one gets smaller attention, whereas on our end, where we focus in on three or four sports, we can carry great depth in product for each one."

Smith can get any product that's needed. "Even if I don't stock what the customer wants or needs, I can at least react to his need and within a week, I can have it in his hands, whereas with big box stores, if they don't carry it, you have little chance of them ordering something special for you. Also, unlike a store employee, this is my business, my livelihood, so it's in my best interest to go out of my way and take care of my customers."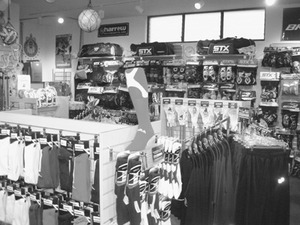 In the cities of San Clemente, Dana Point, San Juan Capistrano and nearby, Smith figures there are about 2,000 AYSO soccer players and about 1,500 other players in club programs, plus some 400 in school programs.

"Networking is important," says Smith. "Glen Miles, of San Clemente High School, handles the boys lacrosse program, and Josh Minor just got hired there as the girl's coach, but there are coaches from many local schools and from our neighboring cities that come here. I'd like to think that I have good relations with all the soccer and lacrosse coaches in the area."
Lacrosse is a growing sport in the area. Smith estimates that there are about 500 area lacrosse players in various local clubs. Wave Lacrosse is for third through eighth grades and Victory Lacrosse is kindergarten through 8th grade, with special programs for high school as well.

Smith feels that with lacrosse, "it was a chance to get in on the ground floor and provide a real service to the community since the nearest other lacrosse store is some distance away. I made a point of opening with lacrosse because it's a growing sport and not a lot of retailers are into it."

It helps to balance out the business cycle, he believes. "Soccer is predominately a fall driven sport and a bit in the spring. Lacrosse picks up as soon as soccer drops off and carries us into the spring. What I'm finding though is that with the weather here, you can play lacrosse almost year round and I think that you are going to see a lot more lacrosse development with it becoming almost a twelve month sport."

About four years ago, Norb Garret, publisher of the San Clemente Times, started the San Clemente Wave Lacrosse Club http://wavelax.com. And more recently, San Clemente High coach Glen Miles started the Victory Lacrosse Club. www.Vlax.org. (Ed. Note: Miles, the 1986 recipient of the MacLaughlin Award, was the nation's top midfielder when he played for Navy. He was also a member of the U.S. team that won the 1990 World Lacrosse Championship.)

Smith points out that his store also carries rugby equipment. "We're one of only two retailers in southern California that stocks full gear for the sport, and rugby is growing here in town, too, with San Clemente Youth Gator Rugby and the South Orange County Gators for men. http://www.sanclementerugby.com

Major gear brands carried at SLM include: Soccer - Diadora, Umbro, Lotto and Xara; Lacrosse - Warrior, STX, Brine, Cascade; Rugby - Gilbert, Diadora.

The 1.300 square foot store, formerly a Chinese restaurant, also has "our own 425- square-foot soccer field in the back," Smith proudly states, "where players can dribble the ball, do some kicking, and check out how shoes and cleats actually feel on artificial turf."

"We never subscribe to that 'one size fits all' philosophy here," Smith admits, "We carry quality gear that fits each player's needs. And that's why it makes me so happy when a customer tells me how nice it is to finally have a local store that truly understands soccer, lacrosse and rugby." b

To reach Soccer, Lacrosse and More call (949)429-7948.