Cabrillo Bistro
May 01, 2008 10:19PM ● By Don Kindred
by TJ Nolan
Outdoor seating is available at the Cabrillo Bistro.I was speaking lovingly of a new restaurant recently discovered when my friend asked, "Where did you go? What did you have?" When I responded, my friend's inquisitive expression became glazed with "huh?" then I found myself explaining this new place, which isn't actually a new place.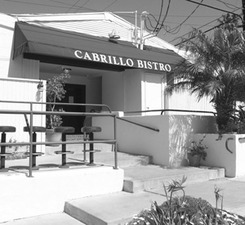 The Cabrillo Bistro in downtown San Clemente started life as the yet-to-be Cabrillo Bakery and Café in June of 2005 when a lease was signed. After seventeen months of planning, permits and inspection, the build-out was complete and co-owners Mike Prescott and Jason Johnston opened for breakfast and lunch. Late last year, after receiving an alcohol permit for wine and beer, the bakery/café changed its name and supplemented breakfast and lunch with dinner on Friday and Saturday nights. 
Day or night, the Cabrillo Bistro experience starts at the front door. Behind a glass screened reception area is an airy space with open ceilings that could border on cavernous if not for the wide-plank wood floor, soft yellow walls the color of sunshine, and the warmth of caramel cabinetry and chocolate colored banquettes. Along one wall is a mural of 1929 San Clemente inspired from historical photographs. 
The dining room is a wide open space that offers hushed intimacy because the bistro is appointed for fifty, thus allowing patrons elbow room and conversation privacy. Two-tone tables are bare during the day and get dressed for dinner with white linen tablecloths adorned with romantic candlelight. 
The wine list offers a pairing with every entrée.An excellent out-of-home dining experience hinges on individual expectations: ambience, value, service, social felicity; the Cabrillo Bistro scores high to abundant in all these areas, but what of the food and wine? Oh my…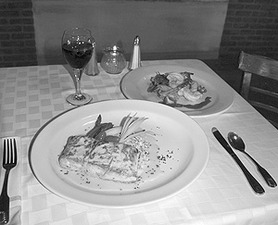 Chef Jason Johnston's apprenticeship was conducted European style in some of the best kitchens in Orange County: Pascal, Antonello's, Hotel Laguna, and Twin Palms. Johnston is modest about his achievements because, "It's all about the food. The menu changes every two to three weeks with the availability of the best and freshest ingredients: vegetables, garnish, fish, beef, pork, seafood. Sauces are created accordingly. Also our wine list offers a pairing with every entrée. And we don't take a high markup." Bonus. 
Imagine a family of four with different tastes and food sensibilities gathering for an evening meal at Cabrillo Bistro. What could have been a nightmare was one of the best dining experiences they'd had in a long time. They each purposely chose an entrée not on their regular food radar: pork tenderloins for the pizza loving teenager, roasted breast of chicken for the fast food eat-on-the-run college student, Angus filet of beef for the pasta loving dad, and Atlantic salmon for the fish wary mom. Why? They wanted to step outside their culinary comfort zone to try something new with an unbiased approach to ingredients and cooking methods not provided at home. Besides, Mom made them and insisted they sample everything on the table. 
To start, two salads were chosen. A traditional Caesar salad with the lightest and freshest dressing that didn't overpower the crisp romaine, yet seasoned it perfectly. The Cabrillo salad was made with fresh mixed greens, toasted pine nuts, blue-cheese, and honey-balsamic vinaigrette. Additionally, dried apricots added a surprisingly sweet counter-point to the blue that was delicious and unexpected. 
The salmon was served with asparagus risotto, orange basil sauce and fried leeks. The salmon was flaky and the risotto was perfectly rich without being too buttery. Haricot verts, cipolline onions, fingerling potatoes, tomato confit, and applewood bacon jus accompanied the roasted breast of chicken. The most popular dish on the table was the pork tenderloin with apple, black figs, baby potatoes, and cider jus. It was tender, moist, and the complements were perfect. The Angus filet of beef with cipolini onions, asparagus, wild mushrooms, garlic mashed potatoes and natural jus was almost perfect. What would have made it better was if Dad didn't order the beef "medium well." Mom nearly had a heart attack. So did Chef Johnston, but he prepared it as ordered without complaint.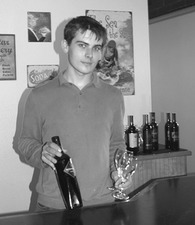 The Cabrillo Bistro's fabulous menu changes every two to three weeks.In the end it was an ideal evening of culinary excellence: the food and wine were delicious, the price was right, the service was attentive without being obtrusive, and the atmosphere was perfect for enjoying one another's company without having to compete with a suspended television.
Besides dinner, there are other virtues of the Cabrillo Bistro. For a mid-day meal try a smoked turkey croissant, grilled citrus chicken, an Italian focaccia, a vegetarian sandwich with the best herb aioli ever tasted, or a meal-sized salad to satisfy any craving. They even deliver during the lunch rush. And don't forget an egg or waffle breakfast and fresh and delicious baked goods, gourmet coffee, and Italian sodas (yum). 
There's one word that sums up the Cabrillo Bistro and it was uttered by the teenager - the harshest critic of all. He said, "Stellar." Yep, that covers it.