Animal Lovers John & Jennifer Agostini - Finding the Perfect Career
Feb 01, 2008 09:13PM ● By Don Kindred
story & photos by Bill Koelzer
What if your life unfolded like a fairy tale, love of your spouse, love of animals and love of your veterinarian career all meshed together like a dream come true?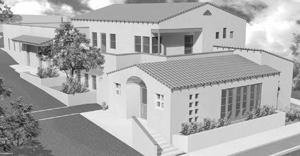 Well, that's the way John Agostini and Jennifer Casper-Agostini, owners of San Clemente Veterinary Hospital, could say it's been for them for more than 26 years since they met in class at CalPoly, San Luis Obispo, where both were majoring in Animal Science.
Several universities later, in 1984, John had his Doctorate (DVM) in Veterinarian Medicine from U.C. Davis, and Jennifer earned her degree in Business, plus a certificate in Veterinary Hospital Administration. 
After gaining his doctorate, John completed an internship and worked for the next two years at a leading referral hospital in Sacramento, under the mentorship of a board-certified internist, surgeon, ophthalmologist, cardiologist and dermatologist. And in 2004, he was selected to complete a Fellowship at U.C. Davis (only three doctors are seated) gaining skills and knowledge in Abdominal Ultrasound. Fewer than 10% of all veterinarians do such additional intensive training after graduation. 
John says, "Continuing education and training is essential to keep abreast of current veterinary medical trends." 
In 1986, Dr. John, Jennifer, and the first of their four children, ages 16-23, moved to Southern California where John became the Chief of Staff/Director of the South Orange County Animal Urgent Care. For five years, he treated thousands of injured and critically ill animals, referred by over 30 regional veterinarians. During this time, he trained heavily in emergency medicine and surgery. 
John says, "This was an opportunity to gain a phenomenal amount of experience which still serves my clientele today."
In 1991, the couple bought the San Clemente Veterinarian Hospital to which they are soon adding another 1,500 square feet of space to its current 4,000 square foot area, along with expanded parking. And together, the two comprise the perfect pair to own, operate and manage a hospital. For the past 16 years, Jennifer has handled the business and administration side, and John, the medical side, treating more than 6,000 animals a year.
Jennifer says that the reason that the hospital is so respected countywide is "because everyone who works here is an animal lover. Our amazing staff really cares and it makes a difference in the way we treat the patients."
The hospital features state-of-the-art diagnostic equipment, including ultra sound, digital x-ray (radiology), and endoscopic tools which help make a diagnosis, and can be vitally important when complications arise. An in-house laboratory delivers diagnostic results immediately, instead of waiting for outside labs. 
"Such speed often spells the difference between life and death," says John.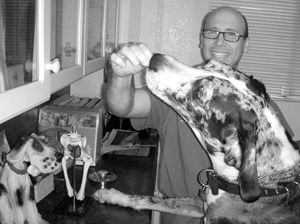 Medical services include well care and preventative medicine, nutrition and diet plans, ultrasound and radiology, soft tissue and orthopedic surgery, cardiology, ophthalmology, dermatology and allergy testing, intensive care, complete dental care and complete lab testing.
Special services include a vaccine clinic every Saturday, a boarding kennel, bathing, grooming, behavior consultation, nutritional consultation, prescription diets and home care supplies.
The hospital supports many community groups including area high schools, Junior Women's League, Boys and Girls Club, Toby's House, and a dozen others, plus John devotes time at the Animal Shelter, with monthly onsite visits, runs its annual microchip clinic, and is the onsite doctor for the Dana Point Wag-a-Thon.
John says, "We love our life today, although it has been a lot of education, work and risk to get to this point. We feel that we're great as a couple and most effective as the owners and managers of this hospital. We've both loved animals from the time we were kids and it is a blessing that brought us together over 26 years ago so that we could enjoy this kind of family life and career together." b