Exchanging Education in a Sister City
May 29, 2007 09:36PM ● By Don Kindred
by Brighton Kindred
A wild monkey in Gibralter.The flag of red and yellow waves from the top of every building and the streets are covered with cobblestones that have been trampled for hundreds of years by both horses and men.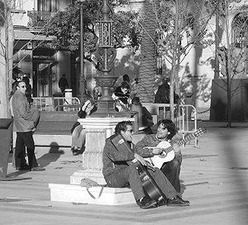 At this particular moment, I have parked myself outside a Spanish cafe, my right hand pressing pencil to paper on a beautiful round tabletop. My left hand is armed with a warmed cup of café con leche, just one of a series of coffees reinforcing my newly formed European addiction. Though I am without company I am far from alone; the plaza set before me swarms with city-dwellers roaming here and there among the plethora of tiendas and cafes.
The Spanish life is one of mornings spent in secret palace gardens, afternoons with lunches well above and beyond what is possible to eat, (which explains the traditions of 'siestas') and evenings flowing with tapas and Cerveza. Weekends can be enjoyed attending spirited bullfights or perfecting the sensual arts of flamenco and salsa.
I have been immersed in Spain. For the last 12 weeks, I have had the privilege of living with a Spanish family in Seville. The family's comprised of a Señora, her husband, three children and two grandchildren. The experience has allowed me to get an inside look at the life of Seville beyond what most tourists encounter. The Senora busies herself with household chores and childcare, while the older children come and go from school and jobs. Through my participation and observations I have found the Spanish culture rich and the history old… but I have also found the mentality and the lifestyle of the people comparable to San Clemente.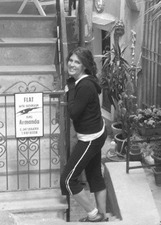 As I sit mesmerized by my surroundings, I can't help but compare them, and wonder if Ole Hanson himself sat at this very table over 70 years ago forming in his mind the blueprint of what he would soon call his own "Spanish Village by the Sea". It isn't hard to imagine this possible, for he mimicked the buildings of Seville to perfection. The white adobe buildings and palm trees that shower San Clemente are a mirror image to the backdrop of Seville. But the likeness is much deeper than the outward appearance. Like San Clemente, Seville is a popular and continuously growing city with the unique ability to maintain a village mentality. Its people vastly contrast its cosmopolitan neighbors of Madrid and Barcelona, preferring a slower walk instead of a run, taking time to smell the orange blossoms in spring and stroll alongside the riverbed.
I am reminded of a drive along Pico at 3 pm, when packs of teenagers walk by, just let out of school and dressed to impress for the weekend, quick to their mobiles making plans that will certainly lead to the frustration and worry of their parents.
I am reminded of a walk down Del Mar, as I watch a storeowner who, though tired of the constant stream of tourists, recognizes his need of them and performs the required pleasantries. Although bothered, he cannot conceal his smile resulting from the realization that each tourist has traveled far and wide to visit this beauty he is proud to call home.
I am reminded of San Gorgonio Park, when a group of ninos picks up a game of soccer in a corner against a wall, refining their skills and further feeding their desire to make it one day like Ronaldino or David Beckham.
I feel my own mother's arms embrace me as I watch a mother guide her daughter down the street. Then out of the corner of my eye I catch a father teaching his son the tricks of his trade and am instantaneously reminded of the shoes set before me which I have just ventured out to fill.
As I near the end of my coffee, I am left with the feeling of amazement at the likeness of these two cities, both inwards and outwards. I am grateful that of all the places I could have spent a semester, I unconsciously chose Seville a Spanish sister to my own hometown, San Clemente. b