Gift Ideas from the Village for the Holiday Hostess
Nov 30, 2006 10:10PM ● By Don Kindred
by Judy Meler
Where did the year go? The holiday's are upon us already for the 2006/2007 seasons. 
How did this happen?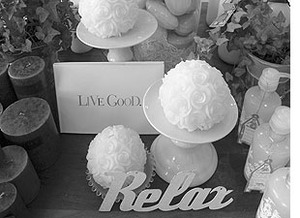 We may have already been invited to a couple of holiday gatherings and need to think of something fun to take the host or hostess to thank them for inviting us, and for going to all the trouble to entertain us. One may be a business holiday party, one a gal's gala, and another a dinner party. Then, of course, we have all the usual family get togethers.
What might be the protocol for these events? 
Keep the recipients in mind when selecting the gift. Their interests, likes, dislikes, age, work and hobbies. Purchase the quality merchandise you would like to receive. We sometimes equate the amount we spend with how we feel about the person. But, it's really more about the thought involved in the gift selection that matters.
Keep a general selection of gifts on hand for that unexpected hostess or thank you gift need. If you see the "perfect" gift for a special person, buy it, even though you may not need it for sometime to come.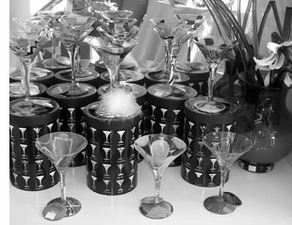 And … shop San Clemente first! There are many superb stores in San Clemente to choose from, with helpful shopkeepers to assist you with your gift selections. 
To begin, visit the San Clemente Wine Company and Barney Doyle, who is the CBO, "Chief Bottle Opener," and incredibly knowledgeable about wine. He can help you choose the perfect bottle, most under $20, and he recommends a great 2004 Cabernet, the "king of wines," from Joel Gott, out of Oakville California. Doyle also suggests a unique hostess gift utilizing almond champagne mixed with a dark chocolate port, to make a delightful after dinner drink, called "Almond Joy." You'll find all the makings of this delicacy at his shop. Contact Doyle @ 429-7067 for more of his expert gift ideas.
Stop in at "Present Tense, a craft gallery whose time has come," for some unique selections in the $15 to $45 range. Examples are a "host" platter, an unusual vase, or decorative corkscrews for your host's bar. Drop by for some helpful suggestions with one of a kind items. Reach them at 949-218-2334.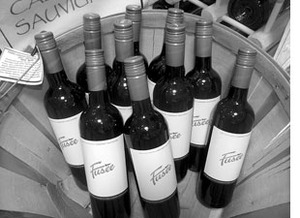 Turning to the feminine, stroll over to "Erba Soapsmiths," where for $6.95 and up you can pick up fragrant, colorful candles or soaps, of a truly individual nature. Also available are unique, hand-made aprons for the hostess who enjoys cooking. Maria Gmur is happy to help you with your selections. Phone Maria: 492-2355.
Guinevere's, also on Ave. Del Mar, has many fun choices. Elegant platters, canapé spreaders, place cards, candy dishes and kitchen towels, to name a few. Remember Guinevere's for home décor and even furniture. Owners Tom and Debbie Herman and their entire staff are ready to help with any of your choices. 
Don't forget Villa Cucina on Del Mar, for cookware, dinnerware, cutlery, premium wines, or gift food baskets for any occasion. You can also visit them on the web at
www.VillaCucina.com
. Or phone them at 388-7512.
Off the main drag, in Ocean View Plaza, visit Linda @ "The Mole Hole," next to Trader Joe's. Linda, the owner, has some very creative items and ideas for your favorite host or hostess. Some fun choices are buffet plate holders, fancy salt and peppershakers, napkin holders, cocktail napkins, sugar and creamers, canapé platters and decorative night-lights. You name it and Linda probably has it or knows where to find it. Her helpful staff will even wrap it for you while you wait. Get it touch with Linda at 443-1670.
No time to shop and need something for a last minute invitation? How about a colorful orchid plant from Trader Joe's? For these and more "on the run" gifts dial them at 240-9996.
Your gift should be something your host would not buy for themselves, and one that won't end up in the recycle or "re-gifting" bin. 
For additional ideas visit:
www.spawish.com
, top spas nationwide, easy to order gift certificates for next day delivery;
www.plantrex.com
, fresh flowers, gift plants and gourmet fruit. Not shipped in a box, delivered fresh by local florists, same day delivery in U.S.; Or
www.giftcertificates.com
, they will E-mail last minute gift certificates. Also check out redenvelope.com, they have many gift ideas from $20 and up, such as silver-plated, monogrammed card holders, or monogrammed holiday soaps, ice bucket & tongs or cocktail shakers and silver-plated wine stoppers. Members of the Metropolitan Museum of Art can go to
www.metmuseum.org/store
for some very special holiday gift choices that won't be seen everywhere.
Whatever your holiday occasion or need for a host or hostess gift might be, you should be able to find what you are looking for in one of San Clemente's many fine, local shops. As an added bonus, you are guaranteed a good time while browsing the picturesque streets of "The Spanish Village by the Sea." Happy holidays and merry gift giving! b