Los Patios - Not Your Typical Mexican Restaurant
Nov 30, 2006 10:00PM ● By Don Kindred
by Bill Koelzer
Owner Carlos showing just how large his platter portions are. The first thing 30-year-old Carlos Frutos did in July, 2003 when he bought the Los Patios Mexican Restaurant in Old City Plaza … was to shut the restaurant down for six months.
He explains, "I'd worked in restaurants since I was 14 - back when Adele Lux, (owner of nearby Adele's Café) was a waitress at La Siesta and I was a busboy there - and I'd always had a vision of what my very own place should look like. The tiny 12-seat, very traditional Mexican restaurant I bought wasn't that, so I invested six months of labor and much money in making it just what I wanted."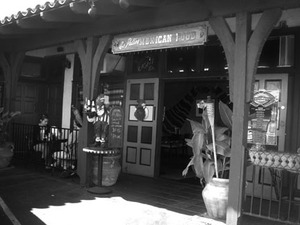 Los Patios now seats 55 people in a luxurious Mexican-motif. It also does extensive outside catering for wedding receptions, corporate and governmental events, often serving 300-plus attendees. But the biggest improvement was in the food.
Carlos says, "All the Mexican restaurants in this area offer pretty much the same basic lunch and dinner menu - -tacos, tortillas, burritos, tostadas and so on. But people told me that they were ready for a different Mexican food experience so I set about creating it. Now we offer a basic menu, yes, but far more choices, a wide, wide upper caliber array of Mexican food in a matching upper caliber setting."
Some traditions remain: Tuesdays are dollar "Taco Tuesday"; Sundays are dollar enchiladas. Always the promoter, Frutos remarks that if someone takes this entire article into Los Patios, he will give them 15% off their meal price.
Regarding food quality, Carlos reveals, "I'm the chef and I cook all the food myself. We don't cook with lard; we use olive oil instead whenever possible. We make our own salsas and chips. We actually try to be different from other area Mexican restaurants, while retaining the essence of Mexican food. Nonetheless, everything here is cooked the healthiest yet tastiest way possible."
Plenty of room for private parties inside."For example, take our al pastor tacos, which can include your choice of steak, carnitas, chicken or beef," Frutos declares. We marinate the meat in pineapple juice, special chilis, garlic, cilantro and more, and offer either large or palm-sized taco tortillas for those who eat sparingly. The rich full taste is so far beyond normal meat flavor that customers beg us for the recipe. They also love it that our meal platters overflow their plates, yet our prices stay a real value."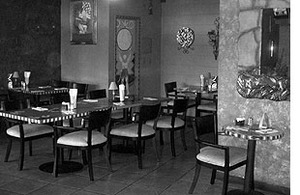 Carlos says that he did not, oddly enough, create the two most popular menu items. His wife, Alida, created: Alida's Favorite – Grilled chicken breast and shrimp in our garlic chipotle sauce served with Spanish rice and steamed vegetables - $13.95. And Susan Murphy, head waitress, created: Susanita Special – A delicious 9 oz. rib eye steak with four large shrimp, a side of chipotle garlic sauce, served with rice and vegetables - $16.95
Completely renovating the old Los Patios, Frutos modernized the kitchen, tiled the floors with red pavers, painted the walls and ceilings vibrant colors, and added dozens of stunningly bright Mexican fabrics, artwork and paintings in a flamboyant, yet, symphonic array of comfy earthy tones. He installed elevated TVs for "the big games," but since they seem extraneous with the décor, they are seldom on. 
During non-busy hours Los Patios is often inhabited by business people in hushed across-the-table meetings, or couples enjoying an out-of-the-way place for a tête-à-tête. The large dining room is often used for corporate or non-profit group meetings and can be segmented from the front part of the restaurant.
When is a Mexican restaurant way more than a typical Mexican restaurant? When its owner and chef is Carlos Frutos, with his revolutionary über-Mexican food and decor. That's when!