For Parents in a Hurry Reflections for a Great Summer
Aug 30, 2006 09:36PM ● By Don Kindred
by Helen Chade Mahshi
Being a child just a generation ago meant having lots of free time to do whatever you wanted. This writer's memories of summer include active days at the beach, family barbecues, endless days of kick ball, softball, bike riding and roller skating in the cul de sac in front of my parent's home. We didn't rely on camps and scheduled activities to stay busy. We hung out with our siblings and neighborhood kids and used our imaginations.
Parents today spend so much time during the school year chauffeuring their children from one organized activity to another, it's common to fall into the habit of over-scheduling our kids during summer vacation. We deny them the opportunity to create their own fun, and lose ourselves in the process.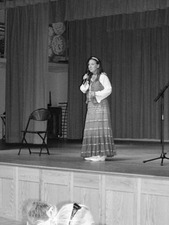 Hopefully this article will suggest outings the family can do together, or opportunities for children to be entertained, without a big investment of time or money.
The following ideas are free or charge a moderate fee:"
For the Entire Family 
Our Public Library in San Clemente offers an array of story times for all ages. Children ages 0-12 can join "Paws, Claws, Scales and Tales," while "Creature Features" is for 12-18 year-olds. Even adults have their own program! Have trouble getting your kids to sleep? Arrive in pajamas Thursday evening for a storytime guaranteed to get the whole family ready for bedtime. 
A great place for children to develop wonder and fascination for the great outdoors is Caspers Wilderness Park on Ortega Hwy. Located just a few miles inland from downtown San Juan Capistrano, 8,000 acres of protected wilderness reserve are available for hiking, barbecuing and camping. A state-of-the-art park for children under eight is also featured. Don't be surprised to see small children staring at the ground captivated by creepy crawly things and/or chasing after butterflies. 
For children six and up, Adventure Playground in Irvine offers hands-on activities. They have a 100-foot waterslide down a hill, obstacle courses and construction projects where kids actually build with nails, hammers and lumber. A huge mud hole has been designed for tug of war games. They also offer camping for the whole family complete with songs around the campfire and cooking smores over an open fire. 
San Juan Capistrano features a monthly "concert in the park" series the 3rd Wednesday of the month. Bring a blanket and enjoy the music. Enjoy a taste from the local restaurants featured each month, or bring your own picnic. 
Gino Borowicz, owner of Gino's Jewelers, has beenHost an ice cream social in the back yard and ask the neighborhood children to wear bathing suits and shorts. Each child brings a topping in a small bowl, and the host family provides the ice cream. Everyone makes their own ice cream sundae and afterwards the kids can run through the sprinklers and play outside. 
Take the train to Santa Ana to the Bowers Museum or even all the way to Los Angeles to the Children's hands-on Science Museum. 
Scrapbooking is a Family Affair: Elementary school aged children and teenagers will enjoy learning how to archive their memories. All that's needed is an album, pictures, fancy scissors, markers and glue. Younger children can start creating simple scrapbooks and making memories for years to come. Parents can teach while creating family albums.
Just for Kids:
Most experienced parents know the value of keeping an arts and craft closet, and dress-up chest loaded with the basics. A trip to Wal Mart or Michael's will provide many of the essentials: lots of paper, glue sticks, paint, crayons, water colors, beads and anything else that strikes the imagination. Parents don't need to monitor the whole production. Just get your kids started on a craft and their creativity will keep them busy for hours. 
Keep a dress-up chest filled with costume jewelry, and fancy clothes and imaginative children will enjoy creating shows to entertain the whole family. Afterwards, hide coins, beads, play money and small candy and send them on a treasure hunt.
Hukilau Beach Bounce in Talega and Scooters Jungle in Aliso Viejo offer incredible indoor entertainment unheard of years ago. Usually booked months in advance for birthday parties, both establishments offer open playtime every week for toddlers and school-aged children. The 24-foot slide, and bounce house are the most popular attractions.
Summer offers the opportunity to slow down and eliminate a schedule. Fire up the barbecue, curl up with a good book and reconnect with those you care about. Hopefully, the suggestions offered here will spark your own creativity and launch you into a dream you've wanted to pursue, but neglected because you were too busy. b