The Me-Munchi Mode... At Avila's El Ranchito Restaurant
Aug 29, 2006 10:51PM ● By Don Kindred
by Maggie Zeibak
Stop by Avila's right in the center of downtown San Clemente. Ooof. I needed to snap open that top button of my loosest fitting jeans, purposely worn in anticipation of eating some fine Mexican food. The reputation of the Avila family's bustling restaurant at the crossroads on Del Mar, required a little comfort planning, yet unlike the movie, The DaVinci Code, the secret was definitely revealed. That secret is Grandma Avila's recipes.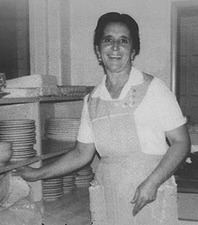 Her authentic recipes have been featured for 40 years in the family restaurants, throughout Southern California. Each time a new venue opens; Grandma comes to check the food for quality and taste. It's no wonder the family takes pride in offering such fresh and varied meals that have engaged a loyal following since before Michael was a kid, proudly serving tables with salsa and crispy chips.
Surrounded by television screens showing great footage of surfing expertise, the palm tree décor sets the mood for casual dining. Open to the street, the crowd can look out to see who is passing by – it is a "see and be seen" location. 
Next time you drop in for a cocktail, try the "Sunny San Clemente", a mixture of Tequila, Rum, Peach Schnapps, OJ and Grenadine, in a gesture to support our great city. Add an order of Guacamole Fresco ($5.95) and let those chunks of fresh avocado, tomatoes, onions and cilantro perk up your taste buds.
But, on to the menu. No cryptologist needed here as everything is explained clearly and I couldn't overlook a large bowl of Mama Avila's Chicken Soup ($8.95). Not only is this a meal in itself but it also jumps high on the nutrition scale. Knowing that the broth and strips of chicken breast were underneath, I was still reluctant to spoon through the surface full of colorful quarters sprinkled with avocado, cilantro, onions and tomatoes that proclaimed it as a work of art. A quick squeeze of lime and it's a satisfying meal for some of our damp evenings.
The hardworking servers, some with the family for many years, presented a brightly colored plate stacked with (what will now become a favorite of mine) something-called Chingolingas ($8.95). This was new for me and as I sank my teeth into the flaky pastry tightly packed with chicken, I had this pegged as a winner. Rice and beans accompanied by a garnish of guacamole and sour cream, made this an easy to eat, substantial meal. This is great take-out food and one that Michael says is popular for catering a party.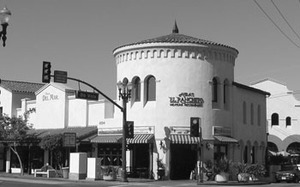 Which is which? Avila's family dog sits next to a statue by the front door.Fiesta Party Trays are the way to go when you have a few people over for a gathering. The Party Pack for 10 people includes 10-each of Tacos, Flautas, Burritos and Chingolinga Bites plus Salsa, Guacamole and Chips and is priced at $54.95. What an easy way to throw your own fiesta, although you can have a coordinated catered event with strolling Mariachis if you'd prefer. 
Frequent visitors Arnold and Heather Goulet of San Clemente said, "It's definitely our 'go to' place in South County for a Cadillac Margarita and south of the border fix. The Shrimp Al Mojo are out of this world – crunchy and garlicky in a butter sauce. We also think the Chicken Enchilada with the Tomatillo sauce is perfect. The staff is so friendly and welcoming that we always bring our out-of-town company here".
Long-term employee of 20-years, Head Chef Javier, sent out a combination plate ($9.55) with Hubby's selection of Chile Relleno and a soft Taco. Served with whole Mexican beans that aren't mashed and refried, these are a popular request from regular customers. Our eyes met, we nodded and knew that fat, sassy Chile Relleno – a House Specialty – was going to be good. It wasn't – it was terrific! The fresh roasted chile was stuffed with cheese and smothered with salsa ranchera and the additional melted cheese made an ice-cold beer a cheerful companion.
Michael and his wife, Christine, are 3rd generation Avila's to run a family restaurant. Just the day after their honeymoon in Hawaii, three years ago, they returned to oversee construction and embark on an exciting and awesome time in their lives. Now that 10-month old baby Benson has joined them, we expect to see him on a regular basis. After all, one of the important enticements is that Kids Eat Free on Wednesday Nights. Children under 10 can choose from their own menu where curly fries and lemonade are offered along with Mexican dishes. Everything is made fresh, fresh, fresh and there is no microwave in the kitchen.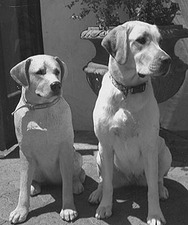 Each month they have a random Surfboard Logo Giveaway. Patrons fill out a card and can win a surfboard from a variety of boards – this is a generous raffle and open to everyone. "We give our customers what they want. This is a surfing community so we like to create something of interest. At the same time, the TV atmosphere provides a conversation for a "first date" night – it's something to talk about," Michael says. " We also expect our diners to feel full when they leave us, just as if they had been eating at Grandma's house. Perhaps a customer has special dietary needs so we will make something to order. If I have it, we'll cook it for you. Ask – we'll do it. We try to have something on the menu for everyone, from spicy to vegetarian".
And they do mean everyone. Feel free to bring your well-behaved dog along to dine on the patio and partake of the "Dine with your Canine" menu. Chicken or Steak starts at $4.95 and a never-empty bowl of water. Yes, this is a real family restaurant where 'Bernie', a regular, has his own designated seat at the bar and locals don't have to fly to several countries to enjoy the delicious, light Flan for dessert. We have our own code – we eat locally at Avila's El Ranchito restaurant. b