White Horses Restaurant & Bar Best New Restaurant 2005
May 05, 2006 09:54AM ● By Don Kindred
by Bill Thomas
White Horses is located in the San Clemente pier bowl.The Place?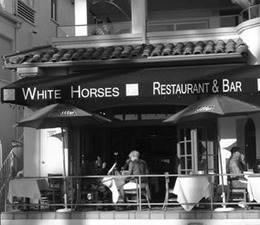 Selected as the best new restaurant of 2005 in Orange County by the OC City Search, San Clemente's by-the-pier White Horses Restaurant & Bar has become so popular the repeat business outnumbers first time customers. I spoke to one Talega couple on their fourth visit claiming, "This is the best place to eat in Orange County." Two German tourists with only two days in the area chose White Horses twice because they liked the food so much. Regular customer Steve Rodriquez said, "The chefs, Mark and Tim, are incomparable." His wife Susan added, "They bring flavors from all over the world." Enjoying a drink at the tiny bar with friends, Dave Fyffe remarked, "This place is easily the most sophisticated and elegant drink and dinner establishment in San Clemente." The ambiance compliments the restaurant as well, a comfortable, rather cozy dining room and small bar area with attractive etched-glass dividers, soft colored lighting, and a large salt water aquarium housing exotic fish, with large, colorful paintings adorning the walls, and the ever-changing ocean scene outside the French doors. There is a fresh flower and a lighted candle on each of the white cloth covered tables. "White Horses" is a British expression for the froth at the crest of a wave out at sea, We, Americans, call them "white caps." If there's a metaphor in this name, it's probably that the restaurant's memorable and adventurous cuisine is like the incomparable feel surfers experience when riding "…that one great wave in a set."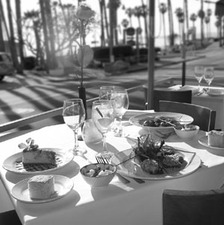 Mark and Aileen Norris, owners of White Horses Restaurant & Bar.The Owners?
The owners are the Norrises, both recently from the United Kingdom; Mark called London his home and Aileen, Ayrshire Scotland, where they previously operated a restaurant. Mark, a restaurant designer, chef and operator, has designed and opened over 40 restaurants. Settling in America had been a longtime dream for them, and San Clemente met every hope they imagined. Mark shares the chef duties with Tim Watson, formerly of the Four Seasons in Newport Beach, and Aileen serves as maitre d'. Business has been brisk, praise extensive, and the transition pleasurable. Every eight weeks or so, they redo both their restaurant's offerings and décor. A new artist's work adorns the walls; the breads, appetizers, menu items, and everything else not nailed down are changed. Their having doubled the use of the restaurant as an art gallery has been most encouraging to local artists. They've exhibited the works of Shane Townley of Studio 405; Trevor Meza, Herman Sillas, and Kirk Saber of the WestEdge studio; Nathan Paul Gibbs, DiAnne Williamson, Danielle Hacche, Howard Kirk, Coleen Hanley, and Jennie Riker. 
The Food? 
The appetizer list of ten choices starts with grilled lobster and caramelized onion pizza with buffalo mozzarella and fresh basil and includes spinach and almond fritters, orange crab cakes, smoked portabello mushroom carpaccio, pheasant and cognac sausage, meat or vegetarian tapas, and ends with a Spanish platter of cheeses and cured meats and salads to die for, all with their respective exotic sauces and toppings. Appetizers range from $8 to $12. 
Dinner at White Horses is an ocean view experience.There are two menus to choose from: a concept menu and a grill menu, affording an array of 14 choices unexcelled by most quality eateries. Char grilled lamb chops with a mango, mint and garlic mojo. braised buffalo short ribs, striped sea bass with a rosemary and tomato polenta and a tapenade and tomato sauce, lemon grilled chicken breast with haggis and a malt whisky cream, plantain crusted halibut and charred pineapple salsa, a unique plate of exotic vegetable parcels from Greece, Russia, India and Spain; seared scallops with a grapefruit buerre blanc; roast duck breast on lemon grass skewers with red and green thai curry sauces. For the grill menu, you can choose how the fillet, NY strip, ahi tuna, salmon, chicken or lamb meat is cooked; there are also four marinates, six crusts, eight sauces, and five butters – all totally different and challenging to decide amongst. Main menu items are scaled from $18 to $32, all are served with potatoes and an array of freshly steamed vegetables. Everyone gets a complimentary small cup of soup as a pallate cleanser between courses, a novel and nice touch.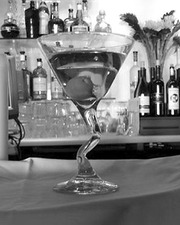 If, after appetizers and the main course, you have enough gastronomic room to spare, there are eight choices of desserts: cakes, pies, cobblers, fondue and even a cheeseboard representing the "six cheeses from around the world." Desserts prices are $6 to $12. 
The Drink?
The beverage selection is broad with a wide inventory of alcoholic items. My martini was outstanding, and I especially took delight in the feel of the glass' stem, which, in the middle, curved into a vertical "v," providing total control of the valuable liquid. Wines and champagnes represent homegrown name brands, as well as Australia, New Zealand, France, Italy, Spain, and South Africa. Bottle selections span from $20 to $85. Depending on the vintage, a glass of white or red house wine is either $6 or $8. 
The Background?
The Norrises lease the restaurant space from long time local, Rick Anderson, who owns the Casa Tropicana Bed and Breakfast Inn. 
The unique glass is easy to hold.The Experience?
On the pleasant Wednesday evening my wife, Diane, and I were introduced to White Horses delicacies. After sensational martinis and tasty tapa appetizers, I ordered the braised buffalo short ribs with a honey and chili glaze; Diane had filet of salmon with béarnaise sauce. We treated ourselves to glasses of the house red wine. Once our dining venture was accomplished, we unanimously agreed that this might have been one of the best culinary experiences of our lives. The food was "out of this world." I thought to myself if I could afford it. I'd eat here every night. It's fantastic! b 
White Horses Restaurant & Bar, 610 Ave. Victoria, San Clemente, (949) 429-1800. open 4:30-10pm, except Mondays. Website:
www.whitehorses.us
. Early bird special (4:30-5:45 pm, $15).