The New & Improved La Costa Resort & Spa: How to Get a Million Miles Away on Two Gallons of Gas.
Nov 05, 2005 04:44PM ● By Don Kindred
story and photos by Don Kindred
The original concept of the travel section was to focus on things that could be done within a couple of hours from town. Although we've grown, and our writers have become more worldly, the
irst, I have to thank Curtis McBride, a partner at the Jon Wayne Construction Company in San Diego. He called after a golf outing at the La Costa Resort and was amazed by what the $140 million renovation had done to the aging landmark. He suggested I check it out for a story.
Good Suggestion. I was able to check it out from a two-room suite, with a bottle of Champagne, a sunken tub and a view over one of the resort's three pools.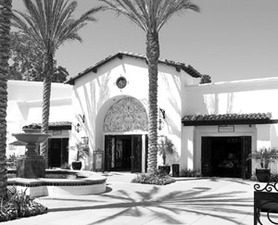 The Resort
The resort itself opened 40 years ago, in 1965, and soon gained international attention as the first U.S. resort to introduce a full-service spa. Nestled in the sun-drenched coastal foothills of Carlsbad, La Costa Resort and Spa has been suddenly refreshed into a remarkable destination resort, with 474 guest rooms that include deluxe one- and two-bedroom suites.
The resort is designed in the same Spanish-colonial architecture we're so proud of here in San Clemente, and the new buildings, walkways and landscaping create a similar village-like atmosphere.
The self-contained resort could be anywhere I suppose, or at least anywhere with 75-degree sun in a blue sky, because there is absolutely no reason to ever leave the premises. The 'premises', which we'll try to explore, includes: two championship golf courses, 19 tennis courts, the stunning new spa, the Deepak Chopra Center, Camp La Costa for Kids, a state-of-the-art athletic club, a conference center, the aforementioned pools, fresh coastal cuisine, upscale shopping and a list of daily activities ranging from bingo to Brazilian martial arts. You don't have time to go anywhere else.
The La Costa Resort features two challenging PGA Championship courses.

Golf
Unfortunately, my friend had only been there for the golf, fortunately, that is reason enough to visit. The La Costa Resort features two challenging PGA Championship courses. That's 36 manicured fairways with fountains and water features that add to the feeling of being away from other daily worries.
Four sets of tees allow play for the full skill-spectrum of golfers, but you don't even have to golf to appreciate the traditional beauty of these courses, where legends of the game have walked for over 30 years. La Costa is currently the host of the World Golf Championships - formally known as the Accenture Match Play Championship.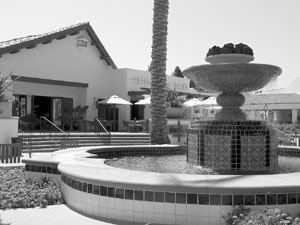 Fees
Resort Guest-Fri-Sun - $175
Daily Fee Guest - Fri-Sun - $195
Resort Guest Mon-Thur - $165
Daily Fee Guest Mon-Thur - $185
Resort Twilight - (after 2 pm) $90
Daily Fee Twilight - (after 2 pm)- $115
The Spa at La Costa
The slogan on the brochure reads; Indulge. Invigorate. Inspire. Appropriate terms for the experiences that await you in the facility that, four decades ago, was hailed as America's only destination spa. Today, the new Spa at La Costa, welcomes you to immerse yourself in what they call Agua de la Vida, (the Water of Life). The name refers to the soothing whirlpools, purifying steam rooms, an invigorating cold plunge and a special treat for those of us with general pains in the neck known as the Roman Waterfall. These features are complimentary with most spa services or available by the day a la carte.
Agua de la Vida includes access to the spa's lounge, a cedar sauna, private sunbathing in the spa's pool and courtyard, and even robe-friendly dining at the Spa Café. The spa features, 28,000 square feet of indoor space, 42 treatment rooms and a robes-welcome 15,000 square ft. outdoor courtyard.
The spa's brochure includes descriptions of over 50 different treatments including: (All prices my vary)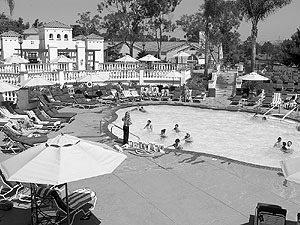 Deluxe Spa Suite Journey for two (3 hours-$750) - Unlimited use of spa (Agua de la Vida) • Two 50-minute California Renewal Body Treatments in the privacy of your own Spa Suite, which features side-by-side massage tables, a fireplace, private shower and bathroom, telephone, television and an outdoor patio with private whirlpool. • Two 50-minute La Costa Massages • 2 plush keepsake robes • Spa Café lunch for two • Fresh Carlsbad strawberries with chocolate truffles to enjoy in an extra hour in your Spa Suite.
The shops at La Costa.Mother's Massage - 50 minutes / $140 - This soothing and gentle massage eases muscle tension and fatigue during pregnancy, focusing on the special needs of the mother-to-be.
Golf Champions Massage - 50 minutes / $140 - Tailored for the golf (and tennis) enthusiast, your massage therapist uses therapeutic techniques targeting the areas of your body impacted most by your golf game or other sports activities.
The Chopra Center at La Costa
There are few who have not heard the name Deepak Chopra. The famed doctor and author has teamed with another famed doctor and author named David Simon to create the Chopra Center at La Costa, located on the resort grounds right across the courtyard from the lobby. Here, the worlds of medicine, psychology and philosophy are infused into therapies for the mind, body and spirit. Based on the 5,000 year-old principles of Ayurveda, the ancient healing system of India, the center is unique to anything I've seen. Their approach utilizes natural Ayurvedic oils, herbs and aromas applied, by therapists specifically chosen from a select group of healing arts masters, to detoxify and deeply relax those with more chronic ailments. Medical consultations with Dr.Simon can also be scheduled.
Some Samples
Weekend Renewal Package: $375 (companion fare $200) Friday evening, Saturday morning/afternoon, Sunday morning.
-Friday evening lecture.
-Mind-Body-Spirit sessions, nutritional instruction, guided meditations, and interactive exercises with Drs. Depak Chopra & David Simon.
-Daily Seven Spiritual Laws of Yoga classes and group meditation sessions.
Community Yoga Class - $15/class
A water fitness class at one of the three pools.Yamaguchi Salon
at la Costa
Another unique amenity at the Resort is the Yamaguchi Salon. Celebrity Hair Stylist Billy Yamaguchi was the first to integrate the ancient traditions of feng shui, the 10,000-year-old Chinese philosophy, into his modern hairdressing techniques. Each hair cut includes a feng shui beauty consultation, a sort of personal analysis which will evidently reveal the hair of your true self. I didn't bring along enough hair to exercise this option, but a 'feng shui" cut from Billy himself runs about $200.
Beauty Fees
Designer Hair Cut $ 85
Yin yang pedicure $ 80
Tennis
The Acura Classic had been at the resort the week before we came, which speaks to the quality of the tennis facilities. The tournament, a prelude to the U.S. Open, has been staged at the Resort since 1991 drawing such top names in women's tennis as Venus Williams, Jennifer Capriati and Martina Hingis. La Costa has also been the site of the men's Davis Cup competitions. The resort hosts 19 courts, including a couple of clay, with seven lighted for night play.
The West Coast Tennis Academy has made its new home there, offering lessons at all levels. And for company tournaments, there's nothing better than the championship atmosphere of Center Court, with stadium seating for 1,000.
Court Time
Hard Court/Clay - $15 per person, per day
Private Tennis Lessons - $45 per half hour
$80 per hour
Clinics 9 am to 2 pm daily - $20 per clinic
The Athletic Club
The resort also has a fitness center - an 8,000 square foot one. This Athletic Club offers a range of equipment including Matrix cardiovascular training equipment with individual monitors, Matrix strength circuit apparatus, and free weights. Available classes include: indoor cycling, yoga, body sculpting, pilates and meditation. There's even a golf performance stretching class and cardio-kickboxing. Separate studios designed specifically for pilates, spinning and aerobics, where one can have private and group instruction, are also available.
This multi-faceted resort is far too diverse to cover in even a series of articles. We have only provided a glimpse of what might await your visit. You won't want to miss lunch or dinner at the BlueFire Grill, where Chef de cuisine Scott Diehl's inspired coastal delicacies and appetizers are served - as beautiful as they are delicious.
KSL Resorts based in La Quinta, CA owns the La Costa Resort and Spa, which was founded in 1992. This company owns and operates some of the most unique and memorable golf and spa resorts in the world, La Costa Resort and Spa among them. This is a world class facility, far too close for you to ignore. b
For information or reservations call 1.800.854.5000.