U.N. World Heritage Site for Gulf
Nov 05, 2005 04:40PM ● By Greg Niemann
story and photos by Greg Niemann
Playa Requeson in the Sea of Cortez.With so much of Baja California slated for progress and development, it was welcome tidings for environmentalists when the United Nations Educational, Scientific, Cultural Organization (UNESCO) selected the marine-rich Gulf of California (Sea of Cortez) as one of its newest U.N. World Heritage Sites.

The site encompasses 244 islands, islets and coastal areas located in the gulf, which is bordered by five Mexican states: Baja California, Baja California Sur, Sonora, Sinaloa, and Nayarit.
Of 812 such designations worldwide, most U.N. World Heritage Sites are cultural locations, with only 160 designated natural attractions. Mexico now has 25 total U.N. designations, but this is only the country's third natural attraction. One of the other natural sites was when Baja California's Whale Sanctuary of El Viscaino was given U.N. Heritage Site status in 1993. Baja's only other heritage site is the cultural Rock Painting of the Sierra de San Francisco.
According to UNESCO in its July, 2005 memo, the Gulf of California site is home to 695 vascular plant species, more than in any marine and insular property on the World Heritage list. Equally exceptional is the number of fish species: 891, ninety of them endemic. Additionally, the gulf contains 39 percent of the world's species of marine mammals and one third of the world's marine cetacean species.
While the Mexican government had conferred protected status on the area back in 1978, this new designation gives it international prominence and further encourages conservation and protection. UNESCO noted that the Gulf of California, one of seven worldwide sites named this year as, "one of striking natural beauty in a dramatic setting formed by rugged islands with high cliffs and sandy beaches, which contrast with the brilliant reflection from the desert and the surrounding turquoise waters."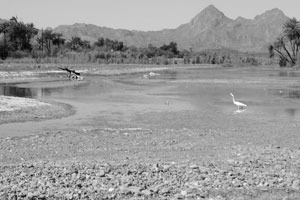 LNG Plant will occupy former surfing break known as Harry's.Development along the Pacific coast
While the U.N. status will help curtail development along the pristine beaches and islands of the gulf, little protection is available along the pacific coast. The wide open spaces along the beaches of northern Baja California, for years an anomaly compared to the expansive growth and population of southern California, are being filled in - already almost cheek to jowl with homes, condos, retirement communities, hotels, time shares and more, primarily built and designed for increasing numbers of Americans.
Along with the growing population in northern Baja California, there are a couple of projects either already begun or on the books that will forever change the face of Baja, and even eliminate some of the out-of-the-way idyllic spots that have attracted surfers, fishermen, and other Baja buffs and water rats for years.
LNG destroys Baja big wave surfing spot
Progress in the form of a LNG terminal has, this past summer, already destroyed one of Baja's primo big wave spots, a once-secret point about 40 miles south of the border called Harry's. Formally called Costa Azul, Harry's was a world class right hand break into shallow water about 14 miles north of Ensenada, not far from the Bajamar Golf Resort.
While relatively close to the border, Harry's was isolated and became the break of legends after former Surfer magazine photo editor Jason Murray shot San Clemente brothers Greg and Rusty Long riding the big waves there. The May 2003 issue of Surfer featured the San Clemente surfers and Harry's in and on its cover story. That article noted that the beautiful Costa Azul site is the largest stretch of undeveloped coastline between Tijuana and Ensenada.
Make that "was," not "is" as Harry's is no more. Its ultimate demise began that same year when a Shell Oil and Sempra Energy partnership had announced plans to build a $600 million liquefied natural gas (LNG) receipt terminal on the Costa Azul site.
LNG is a natural gas that has been cooled and condensed into a liquid. Occupying 600 times less space than in its gaseous state allows it to be shipped in cryogenic tankers from remote locations to markets. At the receipt terminal, LNG is unloaded and stored until it can be vaporized back into natural gas and moved via pipeline to customers.
The Costa Azul terminal will supply approximately 500 million cubic feet of natural gas per day to meet growing energy demands in western Mexico. Surplus gas is slated to be sold to southwestern U.S. markets.
While approved by the Mexican environmental agency and other government agencies, a consortium of environmentalist groups from the U.S. and Mexico, including Greenpeace, the Surfrider Foundation, Wildcoast, and Save the Waves Coalition, fought diligently to protect the beautiful coastal site. In the midst of the campaign, Shell/Sempra got the go ahead in mid-2005 and immediately starting building jetties out over the point, effectively and permanently killing the once-idyllic big wave surfing break.
Not since the Dana Point Marina was built to forever end the legendary "Killer Dana" break has such a great surfing spot been so completely destroyed along the West Coast of North America.
An estuary along the Sea of Cortez attracts wildlife.The new LNG terminal is expected to be up and running by 2007 after a pipeline is built to Mexicali, and then up into the U.S. at Blythe, California.
Pacific coast progress does not stop with Costa Azul—especially LNG progress. Sempra-Shell has four other projects planned for along the California and Baja California coastlines.
What will be Baja's newest LNG project was announced in 2005 by Chevron/Texaco, a coalition that wants to build a $55 million LNG receipt terminal on a platform off the Coronados Islands. The Coronados are only 16 miles south of the U.S. border and five miles offshore from Rosarito Beach.
This project includes an offshore refinery and a pipeline into southern California and Arizona. Already approved by the Mexican government, it is being fought by Greenpeace Mexico and the Mexican Environmental Law Center. The islands are a popular destination for San Diego fishing boats, sailors, and divers. They also shelter an environmentally threatened small black and white seabird, Xantus' murrelet.
$1,000,000,000 shipping port slated
If numerous housing developments and massive LNG terminals aren't enough, it was announced this year that a new major $1.2 to $2 billion shipping port is scheduled to be constructed at Punta Colonet, about 150 miles south of Tijuana. The new port would take pressure off of Los Angeles and Long Beach, where sometimes up to 50 ships wait up to a week offshore to be unloaded.
If it materializes, the cove at Punta Colonet and surrounding 27,000 acres would become one of Mexico's biggest public works projects creating one of the largest maritime transportation centers on the West Coast of North America.
A coalition of the world's largest shipping and freight companies, mostly Asian, have a number of hurdles to overcome before the project is a reality, including developing infrastructure where nothing now exists and constructing a 150 mile railroad to the U.S.
Planners hope to have Punta Colonet operational by 2012, running 1 million standard 20-foot long containers per year. A major Baja city will be spawned by year 2025 when six million containers are expected to be processed.
Currently Punta Colonet is isolated. The nearby small village of Colonet straddles Highway 1 at the northern end of the agricultural San Quintin valley. A number of good surfing spots are in the area, including the legendary "Cuatro Casas." One need not have a crystal ball to foresee what the future might hold for surfers along today's wide-open Baja coastline.
While the new U.N. Heritage Site comprising the tranquil Sea of Cortez is not a big surf location, its serene waters and lonely coves attract fishermen, sailors, and others who enjoy one of North America's most peaceful settings. It appears that thanks to UNESCO's help and its U.N. Heritage Site status, some of the old Baja will remain. b
Greg Niemann, a long-time San Clemente Journal contributor, is the author of Baja Fever, Baja Legends, and the newly released Palm Springs Legends, all available at your favorite bookstore.