The Rib Trader
May 05, 2005 03:23PM ● By Don Kindred
by Maggie Zeibak
The Rib Trader on S. El Camino Real.    Sounds like they're having a good time," Hubby remarked, "perhaps there's a game on". Sure enough, the bar section of The Rib Trader was lightly packed with beer-clutching sports fans eyeing the big screen TV. Hunched on stools under the "Support Our Troops" poster sat an amiable crowd enjoying a little competitive banter. Although the beer smelled good, I wasn't even in the mood to try an exotic drink, Coco Locos and Wipeouts weren't high on my list. I was starving. I was here for the legendary food. And so were quite a few others.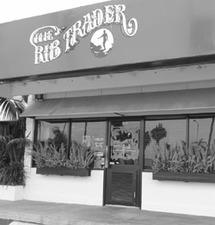 Not long after the weekday Early Bird prices changed to regular prices, customers wandered in at a steady pace. Obviously many had been here before, unlike us who had driven past a zillion times and not dropped in. Well, silly old us – we didn't know what we were missing; after all, this restaurant has been around a long time.
     "In fact," owner Rick Skillman said, "This is the site of the original Ole Hanson Stables. It is a San Clemente historical property and I've owned it for the past ten years. The original restaurant started 20 years ago but I've retained the name and most of the original staff. I've seen so many changes here in town, our regular customers are very loyal, yet we are seeing many new faces as more residents move in. Out-of-towners periodically stop by and we have annual visitors from the timeshare properties who eat with us during their yearly visits."
     "Our menu is basic Americana with unbelievably great hamburgers and, of course, our ribs. We can accommodate vegetarians and offer a variety of substitutions, we want people to have what they enjoy."
      From the moment our friendly waitress, Pam, piled a stack of napkins and wet towels on our hibiscus-patterned tablecloth, I knew we were in for a feast. Not ones to pussyfoot around, we ordered the "Awesome Onion" ($4.99) although the Jungle PuPu Platter with its taste of many appetizers looked promising, the sweet Hawaiian onion cut into the shape of a tropical flower then cooked to a golden brown, answered our taste buds. This is the kind of crisp appetizer that puts me into the danger zone and like the Energizer Bunny, I keep going and going, happily sticking each spear into the tangy special sauce and savoring every bite.
Surf-themed decor adds atmosphere.     Naturally, after a while, the brain sends a message that the belly-container is getting full and I'd better slow down if I want to do justice to my entrée. It's not fair, how can you stop nibbling on such a creamy, sweet vegetable that tastes nothing like an onion? Nevertheless, we reluctantly pushed the ravaged plate aside and agreed that perhaps, in future, that could be a meal in itself. Sometimes our best meals consist of appetizers alone.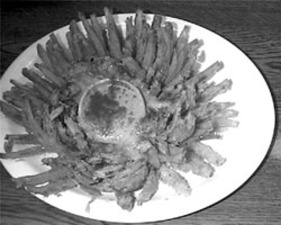 Bearing in mind that this is neither a franchise nor a fast food joint, we were happy to relax and enjoy the informal, casual atmosphere knowing that our food was being freshly cooked. Hawaiian shirts and shorts are popular here and I remembered a comment posted on their website (
www.ribtradersc.com
) from Queensland, Australia "Long live surf bars where sandals are encouraged and Hawaiian shirts are the normal attire". Skillman, a refugee from corporate America endorses no neckties and "at least all major body parts should be covered"!
      Obviously, chefs Rolando and Jose had been busy preparing our meal as out came a piping hot oval plate, piled high with Island fries and coleslaw surrounding the sliced BBQ Tri-Tip Steak (12oz - $16.95). Attacking the hefty serving with the sensibly sized steak knife, all thoughts of the Alaskan King Halibut grilled with lemon butter (17.95) that I'd almost ordered, flew from my mind. This was it, a satisfying, tasty piece of meat.
      Meanwhile, Hubby was munching his way around a cobette of corn and taking a two-fisted approach to his Pork Ribs (Boogie, Short and Long Boarders $13-$22) that were barbecued to perfection – these are the specialty of the house. Smothered in a Velcro lip-sticking sauce, he soon appreciated the value of the mirror in our booth as he wiped his chin clean. In addition to his plate of "bones" he made an assault on the delicious cornbread, definitely mmm-worthy slathered with butter.
      Intent on doing justice to this fine meal, we didn't spend much time looking at all the surfing memorabilia hung around, but we will next time. We knew that Kelly Slater and Rabbit Akea had eaten here and there were a few celebrity signatures on decorative surfboards. I'll bet there are wild stories to be told about the visiting Australian lifeguards and many photographs line the walls of the restaurant as a testament to the history of local surfing.
      Normally, it's good to think outside the box, but I needed one to take away the rest of my meal, I wasn't hungry any more. Rick was busy talking to his customers but took time to mention that he can do catering for large groups, with value pricing that won't break your budget. "My thanks to San Clemente for 10 years of continued success," he said, "and if you haven't tried us, drop by and enjoy our tropical restaurant and bar. We want you to have an outstanding adventure in barbecue."
Ohhh yeah, now that's an ONION!!!!     Our tummies were full and after an enjoyable evening we had to eat and run. Or rather eat and waddle. I still have dreams about that onion. b
The Rib Trader, is located at 911 El Camino Real, San Clemente 949/492-6665