Road Trip
Feb 05, 2005 02:02PM ● By Don Kindred
by Maggie Zeibak
Sometimes indelible memories are created on butt-numbing road trips. Our reluctance to reward ourselves with a little eye-candy scenery often questions our love affair with the automobile. Blithely, we take for granted that California's Central Coast is a fine place to visit, but do we ever go and explore? What can we learn there?
Driving for four hours, an easy 405 to the 101 North, admittedly through congested Los Angeles, the journey gets easier as urban sprawl turns into mere pockets of housing and fewer strip malls. Suddenly the road bursts out to the coast and the highway parallels the sparkling ocean offering a more palatable vista and growing sense of escape.
Skipping the popular resort town of Santa Barbara, yet sending appreciative thanks to the late Julia Child, a hundred miles north is where historical small towns languish, beaches quietly erode and new chefs cover prime restaurant locations. Cruising past cookie-cutter condos we also see horse-property ranchettes and the modern mini-palaces of the nouveau riche. Desperately hoping that nobody else moves there they have carved out a place near the sea or secured a dazzling view of the ocean.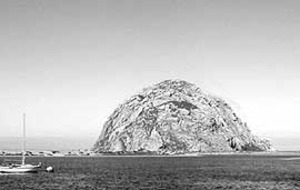 Property values seem to be the topic of conversation among tourists hoping to find bargain prices there. Most are disappointed but point out they would get more for their money as these properties have larger lots. Seeking out tiny towns ripe for development and instant return on investments they find they are few and far between, judging by the proliferation of construction sites.
One of the perfect little towns in the area is Avila Beach. Compared to a phoenix rising from the ashes, this place is experiencing a metamorphosis after a major oil clean-up process. Old picture-postcards show huge oil storage tanks blighting the hillside, removed by 2000 after the beach was polluted by oil leaks. Unocal was forced to ensure that the problem was corrected and today the popular pristine beach is well attended and the bay safe for swimmers and marine life alike.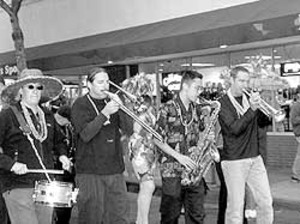 Boasting a pedestrian-friendly promenade, many weekend activities such as Art Shows and a Farmer's Market are held adjacent to the children's park, complete with swings and slides. Local bands play for tips while onlookers sing along with the popular and well-remembered songs, seated on boulder-scape seats gently littered with sculpted starfish that at first glance seem real, bringing closer inspection by kids and grownups alike. The perpetually sunny afternoons are often in contrast with the foggy mornings shrouding the pier and sending long wisps of mist over the 18-hole golf course and up to the mineral spring's spa.
A short driving distance away in the same bay, past RV and camping sites, Port San Luis' pier is a wonder of entertainment at any time of day. Just strolling and watching the anglers casting and cleaning their Perch or Smelt can while away a morning, but the real excitement begins when the fishing boats unload their catch. You can join the pelicans and watch baskets of Rex Sole swing over to the weighing station, dump fish on the conveyor belt and into large containers where they are covered with fresh ice. Then take a walk over to the fisheries and inspect the crabs, healthy sized Ling Cod and perhaps a 100-lb Alaskan Halibut available for purchase.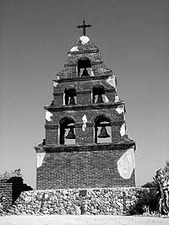 Barks from noisy sea lions "aargh-aarghing" draw a crowd every day. Sometimes huddled on a barge but mostly sprawled on the pier shelf, their antics and interactions elicit smiles from everyone. It is a wonder how their enormous weight can be supported by seemingly thin flippers when they haul themselves, sleek and glistening, from the water to their naptime place of choice.
Nearby Morro Bay offers splendid photographic opportunities with Morro Rock – a mere 575 feet – towering over the bay. Also known as the "Gibralter of the Pacific" it was at one time an island but quarrying led to its present shape and provided a breakwater to the shore. It is possible to drive out to the rock and spend a little time watching the surfers and trying to spot an endangered peregrine falcon in their protected habitat. Morro Bay is a National Bird Sanctuary and Estuary so keep those binoculars handy.
Local fishing villages have many seafood restaurants and you can be sure that the freshest fish and locally grown vegetables are served there. Save part of your appetite for the Thursday Farmer's Market in San Luis Obispo where humongous turkey legs are sold for $4 and the waiting lines are longer than the Panama Canal. Enjoy the shoppers and vendors and perhaps join an informal Mardi Gras parade.
Agri-tourism has increased in popularity and the area surrounding CalPoly up to Paso Robles, past the Old Mission at San Miguel, is littered with fertile fields and structured vineyards on the undulating hills. Visitors bent on developing their wine palate, spend days doing a little "tasting". Events in underground candle-lit caves are held monthly at Eberle Winery "
http://www.eberlewinery.com
and in many of the tasting room areas a picnic spot with marvelous views is available. Also, back in Avila Beach, the up-and-coming Alapay Cellars "
http://www.alapaycellars.com/
suppliers to Radisson Seven Seas Cruises, are proud to offer an alternative to a Chardonnay. Their floral-nosed Santa Barbara County Voignier is 'hot' at the moment.
"It's wine tasting without the attitude," say owners Scott and Rebecca Remmenga.
Zigzagging around, a visit without appreciating Montana de Oro would be tantamount to sacrilege. The State Park's entrance is canopied by thousands of fragrant eucalyptus trees, injudiciously planted by a rancher who thought they'd be good for lumber back in the late 1800s. Today they welcome the visitor, shading the 5-mile drive to the unspoiled cove where artists capture the beauty of the beach and craggy rocks. Pity the poor camper who has to endure this wilderness…
Back into civilization, Pismo Beach has outlet stores for those who need a shopping fix. People watchers have miles of clean beach to check out surfers and people such as themselves who truly enjoy this corner of Paradise. Once famous for the abundance of clams, regulations now limit the hours, require a fishing license and will only allow 10 to be dug up per person. Still, it is no hardship to walk to Brad's for the best bowl of clam chowder ($6.50) in the world. You can have it in a bread bowl if you like.
And finally…the rough planks of the pier take you out over the water to mingle with the screaming gulls while you drink in the impossible grandeur of the sweeping bay. As the sun sets, a mature woman stands motionless with upturned face and allows the golden rays to bathe her as she meditates. She is at peace.
Isn't it time for you to learn and discover middle California? Hands-on homework is optional on the 101. b