An Assemblage of Artists
Feb 05, 2005 01:43PM ● By Don Kindred
by Bill Thomas - photos by George Gooch
Patrons admiring the artwork at the San Clemente Art Gallery. San Clemente's lively Art Association is a cocoon for talent with over 200 members - artists, both professional and amateur, including such revered painters as Steve Kell, Rick Delanty, Susie Cartt, Vic Cumming, Jim Krogle, Louise Lopina, Regina Hurley, and Alicia Sotherland, along with the remarkable 14-year-old rising star of the brush, Joey Varholick. Joey, recently took 4th in a local competition with artists of all ages and years of experience.
Whether a dabbling hobbyist or serious professional, the Association welcomes all comers.
President George Gooch proudly attests, "Besides our artists in oil, watercolor, acrylic, pastel, and photography, we include "artisans," called "crafters" in days of yore. We call them artisans because they're creating art that, rather than hanging on walls, we display in our gallery on pedestals or in display cases."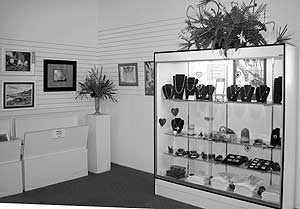 Thus, creators of sculpture, china painting, stained glass, printmaking, collage, and other media are also welcomed with open arms.
Association publicist Sandy Beeler provided information about fees, open hours, and activities. She indicated that member dues per year are $30 per person and $40 for families. Admission to the Gallery is free, and it's open everyday from one to four on weekdays and ten to four on weekends. The major programs and projects of the Association include membership meetings with demonstrations, the Plein Aire competition, the August Art Show, the educational support in the arts of youth in the community, and the Summer Art Walks. Monthly membership meetings are held on the second Sunday of each month at 3pm, accompanied by workshops presented by well-known artists. Recent guest experts include Jim Wodack, 1st place winner of Plein Art Painting competitions; Jeff C. Horn, teacher of and specialist in Plein Art painting and teacher; and Donald Freymuzh, San Diego-based impressionist painter.
"At our last meeting, it was pouring down rain, and we still had 37 dedicated devotees. With art, there's always something new to learn; everyone picks up something, even insights on how to attack a painting," Beeler stated.A display from Lobo Elementary.
Eight art showings of members are held at the Gallery during the year under the chairwomanship of Pam Hill, each lasting approximately six weeks. The most recent was a judged show featuring an exhibit of miniature works of art. The current edition is a "Public Choice Show," enabling participants to enter selections of their own work. Additionally, there are "juried shows" in various media where prizes are based on artists' subjects and techniques, and a "masters" category for all those who have won in a previous category. There is a nominal fee of $10 to hang for a show. Prize money is given for 1st, 2nd, and 3rd places.
Said Association President Gooch, "Often, artists have work and no place to display it. Here, everyone's in a category with peers. You may not win but you still can exhibit and sell your work. It's a good way to meet other artists and share your best efforts. We have a special opening for every new show, gatherings of artists and their friends. Sometimes the artists bring snacks and the Association supplies beverages."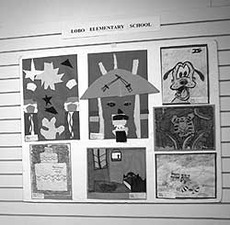 A major event of the year is the "Paint San Clemente Plein Aire Competition" to be held from June 25 to July 2nd. This fourth annual series of events features artist and artisan interpretations of San Clemente themed works in all mediums, including an exciting "quick draw" competition where artists draw and paint a local scene in a unique two-hour period. Rapidly becoming one of the premier Plein Aire competitions in Orange County, it last attracted 80 entrants and over $10,000 in prize money. Celebratory receptions and a gala opening are in the planning stages, with a final display, judging, and awards affair scheduled for July 2nd. In August, the Association sponsors an arts and crafts fair on the San Clemente Community Center grounds in which 104 exhibitors participate.
Gallery and Fine Crafts Case "One of our key projects is providing educational opportunities in art for San Clemente's youth," reported Gooch. "Each year, our dedicated group provides funds directly to art teachers in each elementary, middle school and San Clemente High School. While revenue from dues, the Art-Craft Fair, and Paint San Clemente sustain the Association and the Gallery, the majority of funds collected, including donations and purchases of paintings, supports youth art here in the community with scholarships and art supplies."
In 2004, the SCAA tripled funds contributed to each school from the previous years to $8,000. The organization's goal for 2005 is to further raise the art supply funds for schools. Additionally, at the end of each school year, a $1000 Perpetual Scholarship honoring the late Dr. Vern Willey, former art professor at Irvine Valley College, is awarded to a graduating San Clemente High School senior art student to help further his/her art education. The Association also sponsors summer art walks on the third Thursday nights, May through September, on Avenida Del Mar and in nearby galleries. This art appreciation/exhibit actively-working-artist event is spearheaded by Gooch and Beachfire owner, Doug Donaldson, himself an avid painter; the Association's Community Center Art Gallery is the linchpin. Complimentary hors d' oeuvres' and wine are served at several locations, art works are featured, and many artists display their works and share their painting techniques in "bulb outs" along the street. Gooch feels this activity provides still another venue for artists, enabling them to connect with patrons, involving them with people who buy their work or just want to visit with them.
"Everyone can enjoy the ambiance of Del Mar and appreciate the talent of our local artists," Gooch remarked.
Says publicist Beeler of the Art Association, "We're becoming our own presence in the art world, unique to San Clemente and the people who live here." b