A Lazy Lady's Guide to Avoiding the Holidays
Aug 05, 2004 07:31PM ● By Don Kindred
by Maggie Zeibak
   I had stopped wailing and pleading. Cocooned in my favorite chenille wrap I adjusted the cooling wet cloth over my forehead and plotted vengeance against the perpetrators of this vile plot. How could they do this to me? Me, the sole unskilled, inept, uncreative member of the family elected, certainly by default, to host the Holiday festivities. Didn't these depraved, cruel relatives know that I had no clue how to go about this? Surely they remembered that I prayed to the patron saint of Lardlasses when it came to activating duties in the domestic region of the household.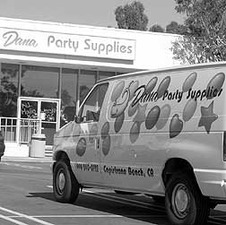 Eating bon-bons and sucking up a good book (martinis aren't entirely out of the question, either) is my idea of celebrating this mad, commercialized season of goodwill. Frankly, the best memories I've had of December are the ones I've enjoyed at a resort overseas – no fuss, no effort and no responsibilities. Now here I am in the depths of a decline – a touch of the vapors you might say, facing the gloomy prospect of an angst- filled future.
   Gnashing my teeth and taking to my bed hasn't seemed to work and no one is delivering me from this evil. A velvet womb of procrastination beckons, yet this niggling feeling haunts me into realizing that I'm not going to wriggle out of this one. Ten thousand curses, where on earth shall I start?
   Lists, email and a phone seem good ideas. Certainly a list for delegation purposes is a sign of a good manager, yes?
   First, I need to overwhelm everyone with first impressions so spectacular displays of outside lights seem in order. Hubby, similarly inclined, volunteers under a vicious armlock to hire a service to place an enormous illuminated star near the chimney and thousands of icicles cascading from the roofline. Unpretentious it is not; some might say it is eyecatching.
   Triumphantly, I placed a call to Rooms With a View (492-8566) to have Ellen Hassler come and rearrange the furniture in the living room and showcase a Holiday theme. She gave me a choice of a Theme or Decorator Christmas Tree, hmm, dither, dither…the Decorator Tree would match the colors of the living room so maybe that would be the way to go versus a Victorian or Surf theme. I skipped the Nativity Scene although that might have been cute for the little kids. Two enormous eye-catching flower arrangements could grace the entrance and a heavy-on-the-holly wreath will enhance the door.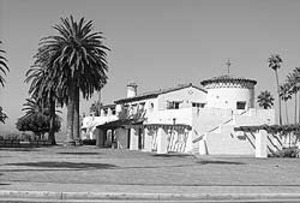 I seemed to be getting in the swing of things until I focused on the large number of people who would need to be fed and a large wave of panic, with nausea on the side, promised to envelop me. An alternative plan for one of the large gatherings emerged; the City of San Clemente (361-8264) had a room available at the Ole Hansen Beach Club, complete with ocean view, and we could bring in our own caterer with the proviso that they had an ABC license and liability insurance.
    Resisting the urge to reward myself after these challenging assignments (well, perhaps a teeny shovel of something fudgy in the ice cream) I contracted with Lindsay Van Buren of Party Girl (212-1277). She does it all, foods, buffets and tray passing, decorations, staff, bartending and she cleans up all the messy plates and glasses. She made me feel like a society hostess ready to swan around taking oodles of credit for a smooth-as-silk grande affaire. "Not to worry," she said, "I want you to be the host or hostess to your guest and let Party Girl do the rest.
    But then there are the other days when everyone is hanging around the house either hungover or bored. How do I feed them? Being of the "nothing wrong with paper plates" mentality, a short trip to Dana Party Supplies (240-0722) helped furnish ideas for informal entertaining. Best choices are trays of substantial sandwiches, healthy veggies and thingies-on-sticks and I know that Billy's Deli (498-5924) can help with plates of sliced meats, cheeses and salads. Perhaps if the kids get antsy we can order a pizza from Cassano's (361-0522) and they can take it to the park.
    Now I know Martha will be coming – doesn't everyone have a Martha in the family? Her critical eye sweeps the room before she's put down her freshly baked meringues but not to worry, the place will be sparkling clean thanks to the cleaning service and Mr. Suds' Window Washing (291-9211). Fortunately I remembered that carpet cleaning comes after the party, not before.
    Would you be surprised to learn that gift giving is a major part of the Holiday Season? No, I didn't think so. Without a doubt, it is the hardest thing to do particularly when you have no idea what half of these people would like or appreciate. Generic gifts top the list especially when they are high quality European chocolates from Schmidt's on Avenida Del Mar or a selection of San Clemente Soaps from Marie Clinkenbeard (Sea Escape or Serenity Spa for the ladies, Sudz for Studs for the men). Packaged in pine crates they give a festive air and, get this, she delivers them free of charge in the San Clemente area. Order from
www.sanclementesoaps.com
or call 218-6625.
    Choosing presents for kids of any age is a no-brainer, they hate everything unless it is in dollar-form so you can't go wrong with gift certificates from Baskin Robbins Ice Cream. While you're there, go upstairs to the Lavender Lounge Tea Company and buy tins of San ClemenTea for just about anyone. Eliminate that tedious chore of buying paper, tape and bows for wrapping gifts just use their convenient gift-wrapping service.
    Mindful of the responsibilities of a gracious hostess I set about finding lodgings for the out-of-towners. No, no, no – absolutely nobody will be comfortable staying with me; I snore and talk on the phone a lot although it has been said that I can fix a mean bowl of cornflakes. They'll be so happy to stay at the Dana Point Marina Inn (496-1203) with direct access to a lovely walk in the marina and all those cute restaurants and shops around. Continental breakfast is complimentary and there is a refrigerator in the room. My devious mind praises my ingenuity.
   Smug satisfaction starts to set in. Who knew I'd be a whiz kid at this? Now all that remains is to plan precisely when my malady is going to attack me. I've singled out the "most likely to take over" individuals to weakly explain my illness. Malingering takes planning so I'd better stock up with a really juicy novel.