HOME AWAY FROM HOME A Haven for Boat Enthusiasts
Aug 05, 2004 07:29PM ● By Don Kindred
by Anne Batty
    Like the famous bar in the TV sitcom Cheers, there's a place in Dana Point, CA, "where everyone knows your name" … if you happen to be a member that is. 
    It's a neighborly kind of place called the Dana Point Yacht Club, and it's located in the Dana Point Marina - on the island across the Harbor Bridge - in the building formerly occupied by Michael's Supper Club.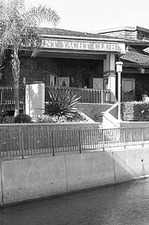 Presently a home away from home for some 500-plus boating enthusiasts, this Yacht Club was founded in 1952 with only 25 Charter Members. An optimistic crew of mariners (possessing a common interest in boating and in a facility that would permit the open water launching of boats within the protection of the Dana Point Cove) these early members established the Club and its first clubhouse atop the Dana Point bluffs with only an inkling that a harbor would ever be built below. Then when that first clubhouse was finally condemned for the much-anticipated county harbor development, a temporary building on the Street of the Blue Lantern became the DPYC. And after the harbor was completed, the Club celebrated its 20th Anniversary by taking up residence in a building to the east of the harbor's bridge. They finally settled into their present location in 1998.
    When the charter members formed the Club they signed a lease with the County of Orange to develop launching facilities at the Dana Cove Pier. They provided materials and labor to build the original ramp: cement walls, steel rails and an electric winch to launch and retrieve boats from the surf. 
    In those earliest days, Yacht Club member Julia DiGiovanni remembers standing on the edge of the bluff overlooking the West Basin of the Cove with her husband Tony as he told her that someday there would be a boat harbor below them. 
    "At that time it was hard to imagine a harbor could be built there," Julia recalls.
But in 1971 that is exactly what happened, and in celebration of the completion of the first phase, Mrs. Franklin Parks of San Clemente broke a vintage bottle of champagne against a piling in the first row of docks.
    Since those times the equity-owned, limited membership DPYC has continued to grow in membership, accommodations and amenities. In its new location the family-friendly Club is now open 7 days a week. There are no guest fees, no limitations on guests, and members of other Yacht Clubs are welcomed when they show their club's membership cards. 
    Besides the numerous activities and events the Club offers its members, food and beverages are also served there daily. All are minimally priced just to cover costs, with no taxes levied and no tipping.
    "The meals served in the downstairs area are set up help-yourself-buffet-style," said Mary Burrough, former Club Historian. "There is usually a meat and fish dish available, as well as a salad and fruit bar. The menu changes daily." 
    "And," Mary continued with a twinkle in her eye, "we bus our own tables."
    "I dine there a lot," commented long-time member DiGiovanni, "it's less expensive and time consuming to eat there than to cook at home. Besides, it's fun to be out with friends." 
    The upstairs lounge at the Club hosts a beverage bar, simple foods and an oyster bar. Monday Night Football is a popular weekly event there, and like the downstairs dining room the lounge boasts wide, sweeping glass windows for viewing harbor activities. 
    Each year, the Yacht Club's Junior Members submit an entry into the Dana Point Christmas Boat Parade. Their efforts are enthusiastically viewed and cheered on by club members, families and friends, turning the event into one big party. 
    "We hosted the Boat Parade's trophy awards ceremony last year," Burrough revealed. "It was great fun and we hope to do it again this year."
    The DPYC is very active in yacht racing, hosting regional and national championship regattas, as well as over 65 local races each year. Its many activities also include: a Catalina cruising program, along with other cruises up and down the coast; fishing tournaments; an extensive social schedule; charity regattas and a very active year-round Junior and Young Adult social, racing and summer sailing program. Approximately 60% of the membership own sailboats while 30% own powerboats, but you do not have to own a boat to become a member. Anyone interested in boating is eligible for membership. 
    A monthly newsletter, The Shackle, containing officer's reports, a calendar of events, member assignments, racing results, a fishing report, boating protocol and more, keeps the members informed.
    The Dana Point Yacht Club has a mission. It is to be a casual, informal, fun-loving group dedicated to boating activities, a friendship-oriented club promoting boating experience for all ages. And their goal is to maintain their reputation as, "The Friendliest Yacht Club on the Coast."
    When visiting the Club and dining at the downstairs buffet or imbibing at the bar in the upstairs lounge, "everyone might not know your name." But true to their mission it won't take long for the friendly Yacht Club members to make every effort to introduce themselves and find it out.