Surf Spots - The Best of the Best
Feb 05, 2004 05:14PM ● By Don Kindred
by Christiaan Sorensen
As a surfer and a writer, when I saw that my assignment was to write about the top five international surf spots, I did a few cartwheels and a handstand. Top five surf spots? Easy money, baby!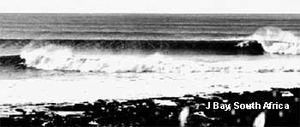 However, after some careful consideration, I found that listing the top five surf spots is like listing your top five family members. No matter how you do it, you're bound to leave something/someone off the list.
Since this assignment was all mine from the get-go, I decided to take some criteria into consideration.
Top priority went to locale. For example, a top spot is not only consistent, but fairly safe to surf (i.e.,travel wise, as well as in the water).
Next came the type of wave. Fortunately, I know better than to fool myself into thinking that I am a big wave charger, so my top five will be heavy with consistent, hollow waves, usually in the 4-8 foot range, maybe holding on a 5-10 foot swell. (Not that you'd find me out in those conditions.)
Finally, the final criteria that I decided to employ is the crowd factor. I can paddle out at Lowers, down in Trestles, one of the best breaks in the world, any day of the week. However, fighting 30 guys for a mushy right-handed roller doesn't do it for me, so making the cut are surf spots that call 4 guys out crowded. So, without further ado,(drum roll please), here's Christiaan's (the Journals?) TOP
5 INTERNATIONAL SURF SPOTS, in order from 5-1.
Number 5:
Jeffrey's Bay,
South Africa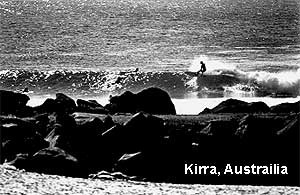 Why is one of the world's most famous right-handed waves listed last on this top five? Well, due to the criteria, J-Bay has its flaws. Twenty-years-ago you could probably luck out and surf there an entire week with nobody out but you and your boys. Nowadays you can't surf a sloppy 2 - 4ft day without getting dogged on every other wave. The liquid locals are a bit of concern as well. J-Bay gained a lot of notoriety in the '70s and '80s from the exposure the surf media gave it. Since then, developers have taken over the once rustic campgrounds and are trying to turn it into another Huntington Beach. Another flaw of surfing Jeffrey's Bay is the locals. The long-toothed, white-bellied version, that is. White sharks have become a consistent presence in the waters off of South Africa and have ruined many an epic session. Despite its flaws, however, Jeffrey's Bay is the wave that most surfers dream about. It needs a good south swell, but when it's firing, the lines will march in consistently and you can expect a nice heavy roller until you get to the inside, when the wave hollows out and you find out the name of the 2nd part of the wave, Supertubes.
Number 4:
Kirra, Australia
Now, before everyone gets their feathers ruffled, let me set something straight. I could write a Top 100 Australian surf spots and still leave some out. There are too many incredible breaks in Australia and I'm not going to let the abundance of quality Australian surf take this top five list over. Kirra is every surfers dream wave. It's the wave most young surfers sketch on the peachy folders. Hollow, right-handed barrels peeling down the line in water that rarely dips below the 70s. The wave is rare in that it barrels from start to finish, a rarity. Another rarity about Kirra Point is the fact that it breaks on a sandy bottom. Therefore, if you happen to take a spill, there won't be any reefs or rocks waiting for you underwater. The downside? The reasons I just listed have been passed on from older surfer to younger surfer for many years already, and the crowd situation has been overbearing. Anytime there's a decent swell and the weather is nice, forget about Kirra point, unless your last name is Slater or Fletcher. The crowds make South Coast Plaza the day after Thanksgiving look downright feeble.
Number 3: Isla
Natividad, Baja Mexico
Well, again Baja is home to so many incredible breaks that it deserves its own top five list, but Natividad deserves to be at or near the top of any list. The break itself is a clean "A-Frame" that breaks both ways. Any surfer on any wave has the choice to right or left and chances are they'll score some of the best surfing they've ever witnessed. The sandy bottom is a gigantic plus, but don't forget your full-suit as the water is a bit chilly. However, one of the most alluring advantages of surfing Natividad is the locale. You cannot drive to this break. It's on an island off the coast of Baja, so you need to get there by either boat or small airplane. That means perfect, sandy bottom surf with very little crowds whenever this place is firing. As with all surf trips in Mexico, bring someone who can speak Spanish or a decent Span/Eng dictionary. Stay out of trouble and don't drink the water unless you HAVE to. They've come a long way with some of their water-treatment programs, but just to stay safe bring your own or buy bottled down there.
Number 2:
Grajagan (G-Land), Fiji
It seems that to find a truly epic surf destination, the crazier the name, the better the surf. G-land was once one of the timeless, rural surf destinations attracting surfers from all over. Clean, uncrowded waves breaking just off shore of an island where the jungle literally runs right up to the beach before screeching to a halt. Surfers once had to either chip in to rent a boat to camp on and dock in a bay close by or brave it by camping on the shore, which meant uninvited guests like monkeys, malarial-mosquitoes and, oh, say a large Jungle Viper or two. Some surf purists won't agree with what I'm about to say, but civilization has somewhat saved G-Land. There are many surf camps there that run well-organized, clean ships anchored just outside the break. Now you can sleep on a decent cot or bed, eat three good meals a day prepared while you're out in the water, and have plenty of cold beers waiting for you to ease away those achy arms when you get out of the surf. The wave itself is fast and hollow. A peeling left-handed wave, the spots hold anything from 1-2 to 8-12 foot, and, surprisingly, the bigger the better.
Number 1:
La Ruca Bruja/Playa
Naranjo, Costa Rica
Wish you could find one of those surf spots where you wake up one morning, and the offshore winds are feathering the peaks as the only eyes besides yours to spy this mirage belong to seagulls? Costa Rica is the answer to your dreams. There are too many spots to list here (again), but "Witches Rock" stands out because of her wave. A very consistent left-hander, La Ruca has plenty of juice to go around, but beware of the heavy off-shore winds December through March. They'll take an otherwise good day and either blow it to smithereens or turn a crappy swell and polish it into clean liquid perfection. I chose La Ruca Bruja, but there are so many spots up and down the Costa Rican coast that if Witches Rock isn't working, two hours in either direction will take you to another beach/point break that should be firing
One of the traits that set surfers apart from all other athletes is the desire to find better waves. No matter how good 204 might be tomorrow, Baja Malibu might be two feet bigger and more-hollow. The insatiable drive to find liquid perfection has taken surfers, quite literally, around the world. These trips can be rewarding both spiritually and physically, and with the right approach, can be done without taking out that eighth mortgage on the house. Some obstacles, whether natural or otherwise, still remain. Careful planning and the right contacts can make all the difference so pack plenty of wax, sunscreen, water and jeans, and nut it up. The time to hit the surf trip of your dreams is now.