The Ride of a Lifetime!
Nov 01, 2003 10:12PM ● By Don Kindred
by Rosemary L. Sieve
A dream turned into reality in 1999. It was a trip on the British Concorde airplane from New York to London. An unfolding of luxury only imagined and seen in the movies, and an experience that now ceases to exist. My husband, Milo, and I held a Disneyland 'E' ticket for the ride of a lifetime.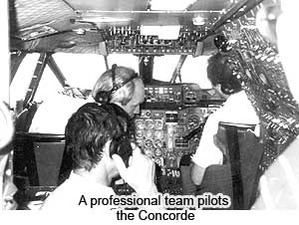 Excitement really took its hold when we entered the special terminal set aside for the needle-nosed shaped airplane. After we had checked in, our hanging luggage whisked away and sealed in plastic, we stepped through to the sumptuously appointed waiting room to find a beautiful buffet table covered with delectable morsels. Telephones were placed conveniently everywhere; television viewing was from plush armchairs and the ultimate in service was available. Our very wish was their command.
Gazing out to the runway we could see the delta-winged space age looking aircraft awaiting passengers embarking. The sleek tapering fuselage, carved out of a single piece of aluminum alloy, looked so tiny and compact as she sat by herself out on the asphalt. The Concorde is 204 ft. long, and stretches out a further 6 to 10 inches whilst in flight and hot. The sweeping wing span reaches out 83ft.8inches and the four Rolls-Royce Turbo jet engines are mounted in pairs, together creating a thrust of 38,000lbs. This aircraft was the most powerful and pure jet ever to have flown commercially. The first time was to New York in November of 1977. A new era of supersonic passenger travel had been born. The Concorde experienced its first supersonic flight in 1969 and achieved Mach 2 a year later. After years of environmental concern, and politics, Britain was finally able to use the plane as a business venture.
Finally Milo and I were called to board into the minute cabin, only 9.5 ft in diameter. Three stewards, one man and two women greeted us. Forward, toward the nose, the cramped flight deck held the captain, first officer and one flight engineer. They were surrounded by a maze of dials and switches. Only 23 passengers were on this particular flight, none of them famous, and as we prepared ourselves for takeoff sitting in Lilliputian sized seats, we superstitiously noted that row number 13 was missing.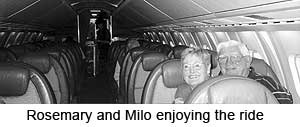 Then we were taking off. The after-burners produced a massive surge of power enabling the aircraft to reach a speed of 225 mph in just 30 seconds. The noise was deafening. "We will accelerate and climb and by 43,500 ft we shall have achieved Mach 1.7," the Captain told us. When we broke the first sound barrier we felt what seemed like a little nudge from behind. A huge plasma screen, called a Marilake, hung on the front bulkhead of the cabin indicating acceleration and other snippets of information. Faster and faster we sped, climbing and reaching Mach 2 (that's a mile every 2.75 seconds) when the second sound barrier was pierced. We were just above 50,000 ft high when this incredible man-made wonder started to cruise at 1350 mph, twice the speed of sound, and, at 11 miles up, we were flying at an elevation twice the height of Mount Everest.
How can one describe the unbelievable sensation whilst looking out miniature windows seeing the curvature of the Earth and soaring on the threshold of space? We were being pampered and cocooned from the elements where there was no weather or turbulence and temperatures was well below freezing.Yet, on the wings of the airplane one could have fried an egg. Our eyes beheld a vista that was breathtaking. Different hues of indigo blue shone, and on the arc of the orb, a halo of light glistened. A feeling of serenity descended upon us as we glided along the brim of the world.
Soon our eyes left this vision to behold another. Food. After being fed caviar and offered champagne at the beginning of our adventure, we were given award-winning menus from which to choose our main course. First came the lobster hors-d'oeuvre, then the choices were beef, seabass and prawns, pasta or salmon. Crowning the haute-cuisine was 'le louvre' chocolate cake and a selection of cheeses. The Royal Doulton bone china and silverware added to the ambience. And, of course, the proper wines and aperitifs were offered along with the delicacies.

But it was over far too quickly. Three hours and ten minutes later, the pilot lowered Concorde's nose 12.5 degrees to give the flight crew maximum visibility and there we were landing at Heathrow, the London airport in England, feeling refreshed and relaxed. Incidentally, traveling to New York from London, we would have arrived younger, and one hour before we left – and, maybe capturing both a sunset – and – a sunrise in those few hours. Ah, the miracle of modern technology!
British airways Concorde has transported celebrities, royalty, heads of state, politicians and people like Milo and me who simply wanted to encounter astronomical phenomena. We were flown by a dedicated team of professionals at the top of their careers. This beautiful bird now occupies a unique place in history but, unfortunately, she is now obsolete and has joined another extinct bird, the pterodactyl. Both are languishing in museums only to be dusted and admired. Both are no longer able to fly. What a pity.
For more information check out 'The Concorde Story' by Christopher Orlebar.