The Executive Planner Military Profile – Lt. Colonel John Carretti
May 01, 2003 08:44PM ● By Don Kindred
by Joe Moore
Each year Camp Pendleton hosts more than 45,000 separate operation and training exercises on its massive 125,000 acres. The monumental task of planning, organizing and overseeing all ground and airspace exercises falls on the desk of San Clemente resident Lt. Colonel John Carretti. "Pendleton is the busiest DoD (Department of Defense) base in America." He states. And if that weren't enough, Carretti also runs the emergency base command center which guards over natural problems like forest fires, earthquakes, floods, etc. "We [further] center as the link between the operating forces and the folks that are here. We handle the logistics of transportation, supplies and equipment."
Carretti even liaisons with another section to determine security policies for the base. Not bad for someone who calls himself a simple 'infantryman'. Carretti takes tremendous pride in his department, "As somebody who has been both in the operational forces and as a trainer, there is nothing better than to see a successful initiative that has gone on…and someone says 'We are better Marines for doing that.'"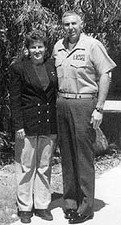 Carretti's wife, Kitty, is also in the military. After six years in the Marines herself, she is now in the Naval Reserves. The Carretti's met during their ROTC training at Penn State University. John was a senior and Kitty a freshman. They carried on a long-distance relationship until Kitty graduated, even while John was sent to Okinawa, Japan for months on end. Lt. Commander Kitty Carretti currently works at as the Air Quality Program Manager and Assistant Chief of Staff of Environmental Security. Something she knows about holding a Chemical Engineering degree from her alma mater. They have been married nearly nineteen years and when asked how tough it was having both partners in the military, Lt. Col. Carretti says that during most of their marriage "we've been fortunate to always be at the same duty station, but there was one time when Kitty was in active duty. I was just back and she went to Korea, even though we were both stationed in Hawaii."
John Carretti wears six service deployment ribbons on his chest. He commanded a Rifle Company during 'Desert Shield' and 'Desert Storm' and his most recent assignment prior to returning to Pendleton was to train and command a battalion at Camp LaJuene in North Carolina. That commission took him away from his wife and home for two years.
They both adamantly plan to remain in San Clemente beyond their service vocation. "I will tell you that we have been genuinely blessed to have the support from the people at St. Andrew's [United Methodist Church] and from the Key Volunteer Network which assists families of deployed Marine's. We love it here. It has been a great home, both in terms of quality of life and the people. We plan to do some work on our house, so we hope to stay."
While in the reserves, Kitty still must train one weekend a month and John jests that, "it's not so bad." He goes with her and plays golf and takes advantage of the other outdoor leisure activities while she trains rigorously all weekend. But ask him about one of his most embarrassing moments and he'll tell you how he was playing one-on-one basketball with Kitty's little sister, "and this little 5'2" wisp of a girl hip-checks me and drives me right into the floor in front of a packed gym." He got up and pretended 'to go for a run' to clear the pain. The bigger they are…?
If the Carretti's ever leave the service John would like to go into education at the Junior College level working primarily with 18 – 22 year olds as he has in the military, or possibly working in Homeland Defense, while Kitty would find a livelihood using her engineering degree in the private sector most notably in the pharmaceutical field.
Originally Carretti said he intended to put in his four years and move on "I was going to go to Law School." Twenty-two years later he said "I just got involved with where I was and what I was doing." Today he feels pleased with the goals he's reached, and Kitty also couldn't be more proud. But he states that he wouldn't still be in the military if he couldn't reach new goals and opportunities. The Carretti's base their successful military positions to the strong leadership and good physical training early in their careers. Carretti says, "that helped prepare me for whatever might come." Kitty further states that she was taught very early on "to bloom where you're planted, and do the best job you can wherever you are."
The Colonel's advise for other "infantrymen" wanting to succeed? Simply, "stay around positive people, if you wallow in the depths you'll stay in the depths; keep a long term view of your situation and maintain [yourself] over the long haul." And finally "don't take things too seriously – try to keep your sense of humor and make a good situation out of the worst situation." Good advise to everyone in any walk of life.