Hand Picked
Feb 01, 2003 08:30PM ● By Don Kindred
by Maggie Zeibak
     Kimberley's Flowers & Downtown Flowers
     "Oh, look," my uncle would say, "a fine dianthus caryophyllus."
     "Don't talk dirty, dear", my aunt would admonish, polishing her timing of the well-practiced joke between them. Their audience, clearly bewildered by the Latin term, would soon join in the laughter as the avid gardener told them he was referring to the easily recognized flower, the carnation.
     Unlike my uncle, we don't have to be walking botanical dictionaries to put together a bouquet. Colorful bunches of flowers are available to us even if we can't recognize their names or, our sooty-black thumbs hex our thriving garden plants into wilted, sorry-looking specimens. Frankly, it's more convenient to pop into Kimberley's Flowers clutching a crisp ten-dollar bill and let her put together a unique or traditional bouquet to dress up our homes. Or, if we're feeling generous, someone else's.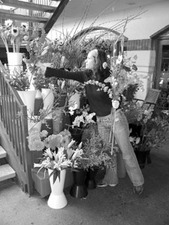 Kimberley Foss recently expanded her flower stall on El Camino Real and opened up Downtown Flowers on Avenida Del Mar. For 16 years her days have started at 5 am, trekking down to Carlsbad to purchase her fresh flowers. Initially, her career was to have been in landscape design, but her liking for flowers took an unexpected detour when her husband presented her with a bouquet of flowers from a flower stall that had a "For Sale" sign on it. Kimberley laughed as she remembered him saying he'd bought her some flowers and also found her a job.
     Surrounding her open-air florist shop are vases filled with brightly colored blooms ready to mix 'n' match, however the mood takes you. There's a grab 'n' go table displaying pre-wrapped flowers and with easy parking outside, it takes no effort to drive in, select a bunch (between $5-$25) and be on your way. "We serve everyone's needs," Kimberley said, "We can educate you so you can have flowers in your life. From the young man who needs a corsage for his first prom to arranging a bride's bouquet and centerpieces, we can help. Most of the time if you tell us what your budget is, we can show you your options to get full value for your money. We personalize our service."
     In these times of fiscal check-ups and dust-bunny wallets, we can be hard-pressed to find money for flowers or so-called luxuries. But what is ten bucks when you consider the beauty and enjoyment that flowers bring? Let a little color in your life! Cheer up your kitchen with a splash of yellow daffodils or a moody, deep purple iris. Even the hyper-frugal among us can afford the discreet luxury of a few stems at petal-pinching prices. Drop by Kimberley's flower stalls in the south and mid-town locations and buy a heady, fragrant, stargazer lily mixed bouquet to impress someone special.
     Flowers and Friends
     For northtowners, just outside the railroad station at North Beach dwells another splurgeworthy "bucket shop", Flowers and Friends, owned by Keith Jones. A 33-year veteran in the industry, his San Clemente buckets have been full of vibrant colored flowers since 1991. "I buy directly from the grower," he said, "A bouquet of flowers is an individual expression when freshly assembled. I tend to put customer service ahead of profit as I think giving is the greatest gift."
     When Keith first started helping out at a stand in Laguna Beach, his boss had seen the European flower markets and thought the concept would catch on in California. Selling carnations at $1 per dozen and doubling sales within a year, this surfer florist knew that he could provide the public with a quality service, without them suffering economic plunder. It wasn't long before he started out on his own and coined the name of his business after the flowers and his grower and customer friends.
     Providing local delivery and personalized service, Jones feels he is on the cutting edge of his profession having met many of the "greats" in the world of horticulture. He remembers that many years ago he was selling the South African Protea long before it gained popularity in today's market. "Women tend to match colors when they buy flowers, men usually consider budget or the occasion. We can offer advice and guidance and they are never disappointed with the results. Wrapping the bouquets in cellophane or environmentally friendly butcher paper, tied with ribbon or raffia, the bouquet is ready for presentation. Flowers are an investment if you give the gift unconditionally as the return could be tenfold," the tulip-lover said.
     Do you need a Gerbera Daisy or Snapdragons for a friend? Will a sick person appreciate Red Ginger or creamy Dendrobium Orchids? Are a few tropical stems better than a wild, eclectic centerpiece? Take your questions to Keith and Kimberley, they'll both be happy to help you and won't use terms like Gypsophila Paniculata (Baby's Breath) or Ranunculus Asiaticus (Rununculus). Unlike my uncle, who would remind us that his proper articulation of "mesembryanthemum" (simply, ice plant) is directly related to his excess consumption of gin.
Kimberley's Flowers, 2320 S. El Camino Real 492-3005; Downtown Flowers, 
next to Billy's 492-7062; Flowers and Friends, 1844 N. El Camino Real, 366-9150