Bringing New Meaning to the Phrase "Mom & Pop Store"
May 01, 2001 05:25PM ● By Don Kindred
by Anne Batty
In times past the phrase "mom and pop store" usually referred to a single business run by a husband and wife. One often handed down from the previous generation. Today, San Clementeans Mike and Sue McGeary, owners of the Pier Market and Beach Garden Café, are happily redefining that phrase. Although their philosophy and practices typify the "mom and pop" mentality, they are working hard to apply its principles not just to one, but to two businesses, situated side-by side in the Pier Bowl area - while "mom" minds one store, "pop" runs the other.
This whole adventure originally did start with just the one store. And although its purchase did involve the generosity of Mike's family, among other financial resources, the business wasn't handed down from another generation. As a matter of fact, the beginnings were rather bizarre.
As the McGearys tell it, their first endeavor, the Pier Market was acquired because Mike got the wrong airline tickets in the mail. It seems that Mike McGeary and Mike Yeatman, then owner of the Pier Market, worked for the same company in different divisions and didn't yet know each other. When McGeary called Yeatman to let him know he had his tickets, their conversation eventually led to the discussion of what their wives did for a living. As it turned out Yeatman's wife was managing the Pier Market while he traveled on business, and Sue was acting as a liaison, getting product to grocery stores. From all appearances, the handwriting was on the wall.
This chance meeting became the catalyst for friendship between the two men. In November of 1994, McGeary made a lunch date with Yeatman and discovered he had accepted a position in Florida and was trying to sell the market.
"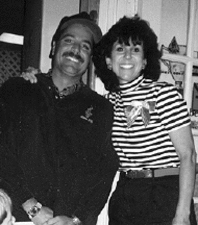 No one in San Clemente knew it was for sale," Sue piped in grinning
animatedly, "because, if you can believe, Yeatman was only advertising in Irvine."
Always desiring a business of his own, Mike thought having a market would be fun. Plus, he fell in love with its location. Thus he and Sue bought the shop. She was elected to run it, while he continued his "real job" as the traveling Regional Manager - Convenience Store Division - of Very Fine, a foodservice company.
Sue remembers being scared to death of running a business she knew very little about. Although she had lots of past restaurant experience and her present job was grocer related, owning and managing a market seemed an awesome task.
"I wasn't worried," Mike added, "I knew she could do it. Sue always accuses me of throwing her into things and I guess I do. But she always handles it."
McGeary's background certainly had prepared her for the task. No stranger to hard work, money management and struggle, before her marriage to Mike, Sue had been a single mom. She remembers having a daily lunch budget of $1.07 for a burrito from Del Taco, no drink. Her youngest son, then five, could determine her 1st or 15th paycheck by whether or not he could finally purchase a Happy Meal. Then when she met and married Mike, for seven years, her work day began at 4:15 am and ended at 7 pm, as she juggled working, homemaking and family activities while Mike traveled in his job.
"I used to change from work clothes to jeans in the baby-sitter's bathroom so I could get to the Little League games on time," Sue reminisced.
It was experiences like those, coupled with the faith of her husband, which equipped Sue with the determination to dig-in and become the "mom" running the store (at least for a while) without the "pop."
That situation didn't last long, however. Just seven months after the purchase of the market, Mike came home one day and told Sue he had quit his job. Like many budding entrepreneurs, he was fed up with traveling and putting forth effort to benefit the other guy. He was also finding it difficult to help Sue with the business via telephone, and most importantly was tired of missing out on things with his family.
Now panic set in big time as Sue wondered how they were ever going to make it without Mike's salary. Mike, on the other hand, was confident. He just knew if they both worked hard, they could make a go of it. So for the next two years the couple spent long hours building the business, arranging their shifts so one of them could be around for their two sons at all times. All the while, Mike, in true male hunter/forager/provider style, had one eye on the market and the other on the business next door ­ coveting - wishing it were his.
In 1996 Mike got his wish when Dale and Tina Wolfe sold the McGearys the Beach Garden Cafe. They were ecstatic. Since Sue's background was strongest in restaurant management, the cafe became her baby, while Mike continued to apply his convenience store expertise to the market. 
Sue had no fear this time around. She was operating in her realm now. Confident in her skills, she immediately set about applying her personal touches to the café.
New dishes and cutlery, a slice of lemon in the water glasses, additions to the menu, including upgraded ingredients and homemade blintzes, and most importantly a change in the coffee, to the finest grade available for restaurant purchase. Although the shops are the responsibility of each of the McGearys individually, they cover for one another whenever necessary. Sue still keeps the books for both businesses.
"She's in charge of paper," Mike chuckles, "she's good at details."
What makes this arrangement work is the obvious togetherness the couple exudes. There is no one-upsmanship here. Each has their job to do and they do it with gusto. Their goals are the same. Hire employees with personality and people skills, treat them fairly, give customers the best product possible - with ambiance - and most of all, have fun doing what they are doing.
"That's the key," Mike offered thoughtfully, "we have worked long, hard hours to make our businesses grow and we are proud of how much they have. But the most important thing is that we honestly have fun doing what we are doing. That's the best part." 
The McGeary's now live in a lovely home in Forester ranch here in town. But it wasn't always that way. In the beginning they leased in Tocayo Canyon, then bought their first home in Forester via the GI Bill with little money down. 
"Sometimes people look at the success of others and think it has always been that way," Sue remarked. "I think it is important to know that for the most part, success comes with lots of hard work and sacrifice. When we first
acquired the market, we commuted daily to San Clemente from Diamond Bar. We didn't sell our condo there, we leased it, then rented a place in town - just in case things didn't work out here," she chuckled. 
The McGeary's oldest son Scott will graduate from San Clemente High School this year and attend Saddleback next. Now that the family has found the village, and he has found the surf, he isn't interested in going away to school quite yet. For now, he and his younger brother, Matt, will continue attending school locally, and helping out in the family's businesses whenever they are needed. 
In the McGearys, the "mom and pop store" lives on. The scenario may have varied a little, but the principals are alive and well. All the ingredients are there; hard work, personal service and genuine care for the customer, an
inviting atmosphere, a fanatical desire to provide the finest in foods, lots of good humor and a passion for making it all just plain fun. For these San Clementeans that seems to be what living and working in San Clemente is all about.