The Under-Overhaul
May 01, 2001 05:21PM ● By Don Kindred
by Bill Thomas
The City of San Clemente retained TM, Inc. Engineers to assess the structural condition of the Municipal Pier and the adjacent Marine Safety Building, and to design a dedicated pier fire line system. Of the three projects, as one of the precious jewels in San Clemente's crown, one may wonder, " What's the pier's value to the community? Would we be better off without it?" In nearby Aliso Beach, alternatives are being weighed to replace its fishing pier for five million dollars or, more probably, demolish what's left of the former 660-feet, concrete, diamond-shaped landmark for a cost of $400,000.
What would San Clemente do without our pier?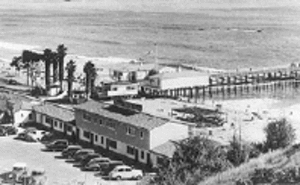 Pending a thorough physical examination - without medical insurance ­ the structure is constantly beset upon by pounding waves, shifting sands, wind, rain, storm, wear, tear, and pedestrian traffic.
Should we apply metal or wooden band-aids or tourniquets?
Replace weakened parts to retain its health?
Or should we put our 73-year-old surfer patient to rest?
To the non-swimmer, the wheel chair occupant, the sunset lover, the confirmed fisherman, the stressed out executive, the Midwestern tourist, the board surfer, the seascape artist and the European visitor, the pier offers personal rewards. As well as to the lover about to propose marriage, the three-year-old child who's never seen the ocean, the diners overlooking the churning white water and the resident of San Clemente. Its value is hard to measure. For recently retired Marine Safety Captain Lynn Hughes, an intimate friend of the pier, it's one of the reasons 20,000 rescues have been made in the local ocean without a single loss during his 21-year tenure. The pier provides an elevated platform for life guard operations to oversee the entire beach and beyond. It¹s a centralized location a command post a dispatch unit a public address capability for warning swimmers of rip currents every swimmer on our extended San Clemente beach can be watched.
To Heath McMahan, City associate civil engineer responsible for the pier, it's a significant necessity. The pier's such a valuable commodity to the community, we want to make sure it¹s evaluated correctly. We can preserve it and keep it going long enough so it's not a near-future problem.
For Dennis Reed, Manager of Beaches and Parks Maintenance Department, responsible for the care of the pier, it represents fear every time I hear a raindrop. I cringe a lot.
To Tshien Jan Ma, Principal of the local engineering firm responsible for pier inspection, who moved to San Clemente in 1985, it's an act of affection. As a resident, I can't imagine not having that pier. It's a big
attraction to most tourists. We're a laid back town. The pier is part of that. I can't disassociate myself from it. Just walking on it is a great experience.
What¹s the value of the pier to you? Think about it. Currently, there are 83 piers in California, not counting the huge wharves of San Pedro, San Diego, Long Beach, and San Francisco, which can moor the largest of sea vessels. Most of them are bay, rather than coastal piers sticking out into the ocean. There are fishing piers; piers with restaurants and shops; piers with cottages; piers with amusement parks, including Ferris wheels, daredevil roller coasters, and ring tossing. Piers house art galleries; some, with boat slips, rent motorboats, sailboards, rowboats, canoes or catamarans. In the past, they supported dance pavilions, gambling, houses, and, during prohibition, the liquor smuggling trade. These footbridges into the sea, or jetties as they are called in England, still serve many different purposes, including, probably, the most popular, ³Sa relaxing stroll in the ocean air.
In 1928, San Clemente's pier was originally built at a cost of $75,000.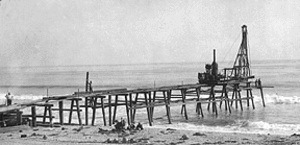 That's less than the current bid to inspect it and make recommendations for the cost and timing of its repair for the next ten years. In recent times, severe storms caused major injuries to the pier in 1983, in O88, and again in 1997 and O98. In O83, 27-foot waves knocked out a large pier section 400 feet from shore, and in O88, the pier's end was severed by 22 and 24 foot waves. In 1997 and O98, it was El Nino and La Nina, not as big as their predecessors in single size but large in clusters of storms, and the number of flurries of smaller ones. Additionally, sand erosion has been significant. Recently, the area under and around Fisherman¹s Restaurant was extended on either side, repaired, and strengthened.
The upper surface of the 1050-foot-long, 24-foot wide wooden structure, except for its three T's, it is comprised of 3"x12" planking, guard railing, and five buildings. Beneath are structural supports connected to the pier's legs, 260 piles, wooden towards the shoreline and steel heading seaward. For strength and stability, piles are connected together crosswise in 75 bents of three to five. Piles are driven approximately 17 feet into the sand. The pier height over the water depends on the tide, averaging around 15 feet. The never-ending pounding of the elements is not the sole obstacle to pier survival. Wood on the surface can mildew, rot, wear from use, and attract termites. Wood, below water, not only deteriorates, but also can be chewed up by marine bores. Wood on the waterline suffers from both alternatives. Steel piles are primarily subject to rust.
Piers have always suffered severely from fire damage. There are always the normal dangers of fire hazards with buildings and people, inflammable and hazardous materials, electrical wiring mishaps, even cigarettes. Currently, one water line runs the pier¹s length, used for the lifeguard tower, rest rooms, bait shop, and fish-cleaning faucets. Recommendations will be made to modernize that line, and, additionally, to construct a new dedicated fire protection line, providing sprinkler systems to the building structures and four connections for fire hoses.
Marine Safety Building
What of the eye-catching Marine Safety Building, combination office, locker, marine equipment and emergency medical outpost, an attractive ocean-front setting that is also vulnerable to the ocean¹s punishment. How reliable are the facilities foundation, building components, plumbing, and electrical systems? Should that structure be rejuvenated, relocated, or replaced? The bottom line ­ what¹s the value of these structures to the village, especially the pier? Just think if we didn¹t have one, we¹d have to change the name of the Pier Bowl. Is that something we really want