Athletes in Motion - Sports TV Making Known the Little-Knowns
May 05, 0204 06:14PM ● By Don Kindred
Bobbi and Paul Higgins. Team is a word that applies to the television production Athletes in Motion, Sports TV, in more ways than one. While it is team that is its focus, (those Orange County high school and college teams little known and little recognized), its structure also speaks the word team.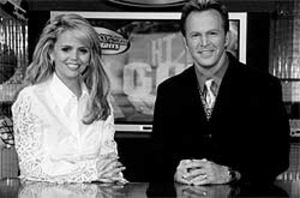 A girl's tennis team inspired its concept, a husband and wife team produces it, and a team of 25 field video professionals shoot, edit, graphically enhance and tape the show's many productions. Further, it was lack of recognition for those above little-mentioned teams that was the catalyst for the eventual creation of AIM, Sports TV by San Juan Capistrano resident, Paul Higgins.
After starting work as a professional skateboarder, serving an internship on "Family Feud," writing for TV and working behind the scenes with actors on the soap opera "Days of our Lives," Higgins finally became a sports announcer for ABC TV in Los Angeles. But, being a self-proclaimed idea man, he knew there just had to be something more out there for him, and one afternoon while watching the Saddleback College women's tennis team compete, he had an Epiphany.
"The light came on," he said, "and I realized no one was airing local high school and college sporting events."
Having had that experience, Higgins left the scene and immediately went about renting equipment from the community access cable TV show. He did his first 15-minute profile on Capistrano Valley football player Brent Parker, editing the show in his garage. From that profile, aired on Dimension Cable, he expanded to half hour interviews with coaches and players for Dimension, (now Cox Cable), on a show entitled Coaches Corner, then he increased his coverage nationwide to a one hour show representing his company, Athletes in Motion, on Fox Cable TV. This led to AIM being courted by ESPN and the production of over 500 shows for the worldwide leader in sports.
In 1991, while anchoring sports highlights for KDOC-TV he met Bobbi Stout, an intern from USC who became his girlfriend, then his associate producer and finally in 1996 his wife. After marriage and two children, Stout, (now Higgins) still plays a major role in AIM's productions, arranging financial backing, as well as producing and hosting shows.
"I absolutely could not do it without Bobbi," Paul Higgins says. "I love having her on board, and it gives us more time to be together."
AIM is all about family. Not only do the Higgins' consider their crew as family, Bobbi Higgins' father often shoots game videos for the show. "He doesn't do it for money," Paul remarks. "He does it just because he wants to be with us."
Everyone at AIM is an independent contractor including Higgins himself. He buys the time to air his shows and acquires sponsors, creates corporate marketing videos and television commercials, and does whatever necessary to accumulate funding for his programs.
The Aim Friday Night Lights production family. The newest AIM venture is "Friday Night Lights" televised on KDOC-TV in 5.6 million homes. It is the "Sportscenter" of high school and college sports in Southern California. His biggest sponsors for this program are Family Toyota, Honda and Classic Cars, and he says "Friday Night Lights" would not be on the air without them.
Interns often come to work at AIM via local college referrals. They are sent to gain first-hand television production experience; writing parts of the sports segments, researching facts and stories, writing sports trivia questions and handling camera work. On-the-spot they learn how the production of a program goes from start to finish.
Programming at AIM goes something like this: First the producer takes a look at the week's sports match-ups. The best match-ups are then chosen from those teams that haven't been highlighted before. Next, a rundown of the games is made. The field video professionals are then sent out to shoot the games. They return to the studio and edit game highlights onto the computer, enhancing them with graphics. Finally the show's host does the voice over "live" while the tape is running on TV.
Like the interns, most of Higgins' field video producers come to him on a voluntary basis in order to learn the business.
"I love including young people on staff as well as in front of the camera," he remarks.
Always seeking more of what's out there, one of Paul Higgins' most recognizable achievements comes from producing and reporting at the X-Games for ESPN. When asked about the strangest sports he has filmed he speaks of Free Diving. In this sport participants dive as deep as possible from great heights, on motorized sleds, and as deep as they can on their own. They most always dive with partners as it is a very dangerous sport.
Paul also tells of a 17-day Adventure Race in the Philippines in which participants wear the skin off their feet from exposure in caves, jungles and rain forests, where it can take as long as eight hours to go 100 yards using machetes to cut away the brush.
Higgins' work has afforded him many opportunities to travel, see and experience much of the world. At present he is content to stay home with his wife, children, family, friends and his AIM family. But that doesn't mean he is or intends to be idle.
"I love pushing things to new levels," he says with a wink.
Looking at the things he has already accomplished, it will be interesting to see how long it takes Paul Higgins and AIM, Sports TV to reach for the next level … and to find out exactly what that next level might turn out to be. b